How many times has Pamela Anderson been married and who has she been married to?
We take a look at Pamela Anderson's relationship history after the release of Pamela, a Love Story on Netflix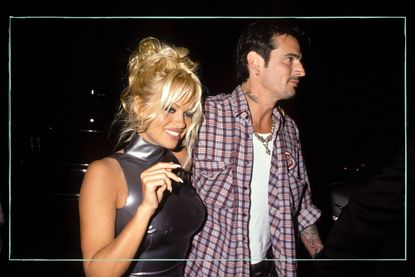 (Image credit: Getty Images)
As the actress takes hold of her own narrative in the new documentary Pamela, a Love Story, we take a look at how many times has Pamela Anderson been married.
After the release of the Hulu series Pam and Tommy (opens in new tab) in February 2022, iconic model and actress Pamela Anderson found some of the most intimate details of her life thrust into the public eye. The docudrama had viewers eager to know more about her personal life, from how many children does Pamela Anderson have (opens in new tab) to how many times has she been married and more about Pamela Anderson's net worth (opens in new tab).
However, the series was heavily criticised following its release when it became apparent that Pamela hadn't given consent for the series to go ahead, and in March 2022 it was announced that she would be sharing her own side of the story in an upcoming Netflix documentary. Now, Pamela, a Love Story has landed on screens, and viewers are eager to know more about the details she's shared while taking control of her own narrative.
How many times has Pamela Anderson been married?
Pamela Anderson has been married six times, to five different people. She married poker player Rick Salomon twice - in 2007 and 2014 - and was also married to Mötley Crüe drummer Tommy Lee, singer-songwriter Kid Rock, film producer Jon Peters and builder Dan Hayhurst.
It is Pamela's first marriage to drummer Tommy Lee that is best known to members of the public. In 1995, a home video that Pamela and Tommy had made was stolen from their home by electrician Rand Gauthier. The video contained clips of the couple having sex, and Gauthier made copies of the tape and sold them online. It is this event that the 2022 Hulu series Pam and Tommy is based on, which went on to prompt Pamela to tell her own version of events through the new documentary.
Who has Pamela Anderson been married to?
1. Tommy Lee (1995-1998)
Pamela Anderson and Tommy Lee met first met on New Year's Eve 1994 at the Sanctuary club on Hollywood's Sunset Strip. Pamela has previously said that the Mötley Crüe drummer came up to her and licked her face, and that their chemistry was instant.
The pair married just 96 hours after they met, eloping to Cancun, Mexico. But a huge strain was put on their relationship later that year when the sex tape was stolen from their home in California.
Despite going their separate ways in 1998, things weren't completely over for the couple. They went on to rekindle their romance in 2008, and Pam even moved herself and their two children back in with Tommy. However, the pair split again in 2010, calling it quits for good.
Pamela wrote in her memoir, Love, Pamela (opens in new tab), "My relationship with Tommy may have been the only time I was ever truly in love."
2. Kid Rock (2006)
Kid Rock (real name Robert James Ritchie) and Pamela Anderson met in 2001 and first got engaged in 2002, though they broke up a year later. But they reunited years later and in 2006 they got married on a yacht near Saint-Tropez, France in July that year.
However, the marriage didn't last and in November that same year, they filed for divorce. The news came just days after Pamela publicly announced that she had suffered a miscarriage.
3. Rick Salomon (2007-2008 and 2014-2015)
Professional poker player Rick Salomon and Pamela Anderson were married twice. First in a ceremony at the Mirage Hotel in Las Vegas in October 2007 - with the marriage annulled just six months later - and the second time in January 2014 at her Malibu home, though Pamela filed for divorce in July the same year.
Between the two weddings, Tommy Lee told Rolling Stone (opens in new tab) that Pamela and their two children had moved back in with him. He said: "It's awesome, man. It's definitely working. You can tell on the kids' faces - they're happy when we're together. "
He added: "We've only given it a try 800 times - 801, here we go."
4. Jon Peters (2020)
Jon Peters and Pamela Anderson first met in the 80s and dated briefly at the time. At the beginning of the pandemic, the pair are reported to have rekindled their romance and got married in a secret ceremony in Malibu.
But, just 12 days later, the pair split up. Pamela Anderson later said that the ceremony wasn't real and that they had never actually been married, with a statement on her Twitter saying at the time, "No hard feelings - no Marriage, no Divorce...just a bizarre theatrical lunch."
5. Dan Hayhurst (2020-2022)
On Christmas Eve 2022, Pamela Anderson married her bodyguard and builder Dan Hayhurst. The ceremony took place at Pamela's home on Vancouver Island in Canada - the same place where her parents were married.
She told the MailOnline (opens in new tab): "I am in love. We were married Christmas Eve with both our families' blessing, everyone we know is happy for us.
"I was married on the property I bought from my grandparents 25 years ago, this is where my parents were married and they are still together. I feel like I've come full circle."
Unfortunately, in January 2022 Pamela announced that she and her husband were separating.
Who is Tommy Lee married to now?
Tommy Lee has been married to Brittany Furlan since 2019. The pair met on the exclusive dating app Raya and Tommy proposed on Valentine's Day in 2018.
In the podcast How to Talk to Girls (opens in new tab), Furlan - who found fame on the short-form video app Vine - said: "I matched with him and he was just so persistent. He was just like, texting me every day, and being like, 'Hey, what are you doing?' … He was just so nice."
She added: "It was like a week later we ended up meeting up, we were both working Pride fest … I went up and tapped him on the shoulder, and he just gave me the biggest, warmest hug, and he held my hand. We were just together ever since then."
Until he met Furlan, Tommy Lee had not been married since he and Pamela Anderson divorced - though he was engaged to German singer Sofia Toufa. Before marrying Pamela, Tommy was married to actress Heather Locklear between1986 and 1993, as well as model and dancer Elaine Starchuk from 1984 to 1985.
Why did Pamela and Tommy break up?
Pamela Anderson filed for divorce in 1998. By this time, they had been married for three years and had two children together, Brandon (born in 1996) and Dylan (born in 1997).
Not long before Pamela filed for divorce, Tommy Lee was arrested on charges of spousal abuse. Tommy allegedly kicked Pamela in the back and bottom three times during an argument, while she was holding seven week old Dylan.
Tommy Lee was released on $500,000 bail, and was forbidden from telephoning or going near Pamela. In the divorce documents, Anderson cited "irreconcilable differences".
Video of the Week
Ellie joined Goodto as a Junior Features Writer in 2022 after finishing her Master's in Magazine Journalism at Nottingham Trent University. Previously, she completed successful work experience placements with BBC Good Food, The Big Issue and the Nottingham Post, and freelanced as an arts and entertainment writer alongside her studies. In 2021, Ellie graduated from Cardiff University with a first-class degree in Journalism.