Pamela Anderson net worth: How much is the Baywatch star's fortune in 2023?
It's not as much as you might think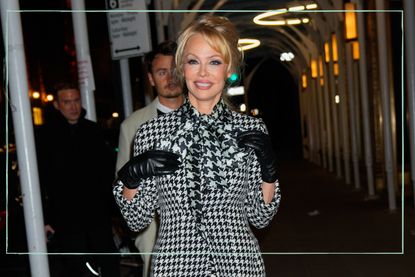 (Image credit: Future/Getty)
Here's the details on Pamela Anderson's net worth in 2023 - and how much she actually made from her Baywatch days.
The 90's pin-up is back on screens and baring all in a new must-see documentary for Netflix. Pamela: A Love Story touches on how many times Pamela Anderson has been married (opens in new tab), and life as a mum to her children with Tommy Lee (opens in new tab), plus the aftermath of the former couple's sex tape scandal - which was recently dramatised in the Disney+ show Pam and Tommy (opens in new tab).
Whether you're familiar with the 55-year-old or not, the feature length special takes audiences back to where it all began for Pamela Anderson, from her early career and modelling days to her latest comeback as Roxie Hart in the Broadway musical of Chicago. We've shared details of how much Pamela Anderson is worth in 2023 and where she gets her income from.
Pamela Anderson net worth
Pamela Anderson's net worth is estimated to be around $20 million in 2023. This figure from Celebrity Net Worth bases her fortune on money made from her modelling, TV and film roles including Playboy, Baywatch, Barb Wire, Scary Movie and Home Improvement.
2023 also saw the release of her autiobiography Love Pamela (opens in new tab) and the accompanying Netflix documentary Pamela, A Love Story. It's thought that the 55-year-old would have secured a generous fee for both projects - though no figures have been shared publicly.
FOr someone with 30 plus years in the entertainment industry, her $20 million net worth may cpme as a surprise. In fact, Pamela's finances were something that shocked Netflix documentary filmmaker Ryan White, who admitted he "just assumed" Pamela was "extremely wealthy" because of her "icon" status in pop culture.
He recalled one incident during filming when he and Pamela had gone out for food and the actress insisted on paying. When she went to use her credit card, she joked about how it often gets rejected because she is "not a good financial planner".
"It's shocking for how famous she is and how much much a part of American pop culture she's been for the last 30-something years that she had been in financial trouble that many times," White said to Yahoo (opens in new tab).
How much did Pamela Anderson get paid for Baywatch?
Pamela's Baywatch salary is a far cry from the amounts TV stars make today. During the show's first season, Anderson earnt $1,500, though this increased to $300,000 in the show's fifth season - according to the New York Post (opens in new tab).
The Blonde beauty portrayed senior lifeguard Casey Jean Parker for five seasons, from 1992 until 1997.
In a previous interview, Anderson explained to Variety that she didn't have "the representation" or "the know-how" to secure her financial future at the time. "You don't realize when you're doing a TV show that it's going to be that popular, so you kind of sign your life away," she told the publicaiton.
In terms of royalties today, The Daily Mail reports that Pamela earns just $4,000 a year from her Baywatch work. Pamela Anderson's son Brendan Lee said at the Netflix documentary premiere: "A lot of people made a lot of money off that, people are going to have to have their day when we come knocking … when she makes $4,000 a year off of Baywatch? That's a crime."
Pamela Anderson WAS Baywatch..she put that show on the map and you're telling me she makes a whopping $4K a year in residuals?! Shout out to her son. Mention it all! #PamelaAnderson https://t.co/to2UCesZ8zFebruary 1, 2023
See more
How much did the Pam and Tommy tape make?
According to Stylecaster, Rand Gauthier made $77 million off sales of the tape. The ex-electrician was employed to work on renovations at Lee and Anderson's home at the time and allegedly stole the couple's honeymoon sex tape following an incident with Tommy Lee.
Gauthier reveals in an interview with Rolling Stone (opens in new tab) in 2014 that after being fired for the job, he and a contractor returned to pick up their tools.They were instead met with a disgruntled Tommy, who aimed a shotgun at them and shouted: "Get the f**k off my property."
"I was never really that popular with people," Gauthier says. "But I had never been held at gunpoint. It screwed with my head."
In the same Rolling Stones article, Rand says that he spent the entire summer of 1995 planning the robbery. He even goes as far to share that he planned wearing a white Tibetan yak fur rug over his back to camouflage him. The idea was it would make him appear as one of the couple's dogs on their CCTV.
Gauthier told the publication that taking the items was only meant as a laugh. But that once he found and watched the homemade tape he knew it would sell.
Rand then used his adult film industry contacts to help leak the video.
In 1997, Pamela Anderson and Tommy Lee filed a $10 million lawsuit against anyone who was suspected of having a copy of the tape. This led to an injunction against Gauthier, prohibiting him from creating or distributing copies of the tape. However by this point Gauthier had already put the material out there.
The couple had no choice but to settle the lawsuit with video distribution company Internet Entertainment Group. The company went on to make the tape available to subscribers for a fixed price on its site.
No money made from the tape ever went to Tommy or Pamela. CinemaBlend reports (opens in new tab) that the two turned down a $5 million payment for the tape at one point - though this is something Pamela doesn't regret owing to how much of a violation it was.
Who is worth more - Pamela Anderson or Tommy Lee?
Comparing figures on Celebrity Net Worth, it appears that Tommy Lee is worth more than his ex-wife Pamela Anderson. The Mötley Crüe drummer has a net worth of $70 million, which is over three times more than Pamela's estimated fortune.
A lot of Tommy's wealth stems from his musical success with rock band Motley Crue. According to Yahoo, Tommy made his first million following the success of the band's 1981 debut album Too Fast for Love.
In total,The Richest (opens in new tab) estimates that Lee accrued over $26 million as a member of Mötley Crüe over the years.
Video of the Week
Emily Stedman is the Features Editor for GoodTo covering all things TV, entertainment, royal, lifestyle, health and wellbeing. Boasting an encyclopaedic knowledge on all things TV, celebrity and royals, career highlights include working at HELLO! Magazine and as a royal researcher to Diana biographer Andrew Morton on his book Meghan: A Hollywood Princess. In her spare time, Emily can be found eating her way around London, swimming at her local Lido or curled up on the sofa binging the next best Netflix show.