Is Jodie Foster married and does she have kids?
Is Jodie Foster married and does she have kids? Here's what we know about the double Oscar winner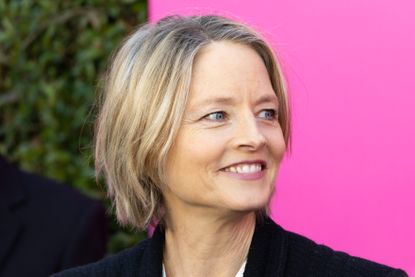 (Image credit: Getty Images)
Is Jodie Foster married and does she have kids?
Her latest role as Diana Nyad's coach, Bonnie Stoll, in Netflix's latest biopic had fans wondering is NYAD a true story as well as wanting to know details about the famous swimmer herself, asking where is Diana Nyad now?
Reviewers have described Jodie's performance as a "knockout" in the LGBTQ film, so let's find out more about the American actress.
Is Jodie Foster married?
Jodie Foster is married to fine art photographer Alexandra Hedison, and the two had a private ceremony in 2014 after just one year of dating.
The couple tend to stay out of the public eye, but have made it clear that they support one another's careers.
In 2021, both Jodie and Alexandra were photographed together on the red carpet, where the actress was awarded the Honorary Palme d'Or (meaning Golden Palm), which is the highest prize up for grabs at the Cannes Film Festival.
During the pandemic, Alexandra posted a photo of them together in her studio with the caption: "Every day I'm a proud wife but today you get a special shout out in the remote land of IG. I'll have to show you my phone for you to see this but still...I'm shouting from the rooftops."
Does Jodie Foster have any children?
Jodie has two sons – Charles, 24 and Kit, 21 – with her ex-partner Cydney Bernard.
According to the Daily Mail, the pair met on the film set of Sommersby in 1993, and were together until 2008.
Jodie likes to keep her children out of the limelight and acknowledges that this was a conscious decision.
Speaking to The Guardian, the mother-of-two said: "I know the perils of having a parent involved in your art form are too great. My older son is getting more interested in acting now, and I'm glad he discovered it late. My younger son is really shy and I can promise you he will never be an actor."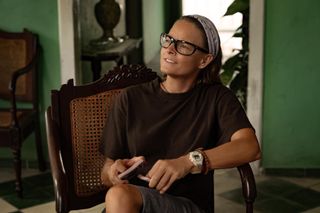 Why did Jodie Foster stop acting?
After playing a number of tough roles, Jodie took a five-year hiatus from acting and instead, became involved in projects behind the camera. She directed episodes of hit shows such as Orange is the New Black and Black Mirror until Hotel Artemis caught her attention, where she played the role of the no-nonsense nurse.
In an interview with SheKnows, Jodie said: "I've been directing a lot, and I didn't really want to come back to acting unless it was something that I absolutely loved. I was looking for something that felt more like a transformation.
"For me, that would be more exciting, to do something that was more of a challenge than what people expect of me and just to have that kind of physical transformation to create a full character."
Elsewhere on Netflix, we've answered your question will there be a You season 5. And if you're intrigued by Apple TV's latest period drama, check out The Buccaneers review and learn where was The Buccaneers filmed. In celebrity relationship news, we've also taken a look at whether Daniel Radcliffe is married and if he has kids.
Parenting advice, hot topics, best buys and family finance tips delivered straight to your inbox.
Daniella is a qualified journalist specialising in fitness, nutrition and women's health. She has written for a number of consumer titles including Health & Wellbeing, Stylist, Women's Health UK, and Fit & Well.
With four years' experience in the wellness space, Daniella has tried and tested the best fitness kit on the market worth buying and has a keen eye for up and coming brands to look out for. She's also interviewed celebrities and co-produced a wellbeing podcast.