Where is Diana Nyad now?
Where is Diana Nyad now? What we know about the famous athlete's post-milestone success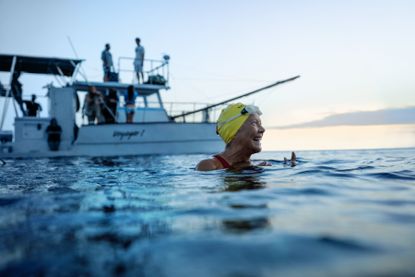 (Image credit: Netlix)
Ahead of its release, the inspiring new Netflix film, NYAD, people are wondering, where is Diana Nyad now?
If you're looking for what to watch this month, be sure that NYAD makes it on your list. Fans of British sports icons such as Mark Cavendish will love this new sports film and naturally want to know more about where the incredible athlete is now and whether NYAD is based on a true story.
The film follows the remarkable journey of athlete Diana Nyad who, at the age of 60 and with the help of her best friend and coach Bonnie Stall, set her sights on achieving her life-long dream, and it was no easy feat. She wanted to attempt a 110-mile open ocean swim from Cuba to Florida.
Annette Bening, who plays Diana Nyad in the upcoming film, portrays her remarkable journey and viewers are keen to know more about where the long-distance swimmer is now…
Here's what we know about her life beyond her epic open ocean swim…
For more TV recommendations, read our review of The Buccaneers.
Where is Diana Nyad now?
Diana Nyad retired from competitive swimming in 1979, but dived straight back in to it in 2010 to embark on her "Xtreme Swim" challenge, marking the end of her lustrious career.
Nowadays Diana is now regarded as a top-class motivational speaker, broadcaster and writer. During her motivational speeches, Diana shares her inspiring story and lessons from her long-distance swimming career.
The 74-year-old has also worked as a sports commentator and provided commentary on swimming and endurance events.
She is making waves once again amid the release of a Netflix drama based on her nail biting real-life ocean swim. Diana is best-known as an American long distance swimmer who gained international fame and recognition for her multiple attempts to swim from Cuba to Florida without a shark cage – yikes.
In 2013, at the age of 64, she successfully completed the swim, making her the first person to do so. The swim was dubbed the "Xtreme Swim" and it's easy to see why.
The swim covered approximately 110 miles through treacherous waters of the Florida Straits, and it took Diana nearly 53 hours to complete the distance.
How many times did Diana Nyad fail?
Of course, swimming 110 miles is no mean feat, and Diana made a total of five documented attempts between 1978 and 2013 before completing the challenge. She faced numerous failures and challenges during her previous attempts and these repeated failures over the course of 35 years only added to the significance of her eventual success.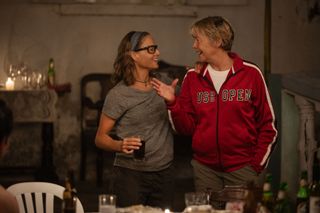 Where is NYAD streaming?
NYAD is streaming on Netflix and will be released in the UK tomorrow (3 November 2023).
The official Netflix synopsis reads: "A remarkable true story of tenacity, friendship and the triumph of the human spirit, NYAD recounts a riveting chapter in the life of world-class athlete Diana Nyad.
"Three decades after giving up marathon swimming in exchange for a prominent career as a sports journalist, at the age of 60, Diana (four-time Academy Award nominee Annette Bening) becomes obsessed with completing an epic swim that always eluded her: the 110 mile trek from Cuba to Florida, often referred to as the "Mount Everest" of swims.
"Determined to become the first person to finish the swim without a shark cage, Diana goes on a thrilling, four-year journey with her best friend and coach Bonnie Stoll (two-time Academy Award winner Jodie Foster) and a dedicated sailing team.
"The inspiring and rousing film highlights Diana's multiple obstacles throughout the challenge, including unpredictable weather, strong currents and of course, the notorious shark-infested waters."
Other new Netflix releases have stirred up questions with people asking is All the Light We Cannot See a true story? Plus, if you raced through Stephen Graham's latest series, you might be wondering will there be a Bodies season 2?
Parenting advice, hot topics, best buys and family finance tips delivered straight to your inbox.
Daniella is a qualified journalist specialising in fitness, nutrition and women's health. She has written for a number of consumer titles including Health & Wellbeing, Stylist, Women's Health UK, and Fit & Well.
With four years' experience in the wellness space, Daniella has tried and tested the best fitness kit on the market worth buying and has a keen eye for up and coming brands to look out for. She's also interviewed celebrities and co-produced a wellbeing podcast.