Where is The Madame Blanc Mysteries Filmed? Surprising real locations featured in the Channel 5 mystery series
The real setting of Sainte Victoire is very surprising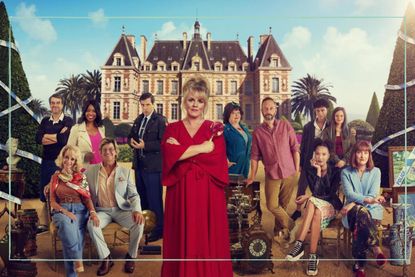 (Image credit: ViacomCBSPress/Channel 5/Future)
Fans that like to know where their favourite shows are filmed, look no further! We have everything you need to know about where The Madame Blanc Mysteries filmed.
Cosy Channel 5 drama The Madame Blanc Mysteries, crept up out of nowhere and stole the hearts of the nation. It both stars, and is written by Corrie legend Sally Lindsay, and also features a host of beloved faces from British TV. Lindsay portrays Cheshire antiques dealer Jean, who loses her husband in a car crash - she quickly finds his shady financial dealings will leave her penniless now he's gone. Moving to the village of Sainte Victoire in France where she owns a cottage, Jean attempts to unravel the mystery of her husband's death, while finding herself solving other mysteries along the way with the help of a colourful collection of locals. Fans drawn in by the show and the stunning locations featured, want to know where it's filmed. Keep reading to find out exactly where the action was shot, and the answers might be surprising.
Also on Channel 5, viewers are mesmerised by a more intense murder mystery, and want to know what is The Catch based on (opens in new tab) - Jason Watkins leads a stellar cast in the drama. The Catch filmed (opens in new tab) in a completely different country where the action is set, and viewers have searched for where the seafront locations can be found, in their droves. The show is yet to reach a conclusion, but for anyone looking for how it could end, The Catch book ending explained (opens in new tab) could contain potential spoilers.
Where is The Madame Blanc Mysteries filmed?
Despite being set in France, The Madame Blanc Mysteries is actually filmed in Malta and Gozo.
Sally Lindsay admitted she was sceptical about filming in Malta, as the show had originally planned to film in France but coronavirus restrictions made it difficult. She told Entertainment Daily (opens in new tab) "We were going to film in France, but it proved so complicated to do that. Channel 5 suggested Gozo, but I wasn't really sure… I'd been to Malta a couple of years ago when my father was passing because it was on his bucket list, and the bit we went to looked more like Spain than the South of France."
Sally continued to say "We got the ferry to Gozo, but it was unbelievable – literally just a tiny drive in and it was like we were in the South of France. Even our French actors thought it looked like France!"
Producer Andy Morgan also discussed his feelings about the change of location, and how the team managed to make Malta resemble the South of France. He said "I was always confident that we could create Sainte Victoire on Gozo. Once I set foot in the square there, it just felt absolutely right."
He concluded "We had our church, our police station and our pub – create some shop signs, dot some French cars around and you're there if you use clever framing. When shooting we would close the square so that we could drive cars on the other side of the road, and simple things like that work really well."
Where in Gozo is The Madame Blanc Mysteries filmed?
A lot of The Madame Blanc Mysteries filmed in the town of Sannat in Gozo.
Sannat is a small town in the southern part of the island of Gozo. The town is home to Ta' Cenc Cliffs, the highest cliffs on the island of Gozo with stunning views of the surrounding Mediterranean Sea. Mgarr ix-Xini Bay can be found at the bottom of the town's Hazira Vally, a large valley splitting Sannat from the towns of Xewkija and Ghajnsielem. Mgarr ix-Xini is a diving destination on the island, featuring clear water for snorkelling, and interesting cave formations. A behind the scenes picture from filming shows crews setting up in Sannat square, which forms a stunning backdrop to the action.
Is Saint Victoire a real place?
Saint Victoire is a fictional village, made up for The Madame Blanc Mysteries. However, it takes inspiration from real French village Vauvenargues.
There is a Montagne Sainte-Victoire in Southern France, a limestone mountain ridge popular with hikers - artists also frequent the region for the beauty. Vauvenargues can be found at the foot of the north massif of Mount Sainte-Victoire, and although the fictional village name was inspired by the area, still no actual village of that name exists.
Sally Lindsay spoke about choosing France for the setting of the show. She said "Sally Lindsay, who stars in and created the show, says: "I remember sitting in my caravan in rainy Manchester filming Cold Call thinking it would be nice to somewhere sunnier. That was a big influence on where The Madame Blanc Mysteries would be set!"
Where is the Chateau in Madame Blanc Mysteries?
The exact location of the Chateau owned by Judith and Jeremy in The Madame Blanc Mysteries is unknown, only that it is the Prime Minister of Malta's secondary residence.
Show producer Andy Morgan said "We used the Prime Minister's wife's secondary residence for Jeremy and Judith's chateau. It was basically like filming at Chequers. We turned their dining room into a lounge – it was being wasted as a dining room as it looked out onto the beautiful gardens. I feel like we made the place even more homely. I really wanted the PM and his wife to visit the set and get some ideas from us, but we didn't see them during filming."
Madame Blanc: Cast
Sally Lindsay (Coronation Street) as Jean White
Steve Edge (Benidorm) as Dom Hayes
Sue Vincent (Shameless) as Gloria
Robin Askwith (Benidorm) as Jeremy Lloyd James
Sue Holderness (Only Fools and Horses) as Judith Lloyd James
Alex Gaumond (Derry Girls) as Caron
Alaïs Lawson (Domina) as Claudette
Narayan David (After Love) Hecter as Xavier
Margeaux Lampley (Les Tuche) as Celine
Aonghus Weber (The Running Mate) as Niall
Olivia Caffrey (Coronation Street) as Barbara
Paul Chuckle (ChuckleVision) one-off guest appearance
Paul O'Grady (The Paul O'Grady Show) one-off guest appearance
Dom actor Steve Edge spoke to What To Watch (opens in new tab) about his season 2 role. He said "The series is more episodic this time, but there is still the overarching story of the other Madame Blanc… Barbara is still around and will come into contact with Jean at some point! Meanwhile, the main crime is a masked murder. I think Dom's a little bit pleased that Cooper is under suspicion. He isn't that keen on Coop!"
Speaking about his favourite episode of the season, he said "My favorite is episode six when Dom does a bit of making up with Jean and they spend a lot of nights together listening to prog rock! Clive Russell was a brilliant bit of casting. He's good in everything! He's a giant as well. I'm 6'3" and he was staring over me! We've had lovely guests this year - Les Dennis, David Ames, Lee Boardman and Jennifer James. We've had a lot of fun nights out!"
Related Channel 5 Features:
Video of the Week
Lucy is a multi-award nominated writer and blogger with six years' experience writing about entertainment, parenting and family life. Lucy has contributed content to PopSugar and moms.com. In the last three years, she has transformed her passion for streaming countless hours of television into specialising in entertainment writing. There is now nothing she loves more than watching the best shows on television and telling you why you should watch them.