Where was Three Little Birds filmed? Filming locations of Lenny Henry's new drama
Where was Three Little Birds filmed? Here's what we know about the highly-anticipated period drama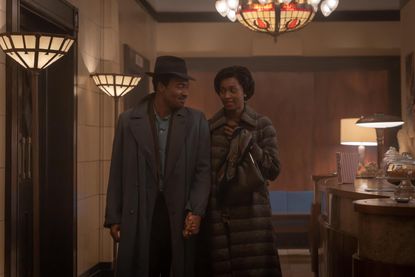 (Image credit: ITV/Douglas Road Productions)
Written and produced by Sir Lenny Henry, Three Little Birds is ITV's latest major "life-affirming" drama.
It seems we can't get enough of the UK's shoot-worthy locations, (like, where Payback is filmed anyway?), and we've even looked into the city's skyline featured on Netflix's Everything Now.
The story of three women – Rochelle Neil, Yazmin Belo and Saffron Coomber – starts all the way in Jamaica, so where was Three Little Birds filmed?
Here's what we know about the ITV drama's set.
Where was Three Little Birds filmed?
Three Little Birds – set in the Midlands – was filmed in Coventry.
The camera crew and cast were seen back in September 2022, when they shut down a street in the West Midlands city as part of filming for Three Little Birds.
Other areas of the Midlands were set to be key filming locations, including the Earlsdon area, Leamington Spa and Nuneaton.
What is the drama Three Little Birds about?
Three Little Birds is a powerful drama that depicts the trials and tribulations of the Windrush Generation, as well as the racism and discrimination they faced in 1950s Britain.
Based on Lenny's mother's experiences of leaving Jamaica, Three Little Birds follows three women in search of new beginnings.
In the first episode, we see Jamaican sisters Leah and Chantrelle – and their friend Hosanna – leave their home to start a new life in 1950s Britain.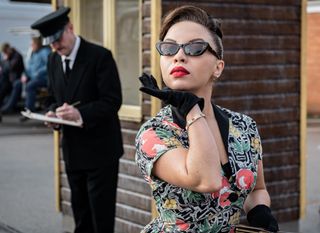 Speaking on ITV's This Morning with presenters Dermot O'Leary and Alison Hammond, Lenny opened up about the personal stories that inspired him to write Three Little Birds.
The comedian said: "She [his mother] came to Britain and suddenly she was introduced to this incredible world, and some of it was hostile, people didn't know where she was from… And she got racial abuse and oppression, there was sexism, but she overcame it all.
"I wanted to write a story about migrants coming to this country and figuring out how to integrate and to become part of the universe, part of the British world, despite signs on the windows saying, 'No blacks, no Irish, no dogs'. Despite racism, despite all of that, it's how you come.
"It's about making allies, making friends, falling in love, falling out of love, and I wanted to do a series about that, about what I grew up seeing around me."
Where can I watch Three Little Birds?
The first episode of Three Little Birds aired last night (22nd October) on ITV1 and ITVX at 8pm.
The full series is available to stream now on ITVX.
For more news about some of the UK's film-friendly locations, Moordale High fans will be interested to know where Sex Education is filmed. Plus, Stephan Graham's latest Netflix series has some fans wondering where was Bodies filmed?
Parenting advice, hot topics, best buys and family finance tips delivered straight to your inbox.
Daniella is a qualified journalist specialising in fitness, nutrition and women's health. She has written for a number of consumer titles including Health & Wellbeing, Stylist, Women's Health UK, and Fit & Well.
With four years' experience in the wellness space, Daniella has tried and tested the best fitness kit on the market worth buying and has a keen eye for up and coming brands to look out for. She's also interviewed celebrities and co-produced a wellbeing podcast.