Queen extending 'olive branch' to spend more time with Harry, Meghan, Archie and Lilibet this summer
The Queen has reportedly left for Balmoral to spend the summer in her favourite residence - and a royal reunion is set to take place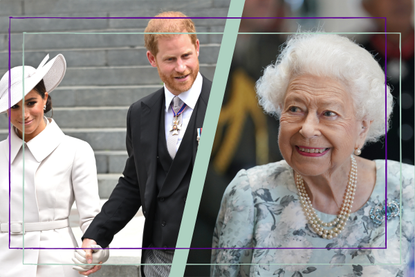 (Image credit: Karwai Tang/WireImage/Future - Kirsty O'Connor-WPA Pool/Getty Images/Future)
The Queen has reportedly invited Prince Harry and Meghan to spend time at Balmoral this summer.
---
The Queen arrived at her Highlands home on Thursday, and is reportedly planning to stay in Craigowan Lodge on the Balmoral estate for a total of 10 weeks.
In what is being dubbed 'an extended olive branch', the Queen has reportedly invited Harry, Meghan and their two children, Archie and Lilibet, to spend time with her at the Scottish home.
The pair have not been to the Highlands to see the Queen since 2018. If they accept, it would mean that the duke and duchess' children, Archie and Lilibet, would finally spend quality time with their great-grandmother.
However, it is claimed that the Sussexes will not spend time with other royals, such as Charles and William, and will only stay with Her Majesty briefly while other senior royals are not about.
A source told The Sun on Sunday, "Staff have been told to expect the full list of royals including Harry, Meghan and their children Archie and Lilibet. They are preparing for the Sussexes."
Another source also said, "Balmoral is the perfect place for them to spend a little bit of quality time with the Queen.
The Sussex family made a brief appearance at the Platinum Jubilee celebrations earlier this summer but did not stay long and were kept in the background for the Buckingham Palace balcony appearance.
A palace insider told The Express that Prince Harry and Meghan 'barely had 15 minutes' with The Queen due to the hectic arrangements of the jubilee celebrations. However, they managed to finally introduce their daughter Lilibet (opens in new tab) to her great-grandmother.
A royal expert revealed she believed Prince Harry was "absolutely furious" over his treatment during the Queen's Platinum Jubilee celebrations. Angela Levin, who penned the Duke of Sussex's biography, told The Sun, "The thing that really stood out for me on that day was Harry's anger – he wears his emotions on his face and he looked absolutely furious. He could have been feeling lots of things, I don't know whether he had a wave of feeling at what he had given up."
Related features:
Anna Bailey is the editor of GoodTo. She joined the team in June 2018 but has been a lifestyle writer and online editor for more than 14 years. Anna graduated from Bournemouth University in 2004 with a degree in Multimedia Journalism and went on to gain her NCTJ and NCE journalism qualifications. She began her career in local journalism, working as a reporter for the Basingstoke Gazette in Hampshire. As Lifestyle Editor for ITV.com she managed the websites for the broadcaster's best-loved shows including This Morning, Loose Women, Coronation Street, Emmerdale, Coleen's Real Women, and Britain's Best Dish. Before joining Goodto.com she was also a Features Editor at MSN UK and Digital Lifestyle Editor for the broadcaster UKTV. She's also contributed to The Mirror, The Sun, LoveFood, LoveExploring, and TBSeen.