Scarlett Moffatt announces she's pregnant with first baby
Gogglebox star Scarlett Moffatt has revealed her pregnancy news with a sweet post on Instagram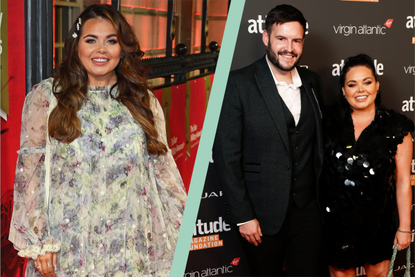 (Image credit: Getty Images)
Scarlett Moffatt has announced she is expecting her first child with her boyfriend Scott. The Gogglebox cast member (opens in new tab) revealed the news with an adorable Instagram post, adding she's 'over the moon'.
Scarlett Moffatt is expecting her first baby with her boyfriend Scott Dobinson.
The former Gogglebox star has revealed the news with a heartwarming Instagram photo.
Congratulations are in order, because Scarlett Moffatt has announced the sweet news she's expecting her first baby with her boyfriend Scott Dobinson.
The former Gogglebox star revealed her pregnancy in an adorable Instagram post, which she shared with her 2.3million followers.
In the video, her pet chihuahua can be seen wearing a bandana which has on it, "I'm going to be a big sister," as it sits next to a sonogram.
Scarlett wrote alongside it, "It truly feels like a dream writing this caption.

"Me & Scott are on cloud nine & we are so happy that we get to share this moment with you all. You are so loved already little one."
She added, "Baby Dobinson coming soon."
Unsurprisingly, Scarlett's friends and fans were quick to comment and share their well-wishes, with the post clocking up more than 180k likes.
Danny Dyer added two heart emojis, while Strictly Come Dancing star Michelle Visage wrote, "CONGRATS BABY GIRL!"
Gogglebox's Izzi Warner commented, "Awww lovely news [heart emoji] congratulations xx," while Stacey Solomon posted, "Aw Congratulations Scarlett", and Scarlett's mum Betty added, "So excited for our little bean."
Scarlett and her family shot to fame when they appeared on Gogglebox from 2014 to 2016, before Scarlett went on to win I'm A Celebrity... Get Me Out Of Here.
As for her relationship with Scott, the pair have known each other for more than 15 years but started dating in late 2018.
They briefly split up in March 2021 but swiftly got back together, with Scarlett telling her fans at the time it was due to the stress of moving house.
"For anybody moving house, I think I speak on behalf of me and Scott, it's very stressful. It is very stressful," she said on Instagram.

"I never thought it would be this stressful. I thought it would be fun. I do like the decorating part but the actual getting a house sorted and DIY and all that stuff isn't the best, but if anybody ever needs any tips on how to stay calm whilst moving…"
In 2021, Scarlett said she would love to have kids with Scott 'one day', adding that she might even want to adopt in the future.

The couple aren't currently engaged, but in October Scarlett said she hoped Scott would propose to her in time for Christmas so it would be like a 'Disney fairytale'.
"It's October now. I'm not dropping any hints but he's only got three months until the end of the year!," she told MailOnline at the time.
"You know what? I always say we are in a really happy place so if it happens, it happens, but I suppose it's just because this is the time when everyone gets proposed to, like Christmas time and New Year.
"So I think it's always just in the back of my mind, the Disney Princess version of me thinks, 'Oh, it could be a fairytale,' but I don't think he's given into the peer pressure."
Senior Digital Writer covering all celebrity news and features for CelebsNow and Woman. As well as breaking all major stories from the entertainment world, Naomi also chats to TV and music stars to deliver exclusives. When she's not watching Love Island, she's wishing she had Victoria Beckham's wardrobe and obsessing over Little Mix's latest album.