Ted Lasso season 2 recap: Everything you need to remember ahead of the season 3 premiere
All the key happenings from season 2, right here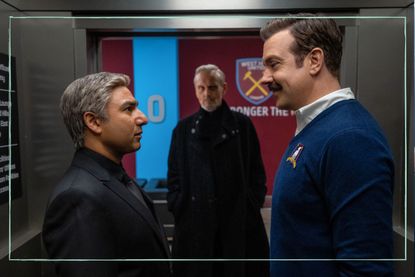 (Image credit: Apple TV)
Clear your schedule and put whatever else you're watching on hold - Ted Lasso is back, and this is a show worthy of your full attention.
Ted Lasso arrived on our screens at a time we needed him most - in the midst of a pandemic. With the world in turmoil and not always a lot to smile about, the smash-hit comedy brought all the laughs, and became a word-of-mouth wonder. The people who dish out the awards certainly agreed with public consensus, as Ted Lasso is now the worthy holder of 11 Emmys and a whole host of other accolades. He might think tea tastes like garbage water, but the perpetually upbeat football coach will always have a place in out hearts. After waiting for what feels like an eternity for Ted Lasso season 3 (opens in new tab), the release date is nearly upon us and new episodes begin airing on March 15. But before we witness a Ted/Nate face off, here's all the key events from season 2, in the form of a handy recap.
Elsewhere on Apple+ TV, for those asking will there be a Bad Sisters season 2 (opens in new tab), the answer has been revealed. Bad Sisters filmed (opens in new tab) at a host of iconic Irish locations, and we reveal where they can be found. The Bad Sisters ending (opens in new tab) pulled of a brilliant twist, as the Garvey sisters could finally heave a sigh of relief - but for how long?
Ted Lasso season 2 recap
Ted Lasso season 2 begins with striker Dani Rojas taking a shot. With the ball taking a perfect trajectory towards the goal, celebrations never actually arrive.
As the ball follows its arc, the Richmond greyhound mascot Earl, manages to escape. Chasing a bird across the pitch, Earl jumps into the path of the ball and is killed on impact. With a devastated Dani needing psychological input from the trauma and his ongoing "yips," sports psychologist Dr. Sharon Fieldstone is brought on board as part of the Richmond team. Ted is less than impressed with her being hired, believing his style of coaching can tackle any psychological issues the players have. However, her practical and no-nonsense approach sees her popularity with the players soar, as they actively seek out her advice.
Meanwhile, Roy struggles to find his place in the world after retiring from Richmond. Coaching the Under 9s girls' team attended by his niece does him absolutely no favours at all, and girlfriend Keeley is out to help him get his mojo back. She encourages him to apply for a pundits job at Sky Sports, and although it initially appears his sweary and bad tempered manner will see him fired - he is a huge hit. Despite viewers thinking he's found his niche, Roy still remains frustrated and unfulfilled though.
Disgraced former Richmond player Jamie Tartt (Keeley's ex-boyfriend) makes a return. He makes an appearance on a dating show made up for the series, but is quickly voted off. He soon returns to the club, beseeching Ted to let him re-join and play again. Playing for Manchester City meant spending more time around his terrible father, and he'd joined the reality TV show just to put space between them. Playing for Richmond would keep him apart from his father, and allow him to do what he loves once more.
Ted turns down Jamie's offer to return, but leaked pictures of the pair talking causes unwanted trouble. Midfielder Sam Obisanya is furious when he sees the photos, thinking the man who bullied him so badly is making a comeback. To put the idea of Jamie's return to bed once and for all, Ted calls a meeting with Coach Beard, Nate, and Higgins, to vote on the matter. When they vote unanimously for Jamie to be sent packing, that appears to be that - until Dr. Fieldstone reminds Ted the team haven't won in a while, urging him to consider why. On that note, Ted gives in, inviting the talented Jamie back, despite everyone's misgivings.
Jamie's confirmed return leaves the team feeling betrayed by their coaches. Jamie tries to make amends, but his apologies fall on deaf ears. Keeley gets involved and suggests Dr. Fieldstone steps in to iron out the tension. She also organises a sponsorship deal for the team with a Dubai airline, but when Nigerian-born Sam hears the new sponsor has links with an oil company causing damaging pollution in his home country, he refuses to take part in the required photo shoot for the advertising campaign.
In response, Dubai Air put pressure on Rebecca to get of Sam, but in the spirit of wanting to show goddaughter Nora how to be a strong woman who stands by her values, she stands in support of Sam. Jamie urges the team to follow Rebecca's lead, and they all cover the Dubai Air logos adorning their kits with tape, to show they all support Sam. When Sam thanks Jamie for his actions, it seems relations between the pair have thawed, and Jamie might not be the bad guy everyone thought he was.
The seed of Nate's growing resentment is firmly planted, when he tries to impress his parents on their wedding anniversary. Having struggled to gain the respect he craves from them, he thinks his new status as coach will allow him to easily book the best table in his parents' favourite restaurant. When the staff still appear to overlook him, as do his parents, he is devastated. When Ted later encounters some coaching problems, instead of conferring with Nate, he calls on Roy. When Roy offers the perfect solution, Ted offers him a job - initially hesitant, he eventually takes up the position leaving Nate furious.
Roy cements his place on the coaching team by ensuring Richmond win their next matches. His advice to Jamie is that in becoming softer outside of the pitch, he's lost his edge while on it. The coaches agree with Jamie that when they give him the middle finger, it's a sign he needs to tap into that old aggression and do better during matches. Their hack works during a game with Spurs, when giving Jamie the finger immediately causes him to score.
Ted has a huge panic attack and runs from the match, where Nate steps in to take over. When Richmond win, Nate becomes very full of his own self-importance. Ted is later seen at Dr. Fieldstone's office - having been vocal over his feelings that therapy is pointless, he appears surprised at where he finds himself. It's a rocky road for the Dr and her new patient, with Ted becoming very angry at having to be vulnerable, before finally committing to give therapy a real chance. It transpires Ted has suffered panic attacks from the age of 16, when his father took his own life.
Christmas comes around, and with no plans and his son in the States with his ex-wife, it looks like Ted has a date with alcohol. That is until Rebecca invites him to help her deliver presents to children unlikely to receive anything. Despite his sadness, Ted ends up having a lovely time with Rebecca, in a real feel-good Christmas special episode.
Keeley meanwhile, gets on board to do PR for dating app Bantr. Encouraging Rebecca and Ted to sign up they both receive notifications of a match, and it appears they've been matched with one another. However, when Rebecca attend a date with said match, it actually turns out to be Sam. They both laugh about the situation, and continue to have dinner as friends - which ends with them falling into bed together. A clandestine relationship follows, that nobody saw coming. But when Rebecca's mother dies suddenly, her grief causes her to end the relationship as she doesn't have the headspace for more heartache.
Jamie decides the funeral will be an excellent place to tell Keeley he still wants to be with her, despite knowing she's with Roy. More turbulence is in store for in-demand Keeley, when Nate also makes a move on her. Having previously offered to help him with his self-esteem issues, Nate had misread her intentions. When she accompanies him to a suit fitting, he swoops in for a kiss. Her brush-off only bruises his inflated ego further, and the resentment grows. In a further bid to regain power, Nate finds out about Ted's panic attack and sells a story about it to Trent Crimm. Although unscrupulous enough to run the story, Crimm still feels obliged to warn Ted whom his source was - he later loses his job for revealing this information.
It seems that fan-favourite Sam could be exiting Richmond when he's headhunted by Ghanaian billionaire Edwin Akufo. His plans are to form a fully African team, but while Sam seriously considers the offer, he ultimately turns it down. Meanwhile, news of Ted's panic attack emerges, but he receives a multitude of support. Roy questions whether he and Keeley are in the right place for a relationship, when her career skyrockets - Bantr are so pleased with her work, they want to back her own personal PR firm. The series ends with the status of their relationship in doubt.
Ted confronts Nate over the newspaper story, who unleashes fury on him. Dr. Fieldstone's therapy seems to have fully cured Dani, when he scores an incredible penalty and Richmond are finally promoted. The reason Rebecca's ex-husband Rupert agreed at her mother's funeral to hand over his remaining Richmond shares to her become clear - he has bought West Ham United instead. Then, the closing moments of the series make the big reveal: Rupert has poached the enraged Nate, and made him a member of West Ham's coaching staff.
Why did Nate betray Ted Lasso?
Nate betrayed Ted because he felt Ted was no longer giving him the attention he deserved.
When Ted first joined Richmond, Nate was very much side lined and ridiculed. Ted showed him the kindness he wasn't receiving from anyone else, and eventually the recognition he craved from his father when Ted made him part of the coaching team. Ted however, has his own turbulence going on - the series reveals he is still very much dealing with the breakup of his marriage and being separated from his son, and the impact of his father's suicide and he's not in a position to keep Nate front and centre of everything.
Nate also forgets that Ted is there to do a job - make Richmond win. When Ted seeks advice for that to happen from sources other than Nate, Nate sees this as a betrayal. He also feels his status as coach automatically ensured admiration from members of the public, and potential love interests. When that doesn't happen, he blames Ted for making him feel important, then that feeling being stripped from him as he perceives Ted has lost interest in him - he ends up blaming Ted for everything wrong in his life.
Speaking to TV Line (opens in new tab), Nate actor Nick Mohammed said "I think a lot of Nate's insecurities stem from his toxic relationship with his dad. That's examined a little bit in Episodes 5 and 7, and we can read into that. He's absolutely betrayed Roy, and he's been deeply inappropriate with Keeley, who was just being so kind and standing by him, and he completely misinterpreted all of that.
Brett [Goldstein] was telling me they were trying to think of what would be worse for Nate. "Would it be worse if Roy sized up against him, and maybe they had a fight?" But what's actually more painful for Nate is that Roy brushes it off because Nate is almost… not important enough to pose a real threat. I think that is deeply painful for Nate, that he feels like he isn't one of the big boys, or that he's just not getting the respect or the attention that he deserves."
What is the meaning of the Ted Lasso Beard episode?
The episode focusing entirely on Coach Beard's after dark adventures following a dreadful defeat for Richmond, was always meant to look completely different from the other episodes.
Initially, the writers though season 2 would be 10 episodes long. They'd discussed and rejected many episode storylines and idea. When Apple told them season 2 would require 12 episodes, the writers went back to their discarded ideas, picking out the Coach Beard idea as a standalone episode, with the extra time they'd been given. Jason Sudeikis was given the final say on the matter, announcing "All right. We're going to do a Christmas episode, and we're going to do 'Beard After Hours.'"
Speaking to TV Line (opens in new tab), Brendan Hunt who plays Coach Beard, said "[Director Sam Jones] is drawing from Martin Scorsese's After Hours in a lot of different ways… Jason originally had said it should be shot on an iPhone, but what he really meant was it should be handheld and should feel intimate and up-close in a way that the show isn't really. The idea of making it look different from other episodes was always part of the package.
In the beginning, we didn't even know for sure if the episode was going to be all Beard or if we were going to jump into other storylines. In the end, we decided to make it organic to what would Beard actually be doing: He would go to the bar. If adventures were going to happen, it had to start from there and with these people. Once we locked into that, it was so much fun."
Related Apple TV Features:
Video of the Week
Lucy is a multi-award nominated writer and blogger with six years' experience writing about entertainment, parenting and family life. Lucy has contributed content to PopSugar and moms.com. In the last three years, she has transformed her passion for streaming countless hours of television into specialising in entertainment writing. There is now nothing she loves more than watching the best shows on television and telling you why you should watch them.