Ted Lasso season 3: What we know so far about a release date and season 4
Football for those who hate football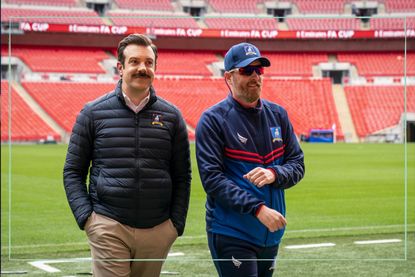 (Image credit: Apple TV/Future)
Grab yourself a decent cup of tea and some baked goods to die for, because it smells like potential in here - the Ted Lasso season 3 release date is coming closer!
If you love football, Ted Lasso is for you. If you don't love football, Ted Lasso is also for you. Because football is just one aspect of the show's genre bending charm - you'll find yourself crying with laughter one minute, before sobbing with gut wrenching genuine sadness the next. Jason Sudeikis' masterpiece somehow manages to combine friendship, romance, mental health, and just about every nuance of the human condition - all with touching hilarity. Multi-award winning seasons 1 and 2 took the world by storm, and we can almost sniff the arrival of season 3. Here's everything we know about a possible season 3 release date, and the future of the nation's favourite football coach.
There's another triumphant comedy airing on Apple TV, bringing all the feels. Trying season 3 charts one couple's fertility journey - with both sad and joyous moments. Sharon Horgan has also worked her magic on a new show on the streamer, with many viewers wanting details on Bad Sisters and if it's a remake? The series also showcases Horgan's homeland, with Bad Sisters filmed across some recognisable Irish locations. And those that have watched it all are after the Bad Sisters ending explained.
Ted Lasso season 3: When could the release date be?
Ted Lasso season 3 will be released on Wednesday, March 15, 2023.
On January 18, 2023, Apple TV shared a season 3 teaser to their Twitter page, along with a first look image. The image depicted Ted, face to face with now nemesis Nate, had the simple caption "Time to win the whole f***ing thing." Here's your first look at #TedLasso Season 3, coming to Apple TV+ this Spring."
Time to win the whole f***ing thing.Here's your first look at #TedLasso Season 3, coming to Apple TV+ this Spring. pic.twitter.com/a7MvOk00HMJanuary 18, 2023
See more
Brimming with tension, the photo offers a throwback to the unresolved animosity Nate displayed towards Ted, resulting in Nate leaving AFC Richmond at the end of season two to take up a position at West Ham United. If viewers can remember that far back, the Premier League team is owned by Rebecca's ex-husband Rupert, who can be seen lurking menacingly at the back of the picture.
Cristo Fernández who plays Dani Rojas in the show, had previously estimated an early 2023 arrival for season 3. Filming for season 3 began in March 2022, which was much later than previous seasons went into production. In July 2022, Hannah Waddingham who plays Rebecca, told Deadline that the cast still had a couple of episodes left to film. This put the release date for season 3 seriously later than that of seasons 1 and 2 - which were August 2020 and July 2021 respectively.
How many episodes of Ted Lasso season 3 are there?
Season 3 of Ted Lasso will have 12 episodes. Season 2 also had 12 episodes, while season 1 had only 10.
Sudeikis made the 12-episode announcement backstage at the 2021 Emmys. Revealing that 12 episodes had been ordered instead of 10, he told reporters "They, being Apple, asked for 12 episodes - and this time, ahead of time. So, we'll be doing 12 episodes as of now."
This is unsurprising, as Ted Lasso is Apple TV+'s most successful show to date. It has received Emmys for best comedy series for both previous seasons, and has been the only Apple series to appear in the Neilsen's measurement weekly top 10 streaming charts - more episodes will bring more views.
Where can I watch season 3 of Ted Lasso?
Ted Lasso is only available to stream on Apple TV, it is currently unavailable to watch anywhere else.
Apple TV is free for 3 months when an Apple device is purchased, as long as the offer is redeemed within 90 days. For those who haven't recently purchased an Apple product, a free 7 day trial of Apple TV is available, followed by a monthly cost of £4.99 per month when the trial comes to an end.
Ted Lasso season 3: Cast
Jason Sudeikis as Ted Lasso
Hannah Waddingham as Rebecca Welton
Brett Goldstein as Roy Kent
Juno Temple as Keely Jones
Nick Mohammed as Coach Nathan "Nate" Shelley
Brendan Hunt as Coach Beard
Jeremy Swift as Leslie Higgins
Toheeb Jimoh as Sam Obisanya
Cristo Fernández as Dani Rojas
Kola Bokinni as Isaac
Stephen Manas as Richard Montlaur
Annette Badland as Mae
Speaking to Discussing Film about Nate's character arc and the final standoff between him and Ted at the season 2, Nate actor Nick Mohammed said "I knew that it was coming for a long time, that there would be this standoff between Ted and me. That it was going to be a big part of the season finale. I got sent the script a couple of weeks before shooting it, so I was prepped as much as you can be.
He continued with "I felt oddly pressured in that I just knew it was an important thing to get right. I knew there had to be an authenticity to it. Partly because it's such a big heel turn for Nate, you know? You compare him being promoted at the end of season one and how joyful that is, and then the end of season two and how dark, bitter that is".
Is Ted Lasso season 3 the last?
Yes, Ted Lasso is confirmed to end with season 3. Although the cast of the show have spoken in recent months about how difficult they will find saying goodbye to their characters.
Hannah Waddingham told Deadline back in July: "We are halfway through shooting Season 3 and I would like to pause things because I'm not ready to say goodbye to her in three episodes".
She continued to say "Brett and I were talking about [saying goodbye] earlier and we're both a little bit in denial but have been expecting it since the word go at the same time. It's like a long, slow mourning. I love her, man. She's the girl - my girl - that I'm walking along next to and serving. I know that sounds dramatic but that's how I feel. I feel her rippling through my bloodstream and I'm not ready to not walk with her anymore".
Related Apple TV Features:
Video of the Week
Lucy is a multi-award nominated writer and blogger with six years' experience writing about entertainment, parenting and family life. Lucy has contributed content to PopSugar and moms.com. In the last three years, she has transformed her passion for streaming countless hours of television into specialising in entertainment writing. There is now nothing she loves more than watching the best shows on television and telling you why you should watch them.