What did Ferne McCann's voice notes say? The leaked messages about Sam Faiers explained
The star broke down in tears when addressing the scandal on This Morning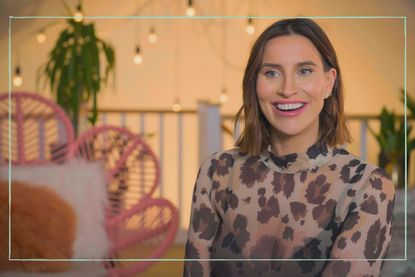 (Image credit: ITV)
The TOWIE star has opened up about the scandal she was caught up in last year, and many want to know what exactly Ferne McCann's voice notes said.
Last year, TV personality Ferne McCann found herself caught up in a scandal when an anonymous Instagram user leaked a series of voice notes that were allegedly recorded by Ferne. In the recordings, a women who appears to be Ferne - who has recently confirmed her second pregnancy (opens in new tab) - could be heard making disparaging remarks about her former best friends Sam Faiers, who last year gave birth to her third child (opens in new tab), and Billie Shepherd, who has also recently welcomed a third baby (opens in new tab).
Ferne apologised on her Instagram story after the voice notes surfaced, but her friendships with Sam and Billie ended. Now, the former TOWIE cast member has opened up about the scandal, both in an appearance on the TV show This Morning, and in the new series of her TV show Ferne McCann: First Time Mum.
What did Ferne McCann's voice notes say?
The leaked voice notes allegedly recorded by Ferne McCann contained comments about her friends Sam Faiers and Billie Shepherd (née Faiers), as well as acid attack victim Sophie Hall.
The first voice note emerged in September 2022, and Ferne supposedly said in it: "Sam Faiers is a fat c***. Her thighs are so big, and I looked really skinny today and, um, yeah."
The second and third leaked voice notes contained further comments about Sam, saying, "That's the sort of girl that she is. She's just a narcissistic b***h. She honestly won't care."
And: "It's an exact copy. It's just so sh*t on people that have worked hard to just - because she has a big following. It's just ridiculous. It's out of order."
A fourth voice note appears to be from when Billie Shepherd's son, Arthur, was born. In the recording, the speaker can be heard making a comment about Billie's son's name - which he shares with Ferne's ex Arthur Collins.
In the voice note, Ferne appears to say, "It feels so weird saying Arthur. I can't believe… It's like me having a little boy and calling him Greg."
Weeks later another voice note was leaked, where Ferne was alleged to have made comments about ex Arthur's acid attack victim Sophie Hall. In the recording, a woman is heard mocking Sophie before adding, "She is one ugly f***ing c***."
What has Ferne McCann said about the voice notes?
Ferne appeared on This Morning on Wednesday 15 May, and when discussing the voice notes she apologised to those who'd been affected and said, "It definitely wasn't my finest hour, and it definitely was a very difficult time in my life when those voice notes were leaked."
She added: "I do need to take this opportunity to publicly apologise again to those affected. Obviously the words that I used were unpleasant and I have reached out privately to those people."
When the voice notes first surfaced, Ferne posted a statement on her Instagram addressing the scandal and apologising for the comments. In the statement, she wrote: "I want to apologise to all the victims of Arthur Collins abhorrent actions in 2017 that they have to relive that night and the pain that followed because this matter is again in the public domain.
"In particular I want to apologise to Sophie Hall. I do not believe her to be ugly or stupid. She has been brave beyond belief.
"Arthur Collins' crimes created genuine victims so I am not trying to portray myself as one. I am unable to say much because there are important and significant legal proceedings that prevent me from setting the record straight at this stage."
During her recent appearance on This Morning, Ferne described the time of her life when the voice notes were released as her "lowest moment" and admitted she has been in therapy since the incident.
She said: "The voice notes were from a time when I was in a very vulnerable situation about six years ago, I have been in therapy for six years since, I am a different person."
Ferne also explained, "I understand that it is really confusing, and I have this burning desire to share everything that happened to me and why I said these things but I can't, there will be a time when I can so I hope that people can be patient with me until then.
"I know my story will be able to help a lot of women and until then unfortunately I can't say too much."
Who leaked Ferne's voice notes?
The voice notes were leaked by an anonymous Instagram account called Lady Whistledown - after the Bridgerton character that spreads gossip. The account posted a series of voice messages from a woman they claimed was Ferne.
Speaking in an episode of her show First Time Mum, Ferne said she knows who is behind the leaked messages, adding that when they appeared online she instantly recalled who she had sent them to.
She also claimed that a number of the messages had been edited, adding, "There's only one person I know who would want to inflict this much pain and damage - they destroyed me."
During her appearance on This Morning, Ferne said "It's very difficult because I would love to sit here with you guys and my followers to share exactly what went on. But it's now part of a criminal investigation so I can't do that."
Video of the Week
Ellie joined Goodto as a Junior Features Writer in 2022 after finishing her Master's in Magazine Journalism at Nottingham Trent University. Previously, she completed successful work experience placements with BBC Good Food, The Big Issue and the Nottingham Post, and freelanced as an arts and entertainment writer alongside her studies. In 2021, Ellie graduated from Cardiff University with a first-class degree in Journalism.