What did Meghan Trainor say about teachers? The controversy explained as singer apologizes over 'careless' remarks
The singer has apologized in a TikTok following public backlash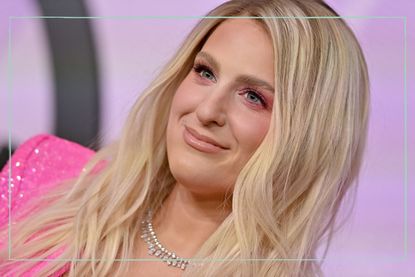 (Image credit: Getty Images)
The Grammy Award-winning singer made a comment about teachers she has since called "careless" in an apology video, leading many to wonder what exactly Meghan Trainor said about teachers.
Thanks to social media allowing all of us to tell someone what we think of them simply by picking up our phones, celebrities often quickly pay the price when they make a controversial comment. And the latest victim of this so-called cancel culture is Meghan Trainor, who recently faced backlash after a comment she made about teachers oh her podcast.
The 'Made You Look' singer, who is currently pregnant with baby number two after welcoming her first child with husband Daryl Sabara in February 2021, was speaking to influencer Trisha Paytas about their mutual desire to home school their children when the comment was made. Here, we explain what Meghan Trainor said about teachers and the details of her apology.
What did Meghan Trainor say about teachers?
Meghan Trainer recently said in an episode of her podcast, Workin' On It, "F*** teachers". The clip quickly went viral and has resulted in backlash from the public, with many criticizing the singer for her comment.
Meghan Trainor and her brother Ryan Trainor were speaking about parenthood on the podcast with influencer Trisha Paytas when the controversial comment was made.
Hearing @Meghan_Trainor talk dismissively about public schools is so disappointing. So many students have to go to public school because they don't have the money or accessibility for private school or homeschooling. Teachers are superheroes doing the best for their kids. pic.twitter.com/SZZBCv2ywPApril 23, 2023
See more
After mentioning that she and her husband plan to home school their kids, Meghan said, "Everyone on TikTok is like, 'This is what it's like having kids in America. I have a bulletproof backpack.' I was like, f*** all that."
Here, the singer was referring to mass shootings in America. The podcast episode was released less than a month after the tragedy at Nashville's The Covenant School, in which a 28-year-old ex-pupil opened fire in the primary school and killed three teachers and three students.
Trisha Paytas then added that she was worried about bullies as well as teachers, at which point Meghan said, "F*** teachers, dude."
Has Meghan Trainor apologized?
In a TikTok posted to her profile on Sunday 23 April, Meghan Trainor filmed an apology video, saying sorry to "teachers of TikTok and teachers of the world" for the comment, which she called "careless."
"Teachers of TikTok and teachers of the world, I recently said 'F teachers' on the podcast and it's not how I feel. I was fired up because we were talking about how sending your kid to school here in America is so horrific," she said.
"I love teachers, I fight for teachers. I think they have the hardest job and they are the most underpaid. They are the most unappreciated when they literally raise all of us. I don't want to make excuses, I just want to [say] I am so sorry."
She continued: "I am so sorry to any teachers I made feel bad and I will remind myself that my words definitely could have a consequence and I will be more careful."
The singer captioned the video, "I am sorry for being careless with my words. I LOVE teachers and I am here for you ❤️ Let's work to make schools a better place together".
What has Meghan Trainor said since?
So far, since posting the video Meghan hasn't spoken further on the controversy. However, she did add in the clip that she was aware of the challenges Trisha, herself and her husband had with their own teachers, leading her to make the flippant remark.
She said: "I had Trish Paytas on the podcast and I knew her history with her teachers and I know my husband's history with his teachers, and I was bullied by some teachers. So, in that moment I got angry."
Video of the Week
Ellie is Goodto's Feature Editor, having joined the team as a Junior Features Writer in 2022, and covers everything from wellbeing for parents to the latest TV and entertainment. Ellie has covered all the latest trends in the parenting world, including baby names, parenting hacks, and foodie tips for busy families. She has a distinction in MA Magazine Journalism from Nottingham Trent University and a first-class degree in Journalism from Cardiff University, and previously Ellie has worked with BBC Good Food, The Big Issue, and the Nottingham Post, as well as freelancing as an arts and entertainment writer alongside her studies.