What is Lessons in Chemistry based on and is it a true story?
Breaking down the brilliant Apple TV+ series origins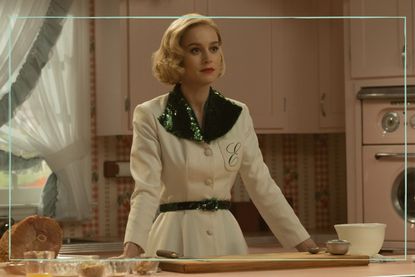 (Image credit: Apple TV+/Future)
What is Lessons in Chemistry based on and is it a true story? Viewers engrossed in the Apple TV+ series have some questions about it.
The Apple TV+ highly anticipated series Lessons in Chemistry has finally arrived. Brie Larson stars as Elizabeth Zott, a 1950s scientist whose dreams of a career in a lab are interrupted by the patriarchal society around her. Fired from her job but undeterred, Elizabeth takes on the role of television cooking show host. From this position, she can teach overlooked housewives science under the guise of imparting recipes. Those tuning in to the series are wondering what the origins of the story are - read on for everything you need to know.
Those interested in the inspiration behind the shows they are watching, also wondered about the origin story The Buccaneers. On Channel 4, some were asking about the inspiration behind the steamy psychological thriller The Couple Next Door. Elsewhere, those asking if the tear-jerking Sitting In Bars With Cake is a true story, might've been left with even more tears in their eyes once they found out the film's backstory.
What is Lessons in Chemistry based on?
Lessons in Chemistry is based on the book of the same name by Bonnie Garmus.
First published by in April 2022, the novel is Garmus's debut novel, and explores themes such as feminism, misogyny, and sexism in the workplace. The original title for the novel was An Introduction to Chemistry, but Garmus changed it when realising the name sounded more like a textbook and might put off potential readers. Upon its release, Lessons In Chemistry immediately garnered rave reviews from both critics and audiences alike, and was was named Barnes & Noble's book of the year in 2022.
When asked by the Guardian why she penned a comedy about sexism and misogyny, Garmus replied "I think any time a writer wants to take on a difficult topic without sounding didactic, humour really helps. Sexism is demeaning, depressing, infuriating, boring, inefficient, stupid, revolting and completely unscientific – in other words, not funny. But people reveal both their strengths and weaknesses when they try to deal with it, or not deal with it, and therein lies the potential for humour."
One Goodreads reviewer wrote about the novel saying "When you come across that perfect read, at what point do you realize? For me, it was from the very first page of Lessons in Chemistry. Honestly, who does Bonnie Garmus think she is, coming in here and writing a book that completely speaks to me? And on top of that, it's her debut. Well, just knock me over with a feather too while you're at it, why don't you!"
Another added "Every single person I know needs to read this book. Not every woman.. every person. An insightful, part tear-jerker, truly hilarious at times work with more than enough charisma to make you want to be the best version of yourself? That is Bonnie Garmus's masterpiece: Lessons In Chemistry."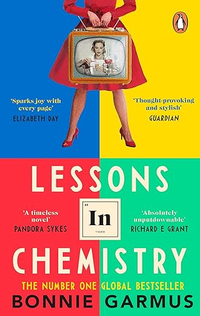 Lessons in Chemistry paperback edition by Bonnie Garmus £4.99 | Amazon
Read the international bestseller, now a major Apple TV+ series starring Brie Larson.
Is Lessons in Chemistry a true story?
Lessons in Chemistry is a work of fiction, but inspired by Bonnie Garmus's own experiences of having her ideas stolen at a previous place of work.
For protagonist Elizabeth, having her scientific work stolen in the novel is commonplace, and Bonnie Garmus had her own ideas thieved by men at the advertising agency where she once worked as a creative director.
In a Q&A with Better Reading, the author said "The main inspiration came from a bad day at work! I'd been in a meeting which had been plagued by some average sexism, but for some reason on that day, I just couldn't let it go. Later, when I got back to my desk (still mad!) I wrote the first chapter of Lessons in Chemistry.
She added "All of my characters are entirely fictional except for one. Six-Thirty, the dog in the story, is based on my old dog, Friday. Although Friday didn't know as many words as Six-Thirty, she was really smart and influenced the way I thought about human-species interaction and our place in the animal kingdom."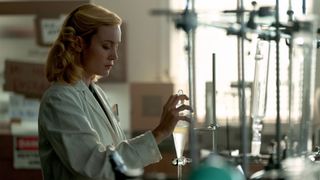 How many episodes of Lessons in Chemistry are there?
There will be 8 episodes of Lessons in Chemistry altogether, with the show billed as a limited series.
The first two episodes will land on October 13, with new episodes then released weekly on Fridays until November 24. Speaking of her joy at having her novel adapted for TV, Bonnie Garmus told the Los Angeles Times "I never imagined ever that this could happen. And when they asked me later on who I saw in the roles when I was writing it, I said no one because I never imagined it would get this far."
Garmus first heard from her agent that Hollywood was calling, not long after the book was published. "There were like 38 different studios who were interested, and it was just very overwhelming" she added, continuing "But I will say Brie Larson Zoomed with me and she said, 'I want to be executive producer, and I want to bring this to life.' I have incredible amount of respect for her."