When is Happy Valley on next and how many episodes in season 3?
The grand finale is just days away!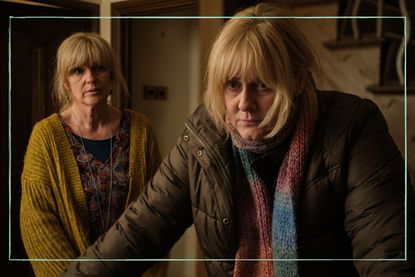 (Image credit: Future/BBC)
Shocked after the events of episode 4? Here's when Happy Valley is on next and how many more outings we have left in season 3. (*SPOILERS AHEAD*)
It's the series that continues to pack a punch, delivering twists and turns at every opportunity, leaving viewers glued to their seats and hungry for more. Season 1 saw the indomitable Catherine Cawood (scene-stealingly played by Sarah Lancashire (opens in new tab)) carry on in the wake of her daughter Becky's death (opens in new tab), whilst season 2 gave us more grisly murders including the memorable TV moment where Alison killed her son (opens in new tab) in the most harrowing way.
Fast forward to 2023 and audiences are grappling with the drama of season 3 - a dodgy pharmacist, an abusive husband, gang crime and the return of Tommy Lee Royce. It's safe to say that whilst Happy Valley is filmed (opens in new tab) in a picturesque setting, life in the show continues to be anything but. For those that can't wait for the next installment, we've shared when Happy Valley is on next and how many episodes season 3 has.
When is Happy Valley on next?
The next episode of Happy Valley is on Sunday 5 February at 9pm. Tune into BBC One, BBC One HD or stream it live or after the broadcast on BBC iPlayer.
Episode 6 is the finale and last episode of Happy Valley season 3 (opens in new tab). Episode 5 left viewers more uncertain than ever as to what will happen next, with Tommy Lee Royce still out and planning his revenge. Going into the finale, Show bosses have certainly not given anything away, with the official Episode 6 synopsis reading: "Scores are settled for good on Catherine's final shift, and Ryan faces a moral dilemma."
Episode 5 opened with Tommy Lee Royce meeting up with organised gang leader Darius Knezevic, who helped Tommy escape from court. Picking Tommy and his bike up in a grey van, he drops Tommy back in Halifax, giving him a home to hide out in for the next few days before his planned escape to Marbella.
Meanwhile Catherine, Neil, Claire, Ryan and co are forced to find other living arrangements with their homes out of bounds now Tommy is loose. Panic first ensues when Ryan sneaks off from his grandad's house without a word - turning up at the doorstep of uncle Kyle and his wife Charlie. Charlie - who has her own history with Tommy Lee - finally relays to Ryan the truth about what his father did to his mother and the after effects this had.
After being alerted to Ryan's whereabouts, Catherine arrives to pick Ryan up and take him to their temprary accomodation at Nev Gallagher's home. The episode ends with Ryan settling in and playing his games console after a hectic 24 hours - but alas it's not as innocent as it seems. Ryan receives a message from dad Tommy on the xbox, which leads to a voice call between the two. During the call Tommy reveals his plans to escape to Marbella and his intentions for Ryan to join him. Ryan promises his dad he'll think about joining him abroad - and then the credits roll.
Aside from the anticipated Tommy-Ryan-Catherine reunion in the finale, viewers are also seeking a satisfactory conclusion to the murder of Joanna Hepworth. The audience know the real killer to be pharmacist Faisal Bhatti, who first hit her over the head with a rolling pin, before injecting her with a loaded syringe that was intended to kill her husband off. Her body was hidden in a black suitcase in the garage, which Joanna's husband Rob later discovered at the end of Episode 4.
A physically abusive and controlling husband, it's thought that Faisal hoped to frame Rob for the murder. But the end of Episode 5 showed that the Police were interested in who was supplying Joanna with her anti-anxiety medication.
Thankfully the season finale is an extra 10 minutes long (compared to the regular hourly episodes), which hopefully means Sally Wainwright can successfully wrap up the action and all the audience's burning questions in one.
Well.. what did you all think?! What an episode!!👀#HappyValley pic.twitter.com/wPHFMFGRJTJanuary 29, 2023
See more
How many episodes of Happy Valley season 3?
Happy Valley season 3 consists of 6 episodes in total - the same episode count it had in seasons 1 and 2. Each one lasts approximately 60 minutes in length.
The first episode of Happy Valley season 3 dropped on New Year's Day 2023. Other BBC dramas tend to release all episodes at once as part of a full boxset. However, the broadcaster has decided to keep audiences waiting with episodes of Happy Valley season 3 being released weekly.
Episode 1: Aired 9pm on Sunday 1 January 2023
Episode 2: Aired 9pm on Sunday 8 January 2023
Episode 3: Aired 9pm on Sunday 15 January 2023
Episode 4: Aired 9pm on Sunday 22 January 2023
Episode 5: Aired 9pm on Sunday 29 January 2023
Episode 6 (upcoming): Airing 9pm on Sunday 5 February 2023
Episode 6 of Happy Valley season 3 marks the series finale and the final ever episode of the show.
Speaking at the show's screening back in December 2022, executive producer Will Johnston stated that series creator Sally Wainwright and lead actor Sarah Lancashire, both agreed that Happy Valley "would only return once more".
"It definitely isn't coming back – and again this is [from] Sally and Sarah who completely and rightly feel that you can have too much of a good thing," he added.
Those who may have missed any episodes of Happy Valley season 3 can find the latest episodes online via BBC iPlayer (opens in new tab).
"We always said this would be the final season and it is very definitely the final season."Sally Wainwright and the cast of Happy Valley reveal what to expect when the story continues, 6 years since we last saw Catherine Cawood & co.Read more ➡️ https://t.co/bobxBGHba0 pic.twitter.com/bzNmcYhHetDecember 13, 2022
See more
Happy Valley season 3 cast
Aside from Sarah Lancashire, also returning for season 3 is James Norton as Catherine's nemesis, the murderer and sex offender Tommy Lee Royce, and Siobhan Finneran, Catherine's sister, the recovering addict Clare Cartwright.
Speaking about her return, Sarah Lancashire said, "It's time to let the dog see the rabbit."
Actress Siobhan Finneran added, "I'm so thrilled to be returning to Happy Valley as Clare, and delighted to now be able to answer the question: "Please tell me there's going to be another Happy Valley???" with a resounding "Yes there is.""
Meanwhile, James Norton said, "To take on Tommy one final time is a wonderful and daunting privilege, and something I've been looking forward to since we wrapped the last series, six years ago. I'm so excited to be working with the insanely talented Sally and Sarah again. Thinking we should all go on one last barge holiday, for old times' sake."
Happy Valley season 3 - supporting cast
Rhys Connah returns as Ryan Cawood.
Con O'Neill returns as Neil Ackroyd (Claire's boyfriend)
Derek Riddell returns as Richard Cawood
Susan Lynch returns as Alison Garrs
George Costigan returns as Nevison Gallagher
Charlie Murphy returns as Ann Gallagher
Karl Davies returns as Daniel Cawood
Ishia Bennison as Joyce
Shane Zaza as Shaf
Chord Melodic as Sledge
Mete Dursun as Gorkem
Rick Warden as Mike Taylor
Vincent Franklin as Andy Shepherd
Amit Shah (The Other One, The Long Call), Mark Stanley (The Girl Before, White House Farm) and Mollie Winnard (All Creatures Great and Small, Four Lives) all joined the cast for series three, and are currently playing pivotal roles in Happy Valley's final chapter.
This series also saw some newcomers join - Oliver Huntingdon (The Rising), Jack Bandeira (Sex Education), Alec Secareanu (God's Own Country), and Anthony Flanagan (Gentleman Jack).
Video of the Week
Emily Stedman is the Features Editor for GoodTo covering all things TV, entertainment, royal, lifestyle, health and wellbeing. Boasting an encyclopaedic knowledge on all things TV, celebrity and royals, career highlights include working at HELLO! Magazine and as a royal researcher to Diana biographer Andrew Morton on his book Meghan: A Hollywood Princess. In her spare time, Emily can be found eating her way around London, swimming at her local Lido or curled up on the sofa binging the next best Netflix show.