Why did Alison kill her son in Happy Valley?
Recapping that devastating season 2 moment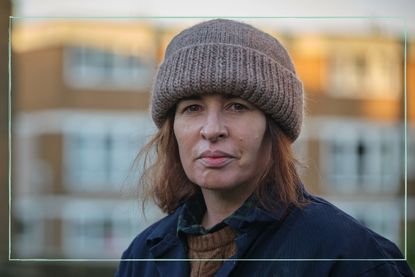 (Image credit: Future/BBC)
WARNING: This article contains information that some readers might find distressing.
As viewers get their teeth into Happy Valley season 3 (opens in new tab), some have needed a refresher on the events that came before - including how did Becky die (opens in new tab) and where we've seen returning character Alison Garrs before. Featuring prominently in the current season, some may recall Alison was a main character with a harrowing storyline in the second series - that involved the death of her son Daryl.
With season 2 of Happy Valley being filmed (opens in new tab) over 7 years ago, we'll forgive you for not remembering more of Alison's season 2 arc. So we've shared what exactly went down at that farm in the last series and why Alison killed her son - as viewers patiently wait till Happy Valley is next on (opens in new tab).
Why did Alison kill her son in Happy Valley?
In Happy Valley season 2, Alison killed her son Daryl after he admitted to murdering three sex workers. Seen as a mercy killing - Alison shot her son in the head as she believed he wouldn't survive the ordeal of life imprisonment.
The night before his murder, Daryl (played by Robert Emms) heads to his mother's bedroom in the middle of the night, wakes her and confesses to "doing bad things". "Have you hurt someone?" she says, adding "Is it to do with those women". Earlier that day Alison questioned her son about the damage to his van after learning of a hit-and-run appeal following the latest murder.
Back to the present and Daryl says he doesn't know why he did it. Though Alison had her own suspicions of Daryl being linked to the spree of sex worker killings in Calder Valley, the news nevertheless comes as a shock. The two decant downstairs where they discuss his crimes further. "You'll visit me in prison," he asks her, viewing it as his only option. "I don't think you'll like prison," Alison replies, deep in thought, as she tries to rack her brain for an alternative.
The next morning on the farm, Daryl arrives downstairs to a full fry up on the kitchen table. He takes a seat and starts to tuck in, whilst his mother starts the conversation. "So I've got a plan. You've always wanted to go to America haven't you?" she says.
Alison goes on to explain she's got savings and passports and that the two could jet off to America and try their luck before the police catch up with them. A convinced Daryl talks of Las Vegas and seeing the desert. Alison then retreats from the kitchen to pick up the rifle, but continues talk of the dream trip, asking her son what else he'd like to see. "Florida, California," he continues. "Can we go to Disneyland?"
The audience then sees Alison aim the rifle at the back of Daryl's head. The action jumps to outside the farmhouse now, and after a loud bang, we see blood splatter on the kitchen windows.
A vulnerable and child-like lad who is something of an outsider - having been isolated on the farm - it's thought that Daryl's mother Alison deemed him not strong enough to deal with prison life and how he'd fare amongst other inmates. This is why she ultimately decides to end his life instead.
In the season two finale, Catherine Cawood arrives at the farm. She finds Alison barely responsive at the kitchen table, having taken a concoction of pills and alcohol in an overdose attempt. Catherine rescues and later arrests the grieving mother after she confirms that it was her who shot Daryl.
As the investigation unfolds, the audience learns (via Catherine) the gruesome reality of Alison and Daryl's life. It turns out Alison was raped by her father, resulting in her pregnancy with Daryl. This therefore confirms that Daryl was Alison's half brother as well as her son.
Who plays Alison in Happy Valley?
Alison Garrs is played by Northern-Irish actress Susan Lynch. The 51-year-old is best known for her TV roles in Apple Tree Yard, Killing Eve and Monroe, and for playing Miss Lawton in Downton Abbey.
In 2003 she also picked up the British Independent Film Award for Best Supporting Actress for the 2003 film 16 Years of Alcohol.
As for her personal life, Lynch was previously married to Line of Duty (opens in new tab)'s Craig Parkinson - with whom they share a son. The two separated in 2019 (opens in new tab). Susan is also the younger sister of fellow actor John Lynch.
Alison's role in Happy Valley season 3
Viewers saw Susan Lynch return as Alison Garrs in Happy Valley season 3. Just released from prison, Catherine catches up with her as she's moving into a new flat and trying to rebuild her life.
In episode three, Catherine pops round with some clothes and other things she's donated to help get Alison on her feet. She asks Alison for a favour - to borrow her blue van for an afternoon. Catherine fills Alison in on her plan which is to use the car to follow Claire, Neil and Ryan as they travel to Sheffield prison to see Tommy.
Sadly for Catherine the trip proves exactly what she was dreading - that Ryan is seeing his dad again and that all three of them lied to her about doing it.
When is Happy Valley next on?
Episode 5 of Happy Valley will next air on Sunday 29 January at 9pm on BBC One. Season 3 consists of 6 episodes in total, which means the next episode is the grand finale.
If you need to catch up on the current season, you can find all released episodes of Happy Valley on BBC iPlayer (opens in new tab). The streaming service also has the whole Happy Valley season one and season two boxset - if you'd like to go back and refresh your memory on what happened prior to the latest series.
Video of the Week
Emily Stedman is the Features Editor for GoodTo covering all things TV, entertainment, royal, lifestyle, health and wellbeing. Boasting an encyclopaedic knowledge on all things TV, celebrity and royals, career highlights include working at HELLO! Magazine and as a royal researcher to Diana biographer Andrew Morton on his book Meghan: A Hollywood Princess. In her spare time, Emily can be found eating her way around London, swimming at her local Lido or curled up on the sofa binging the next best Netflix show.