When will Queen Charlotte: A Bridgerton Story be released on Netflix? Everything we know about the Bridgerton spin off
The Bridgerton universe is growing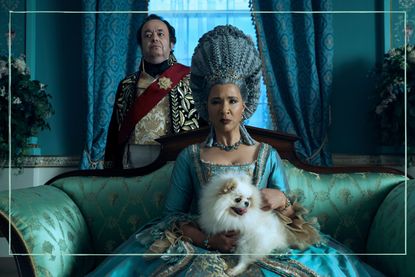 (Image credit: Netflix/Future)
Netflix's Bridgerton series has brought a hole host of loveable characters to our screens and the epitome of the Ton, the ever-elegant, snuff-sniffing, Whistledown-hunting Queen Charlotte is about to get her very own spin-off.
Netflix announced they were filming Queen Charlotte: A Bridgerton Story last May, with Bridgerton's original producer Shonda Rhimes set to write and executive produce the series, according to Variety. Details have so far remained under wraps with secrecy shrouding any and all Bridgerton spoilers - but a few things have slipped through the cracks. Here's everything we know about Queen Charlotte: A Bridgerton Story including its release date, possible plot and its main character.
When will Princess Charlotte: A Bridgerton Story be released on Netflix?
Netflix's Princess Charlotte: A Bridgerton Story will be released on 4 May 2023. The six-episode limited series was first teased at Netflix's winter 2022 fan event, Tudum, where a short clip showed Queen Charlotte meeting her future lover, King George, for the first time.
As the show has been billed as a limited series, this means it will only run for one season and fans will only be getting those initial six episodes.
What will the Bridgerton spin-off be about?
Queen Charlotte: A Bridgerton Story will tell the tale of Queen Charlotte's origin story, illustrating her life up until we meet the Royal in season one of Bridgeton. As the show is a prequel series, we know that Charlotte will be seen meeting and falling in love with the King of England, her husband in the Bridgerton series, though we don't know exactly how this story played out.
A main element of the series will also reportedly illustrate the societal shifts that followed Charlotte's marriage to King George. This change has been hinted at by Lady Danbury who previously mentioned in season one of Bridgerton that the pair's coupling opened the door for people of colour enter elite society.
Netflix's head of global TV, Bela Bajaria, said, "Many viewers had never known the story of Queen Charlotte before Bridgerton brought her to the world, and I'm thrilled this new series will further expand her story and the world of Bridgerton."
As per Netflix's media team, "The spinoff will also tell the stories of young Violet Bridgerton and Lady Danbury." This focus on the older ladies of the Ton is very exciting for fans as the original show glosses over the stories that made them the strong, independent women we see portrayed.
Where to watch Queen Charlotte: A Bridgerton Story?
Queen Charlotte: A Bridgerton Story will be available to watch exclusively on Netflix from 4 May 2023. If you cannot wait that long, teasers are available to watch on both Netflix and the Netflix YouTube channel.
Is The Queen in Bridgerton historically accurate?
Although Bridgerton is a fictional series, the character of Queen Charlotte is a real historical figure and there are many, many similarities between the two Queens. The real story of Queen Charlotte didn't need much adaptation for the screen as she truly lived out a fairytale fit for a film. Just as shown in Bridgerton, Queen Charlotte really did marry King George III of Britain to become, as is historically believed despite there being no official confirmation, England's first monarch of colour.
Speaking of Queen Charlotte's heritage, Producer Van Dusen told ET, "That's something that really resonated with me. I started to wonder what that could have looked like. What could this queen have done? Could she have used her power to elevate other people of colour in society?"
Also shown in the show, according to royal expert Carolyn Harris, "Queen Charlotte liked Pomeranian dogs and brought her Pomeranians with her to England when she married King George III. She created a fashion for owning Pomeranians."
But there are some inaccuracies in the name of creating drama. Harris explains, "In Bridgerton, Queen Charlotte is depicted as the arbiter of the annual social season, deciding who will be the most prominent debutante each year." But according to the expert, while there were key social moments centred on the Queen, she likely didn't have as much sway as Bridgerton makes out.
What happened to Queen Charlotte's daughter in Bridgerton?
Queen Charlotte's daughter in both Bridgerton and real life died at the age of 27 from tuberculosis. In both Bridgerton and real life, Queen Charlotte and King George had 15 children together though they're rarely mentioned throughout the show. One of the couple's daughter's, Amelia, is the only child mentioned by name in the series, and she is only referred to when viewers learn she became ill and died from tuberculosis.
Royal News and Entertainment writer
Charlie Elizabeth Culverhouse is royal news and entertainment writer for Goodto.com. She began her freelance journalism career after graduating from Nottingham Trent University with an MA in Magazine Journalism, receiving an NCTJ diploma, and earning a First Class BA (Hons) in Journalism at the British and Irish Modern Music Institute. She has also worked with BBC Good Food and The Independent.