Where is Go Hard or Go Home filmed? Location featured in the BBC reality series
It's not exactly a sunny holiday!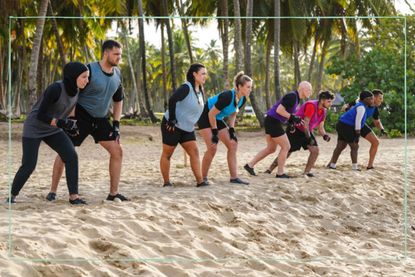 (Image credit: Future/BBC)
Minds and bodies are set to be transformed, in a gruelling 28 day challenge for a group of trainees wanting a spectacular fitness challenge.
Go Hard or Go Home is a reality show that throws eight people into the toughest 28 days of their lives. Feeling lost in their lives, the eight contestants (Trainees) are matched with a fitness pro (Warrior) acting as a mentor through epic challenges. The training and challenges undertaken by the Trainees are designed to push their minds and bodies to the limit. The Warriors have used sports and fitness to overcome their own demons, and are on a mission to prove the Trainees can do the same. With a sandy and tropical backdrop to the intense action, we take a look at where Go Hard or Go Home filmed, and answer other burning questions about the series.
The SAS: Who Dares Wins - Jungle Hell cast (opens in new tab) might be able to teach the Trainees a thing or two, as the shows have enjoyed inevitable comparisons. Jungle Hell filmed (opens in new tab) in a different location to where previous iterations of the show have taken place, and we delve into exactly where. Comparisons have also been made to another endurance show - I'm A Celebrity. The fan favourite filmed back in Australia for the latest series, and we have everything you need to know about the remote Australian camp (opens in new tab).
Where is Go Hard or Go Home filmed?
Go Hard or Go Home is filmed in the Dominican Republic, the most visited destination in the Caribbean. The year-round golf courses and opulent resorts are popular with tourists, and the average temperature of 26 °C made for hot and humid training conditions for the Trainees.
The conditions nearly proved too much for presenter Jordan North, who fainted during filming. He told the BBC "I fainted on the first day at the top of the cliff with heatstroke. I'd been doing bits to camera for about 20 minutes. You know when you get up from a settee and go a bit dizzy? It was like that. I went a bit dizzy, and then it all was in slow motion."
"It's time to go hard or go home."Eight Brits are competing in a once in a lifetime opportunity to change not just their bodies but their minds too 🧠💪#GoHardorGoHome starts tonight at 9pm on @bbcthree and @bbciplayer 👉 https://t.co/uBVxTMbfe4 pic.twitter.com/7HBA8IVzmcFebruary 19, 2023
See more
He continued to say of his ordeal "I put my hand on a cameraman's shoulder and went down in stages. The next thing I know I've got all the medics round me with wet tea towels. The weather was unforgiving. But it was all worth it. I was just standing there talking to camera. I had the easy job. Those guys were exercising in that heat!
Not only did North have to deal with the effects of the heat, he was also forced to confront his fear of flying, to get to the Dominican Republic. This wasn't helped by a series of unfortunate events during his travels. He said "I had a nightmare out there. We missed our connecting flights. We had an emergency landing because one of the engines was on fire. I had a really bad tummy bug as well."
Go Hard or Go Home presenters:
Jordan North
Jordan North presents Go Hard or Go Home, and is best known for hosting shows on BBC Radio 1. No stranger to reality television, he was runner-up of the twentieth series of I'm a Celebrity in 2020.
He explained the appeal of the show to him was that it filled a gap in the market, with nothing like it available for young people at the moment. He said "I liked that it was going to be a young cast and aimed for a younger audience and also the whole premise of Go Hard or Go Home is to help out people in the UK who have had a bit of a tough time either due to the pandemic, health problems, bereavement issues, confidence issues or mental health issues. That was really appealing to me."
He felt he was perfect for the role of presenter, due to his experience on I'm A Celebrity. He said "The contestants really had to push themselves and really get out of their comfort zone and I could 100% relate to that because two years ago, I was on a show where I was away from my home comforts and I had to really push myself. I could totally relate to what they were going through, and how hard it is to push yourself. Some of them had never been that far away from home before and for some, there were some very intense weeks so I completely understood what they were going through."
Paul Olima
Paul Olima is chief coach and co-presenter of Go Hard or Go Home, and is a former professional football and rugby player. Now a qualified personal trainer, Paul trains many clients and has worked as body double for Usain Bolt and Anthony Joshua, among others.
Speaking about the mental endurance required for the show, Olima said "Mental endurance is everything to something like this. I consider myself physically able to endure stuff. Mentally you have to go through some darkness to get through the other side because everybody on the show would not be fit enough to get through so everybody had to push through parts where their body was giving up. Some people mentally were ready for that and some people weren't."
He also spoke about the steps anyone can make to improve their fitness, no matter what stage they are at. His advice is "If you can't get out the house, the advice I'd give you is it's all baby steps. Get out the house and sit on a bench for 5 minutes. If you want to go to the gym but don't have the confidence to go, you don't have to do the full workout, just go to the gym and sit in the hall and watch people go into the gym, that's a step further than you were and then you just progress yourself. You can do five minutes in the gym and that's way better than what you did the day before. So it's all about taking that first step."
The Warriors working under head coach Paul Olima, are athlete and psychologist, Adele Nicoll, shotput and bobsleigh champion, Ashley Cain, former international rugby player, Heather Fisher, MMA fighter, Leah McCourt, Muay Thai fighter and personal trainer, Nesrine Dally, Olympic, World and Commonwealth gymnast, Nile Wilson, celebrity personal trainer, Tyrone Brennand and fitness instructor, Waz Ashayer.
Go Hard or Go Home contestants
Adil Jahangir
Londoner Adil previously enjoyed sport and fitness, but has withdrawn from them in recent years due to his struggles with insomnia, anxiety and depression. Feeling his mental health struggles prevent him living his best life, he wants a fresh start and to begin regaining his physical stamina.
Carys Barnham
23-year-old Londoner Carys lives at home with her family. Having never been away from her mum for more than five days, she's predicting that a battle with homesickness will also be on the cards throughout the challenge. Carys lost her job as an assistant manager of a footwear store two years ago and lost her confidence - she is hoping the show will restore it.
Demitri Rodriguez
23-year-old Demitri is a trans man from Stratford-upon-Avon. He is hoping to develop a body that will make him feel more masculine and increase his self-acceptance. Giving up unhealthy habits such as smoking and eating junk food, are going to be difficult while he is on the show.
Dylan Spaull
Dylan is from Northampton, and diagnosed with testicular cancer two years ago. Now 23, Dylan has been in remission for two years, but the perpetual fear of the cancer returning has blighted his life. He wants to see how well his body can cope with the challenges of the show.
Faith Mullen
Faith has been seen on Geordie Shore, where she feels she lost her identity. Now she wants to reconnect with the real her, and address her relationship with alcohol. Drinking to overcome her anxiety, she is now too anxious to exercise in public. She hopes the show will provide more constructive ways to deal with her mental health.
Hope Ndlovu
Hope describes herself as a "quitter" who at the age of 20 has had over 16 jobs, never staying at one longer than three months. She wants to build stamina and staying power, and also leave the UK for the first time.
Melita Saunders
20-year-old Melita hails from Prestatyn, north Wales. She has suffered from anxiety following the death of her father from a heart attack in 2021. She feels the anxiety is stopping her from doing things she wants to do in life, and destroying her confidence. She hopes to channel her anxiety into the physical challenges on the show, and gain confidence in herself.
Seb Fitzharris
22 year-old Seb is from Bolton, and admits to partying too hard and drinking too much to cope with the pressures of being a full-time carer. Four weeks prior to leaving for the show, Seb sadly lost his mother to cancer after being her carer for the entirety of her illness. She had encouraged him to change his life by joining the show, and he wants to honour her memory by maintaining a healthy body and mind.
Video of the Week
Lucy is a multi-award nominated writer and blogger with six years' experience writing about entertainment, parenting and family life. Lucy has contributed content to PopSugar and moms.com. In the last three years, she has transformed her passion for streaming countless hours of television into specialising in entertainment writing. There is now nothing she loves more than watching the best shows on television and telling you why you should watch them.