Where is SAS: Who Dares Wins - Jungle Hell filmed? Locations featured in the Channel 4 reality series
Where will the recruits land this time around?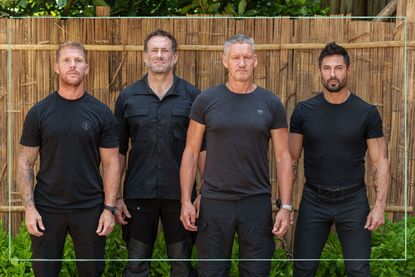 (Image credit: Pete Dadds/Channel 4/Future)
The latest recruits are off to Jungle Hell for SAS: Who Dares Wins 2023, and the location is looking a little different - we reveal where the contestants have landed!
The SAS: Who Dares Wins - Jungle Hell cast (opens in new tab) have been announced, and the exciting military training show is set to return on January 23, 2023. This time, the fresh batch of recruits are off to jungle hell, to face the toughest challenge of their lives while they attempt to complete the punishing jungle phase of SAS selection. This gruelling process sees this year's Directing Staff combine their skills and experience in jungle warfare, to create the toughest course audiences have ever seen on the show. The location for this series ultimate endurance test is looking a little different this year, along with the line up of Directing Staff. Read on to find out where SAS: Who Dares Wins - Jungle Hell filmed for 2023, and why there have been changes to the staff leading the recruits.
Elsewhere on Channel 4, the filming locations of a recent murder mystery thriller had viewers intrigued. The Light in The Hall filmed (opens in new tab) in some beautiful Welsh locations, and we took a look into where. With an intriguing plot, audiences were also keen to find out if the series was based on a true story (opens in new tab) - there was certainly an interesting inspiration behind the show. For those needing The Light in The Hall ending explained (opens in new tab), we delve into exactly how the series concluded and who was really responsible for the crime.
Where is SAS: Who Dares Wins - Jungle Hell filmed?
SAS: Who Dares Wins - Jungle Hell filmed in Thung Ui, North Vietnam for series 8. Channel 4 states the location was chosen due to Vietnam being flooded with conflict history, where the rules of guerrilla warfare were re-written.
The conditions can work for or against the recruits, push or break them, and ultimately offer conditions where only the toughest survive. Chief instructor of the Directing Staff, Billy Billingham, began his career in the Belize jungle. He said " I have served operationally in the jungle and as the Senior Military Instructor in the World's #1 international jungle training school in Brunei. There is one truth about the jungle - it does not like you. It wants to bite, sting, and fall on you from a great height. When Channel 4 decided to take the course into JUNGLE HELL, into one of the most brutal jungles in the world – Vietnam - we knew we had to get this course right!"
He continued to say "The jungle is a total sensory overload and we're taking the recruits into JUNGLE HELL this series. It doesn't matter how often you have heard about it in war stories or seen it in TV programmes or films - there is nothing like experiencing it. Visually, it's incredibly intimidating, because everything looks the same. The smells are unlike anything you have ever known. The sensations of extreme heat and humidity are draining. The noise from the trees and creatures is often deafening, leaving little space to find tranquillity in your mind.
This will be a new dimension in challenges for the recruits. Vietnam is an extraordinary type of jungle and this really is JUNGLE HELL. It's very mountainous, with challenging terrain under a humid canopy, creating claustrophobia and fear. It's home to some of the most deadly creatures on the planet, combined with unpredictable weather systems, including typhoons and flash flooding."
SAS: Who Dares Wins - Jungle Hell 2023: Directing Staff
For SAS: Who Dares Wins - Jungle Hell, Chief DS (directing staff) will be Billy (Mark Billingham MBE), expert in jungle warfare. He is joined by new DS Chris Oliver, and returning DS's Foxy (Jason Fox), and Rudy Reyes will complete the staff line up.
The course devised by the DS is said to be a true survival footing from the start. Billy told Channel 4 it will start in a serial mode, tackling the environment, the climate, and the creatures. It has also been designed to bring the fear of the unknown and be unwavering in challenging the recruits physically and mentally. He concluded in his statement that recruits will be challenged on their capability and constantly pushed - they must be prepared to go physically, emotionally, and mentally beyond any place they have ever been.
Billy Billingham - Chief Instructor
Billy Billingham MBE QCB, is a highly decorated military leader, previously serving for over 20 years in the SAS. Joining the Parachute Regiment in 1983, he held numerous positions from Patrol Commander for worldwide operational tours through to training Instructor. In 1991, Billy passed SAS selection. He eventually reached the rank of SAS Sergeant Major, and was responsible for training, planning and executing strategic operations at the highest level around the globe.
Speaking about what he is looking for in new recruits, Billy said "We are not looking for an image! We are not looking for the fastest or the strongest. We are looking for individuals who can show resilience, integrity, grit, and determination. We want to find the recruit who is an authentic version of themselves so that when everyone and everything around them is falling apart, they can think outside the box and find a solution, not an excuse! And finally, we are looking for a person who we can train to be an operator and trust side by side."
Chris Oliver
New Directing Staff, Chris Oliver is 40-years-old and originally from Sunderland - he now resides in Poole. He is a former Special Forces Operator and Royal Marine Mountain Leader, with 16 years combat experience. Chris joined the military at 16 and served within the elite Special Boat Service, alongside fellow DS Foxy. He was deployed on operations to Sierra Leone, Northern Ireland, Oman, Iraq and Afghanistan, before leaving the military in 2015.
On what he plans to bring to his new role on the show, Chris said "I will bring a hard-hitting intensity to the DS panel, being a fiery character with a very passionate approach to military training. Respect will be at the forefront of everything I do, the values we intend to instil in the recruits have been forged on operations where we have lost good operators, so be under no illusions - anyone who doesn't play by the rules will pay the price. Being part of SAS: Who Dares Wins will enable me to pass on some of the wisdom that I gained from experiences within the Special Forces, which will hopefully change lives."
Jason Fox "Foxy"
Foxy is a former Royal Marine Commando and Special Forces Sergeant, serving with the Special Boat Service. As part of this role, Jason has planned and led operations including hostage rescue, counter terrorism, counter insurgency, maritime counter terrorism, surveillance, body guarding and counter narcotic missions. After leaving the Special Forces, Foxy moved into the TV and Film industry, initially using his wealth of experience in the Special Forces to support production crews who were working in environmentally hostile areas, such as the jungle, the Arctic or the desert.
On whether this series will be tougher than previous ones, Foxy said "Yeah, easily tougher. The recruits can't just turn up and do a task, they've got be thinking for themselves on each task. They need to really embrace everything that we're saying, and take it seriously. They need to act as if every scenario, every task, every situation is for real, because everything the viewers see them doing, we have done for real in our lives, and we take it very seriously."
Rudy was born at Richard's Gebauer Air Base in Missouri while his father, a US Marine, was fighting in Vietnam. Following his parents' divorce, Rudy and his three brothers were initially raised by their grandparents, and later by the Omaha Home for Boys. A decorated martial artist, Rudy joined the United States Marine Corps at the age of 26. After impressing in the recruitment phase, he went on to become an elite Recon Marine. Rudy became a highly decorated Special Forces operator, leading over 50 patrols behind enemy lines. He served one tour in Afghanistan and two tours in Iraq as a Recon Marine Team Leader and Scout Sniper. After leaving the Marines, Rudy worked as a counter-terror contractor for the Department of Defence.
Rudy spoke to Channel 4 about how it felt to return to Vietnam to film the series – a place his father fought as a US Marine. He said "Going to Vietnam for the first time was an emotional homecoming for me. My father was a US Marine, who did multiple tours of duty in the Vietnam War, and because of those scars inside and out I never knew him while he was alive. I was born after he came home but he never really came home.
I never met him but I was born with his passion and energy to be a Warrior and to go to the edge to find out if I have what it takes. I pursued my father's heroic ideals - it's in my blood - and I used my innate love of warrior manhood to change the karma of my father, as well as my own. It was truly a humble honour to tread the harsh but beautiful jungles and rivers that my father did and in a sense meeting him in a warrior way spiritually."
Why isn't Remi Adeleke on SAS: Who Dares Wins 2023?
Remi Adeleke reportedly left SAS: Who Dares Wins after two outings on the show, due to prior commitments to other projects.
Adeleke arrived on the show for season 7, just after Ant Middleton left due to allegations over his behaviour on set. He appeared in one civilian and one celebrity edition of the military reality show. Ahead of the celebrity edition finale , he made the announcement he wouldn't be returning for any further series.
On his Instagram page on October 16, 2022, he shared a message reading "Bye bye UK. Tonight's finale will also be my finale, as I won't be returning for the next UK @sas_whodareswins instalments️. I'd like to thank my brothers, Billy, Rudy and Foxy for allowing me to be apart of this EPIC, life changing and fulfilling ride.
I'd like to thank our AMAZING crew for capturing all the magic! To all the SAS fans who stuck around despite the changes, thank you for welcoming me. To all the haters, thank you for hating, as haters have always fueled my drive towards success. Finally, thank you to @minnowfilms and @channel4 especially Johnny @tvsjoncahn for hiring me. God bless, much love and KEEP PAYING THE MAN!!!!"
Related Channel 4 Features:
Video of the Week
Lucy is a multi-award nominated writer and blogger with six years' experience writing about entertainment, parenting and family life. Lucy has contributed content to PopSugar and moms.com. In the last three years, she has transformed her passion for streaming countless hours of television into specialising in entertainment writing. There is now nothing she loves more than watching the best shows on television and telling you why you should watch them.