Where is Kai the hitchhiker now? Caleb McGillvary from Netflix's The Hatchet Wielding Hitchhiker
The former internet celebrity is now the face of Netflix's latest true crime documentary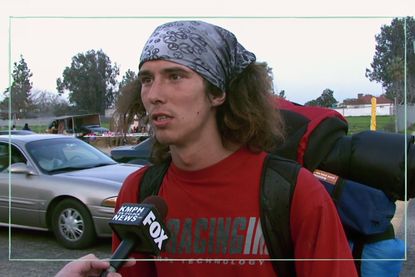 (Image credit: Netflix)
You might remember the viral video star from his TV news interview in 2013, but true crime fans want to know where is Kai the hitchhiker now? following the release of Netflix's The Hatchet Wielding Hitchhiker.
Kai Lawrence, who's full name is Caleb Lawrence McGillvary, was labelled a hero when his account of using a hatchet to save a woman being attacked went viral in 2013. But, just a few months later, Lawrence had been arrested for murder, and the free-spirited hitchhiker didn't seem so innocent anymore.
Netflix's latest true crime documentary, The Hatchet Wielding Hitchhiker, "Chronicles a happy-go-lucky nomad's ascent to viral stardom and the steep downward spiral that resulted in his imprisonment." And much like the streaming service's previous true crime documentaries had viewers wondering where is revenge porn criminal Hunter Moore now (opens in new tab), where is Anthony Templet (opens in new tab) from I Just Killed My Dad, and where is Lori Vallow Daybell (opens in new tab), the woman from Sins of our Mother, the same is now being asked of The Hatchet Wielding Hitchhiker. So, where is Kai the hitchhiker now? Here's everything we know...
Where is Kai the hitchhiker now?
Kai Lawrence is currently in prison at the New Jersey State Prison, in Trenton. Lawrence has been in prison following his arrest in 2013, and in 2019 he was sentenced to 57 years, following a trial.
The jury found Lawrence guilty of the first-degree murder of 73-year-old lawyer Joseph Galfy at the end of a four week trial. In 2021, Kai Lawrence Lawrence made an appeal to overturn his sentence - as he maintains that he acted in self defence - but his conviction was upheld.
Who is Kai the hitchhiker?
Kai Lawrence, whose real name is Caleb Lawrence McGillvary, was born in 1988 in Canada. He is a convicted murderer who rose to fame after a news report featuring him went viral in 2013.
In February 2013, Kai was hitchhiking and was picked up by Jett Simmons McBride. While the pair were in the car together, Lawrence said McBride made some alarming claims, including that he was the second coming of Jesus Christ and that he had "raped a 14-year-old". McBride then drove into a pedestrian at an intersection, pinning him against another truck.
It was in the aftermath of the event that California's KMPH News interviewed Kai Lawrence, resulting in the viral video.
In the clip, Kai said: "I ran in, I grabbed the keys, he's sitting there like nothing even happened. Man, if he'd started driving that car around again, there would have been a hell of a lot of bodies around here."
He then claimed that McBride had grabbed a woman who had come to the trapped pedestrian's aid, adding: "A guy that big can snap a woman's neck like a pencil stick so I f**king ran up behind him with a hatchet - smash, smash, smash!"
The original video (opens in new tab) was posted by news anchor Jessob Reisbeck on 3rd February 2013 - and has been viewed 7.9 million times since - making Lawrence an internet sensation.
The public took to his innocent and free-spirited persona, especially because he added as an aside to his interview, "No matter what you've done, you deserve respect. Even if you make mistakes, you're loveable. And it doesn't matter your looks, skills, age, size or anything... you're worthwhile. And no one can ever take that away from you."
In the wake of the video, Lawrence became the subject of many viral memes. He also appeared on Jimmy Kimmel Live, a producer for Keeping Up With The Kardashians wanted to create a reality show about him, and Justin Bieber's team reached out to him for a music collaboration.
What happened to Kai the hitchhiker?
Just three months after going viral on the internet, Kai Lawrence was arrested for the murder of 73-year-old New Jersey lawyer Joseph Galfy.
Galfy was found dead in his home, and during the police investigation a piece of paper with Kai's number and name on it was found underneath a laptop. There was also a train ticket receipt, which the police used to track down surveillance footage showing Galfy buying Lawrence a train ticket, and the pair hugging goodbye.
During his trial, Lawrence maintained that he had killed Galfy in an act of self defence, claiming that Galfy invited him back to his home and offered him a room to stay in before drugging and sexually assaulting him.
In an interview with Vocativ (opens in new tab) in 2016, Lawrence said: "I fought tooth and nail. On the street, like, don't get me wrong, I'm a nice guy and stuff, but if you're sleeping underneath a train bridge and you wake up in a situation like that, you gotta fight for your life. It's just a fact for survival on the streets."
Kai Lawrence was imprisoned for over five years while awaiting trial, before he took to the stand in April 2019.
After being sentenced to 57 years in jail, the judge told Kai Lawrence: "When you become eligible for parole, you will still be younger than Mr. Galfy was when you murdered him."
Related Netflix features:
Video of the Week
Ellie joined Goodto as a Junior Features Writer in 2022 after finishing her Master's in Magazine Journalism at Nottingham Trent University. Previously, she completed successful work experience placements with BBC Good Food, The Big Issue and the Nottingham Post, and freelanced as an arts and entertainment writer alongside her studies. In 2021, Ellie graduated from Cardiff University with a first-class degree in Journalism.