Where is Payback filmed? Filming locations of the ITV drama
The crime drama is set in the Scottish capital of Edinburgh, but where is Payback filmed?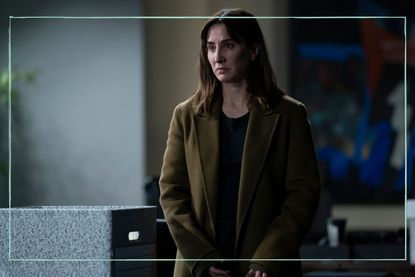 (Image credit: ITV)
A new gripping crime drama has landed on ITV, and viewers are keen to know where Payback is filmed.
Produced by Line of Duty's Jed Mercurio, Payback tells a story of money laundering and murder, as lead character Lexi Noble's family life is plunged into jeopardy when her accountant husband Jared is attacked in the street. With a star-studded cast including The Bay's Morven Christie, Ozark's Peter Mullan and Happy Valley's Derek Riddell, it's no wonder that the series has viewers hooked - with those who've raced through the series wanting the Payback ending explained.
And much like ITV viewers have been asking questions about The Long Shadow filming locations, while BBC fans want to where Boiling Point was filmed, now the same is being asked of Payback. We've got all the details on where the new ITV drama was shot...
Where is Payback filmed?
Payback is mostly filmed in Glasgow, with some scenes shot on location in Edinburgh. Director Jennie Darnell explained: "One of the reasons that you shoot primarily in Glasgow is that's where a lot of the crews are based."
She added, "But then we go to Edinburgh for a lot of the exteriors. So obviously, when you're down in the Lawnmarket and so forth, that's actually in Edinburgh. There's a really growing and burgeoning film industry in Scotland and some fantastic crew members up there now."
Executive Producer Madonna Baptiste agreed with this assessment, adding, "Some things we shot in Glasgow to double as Edinburgh, because I think we were shooting around the time of the Edinburgh Festival so locations were a bit more difficult to get into."
Meanwhile, lead actress Morven Christie revealed that she and fellow cast member Peter Mullan were happy to be back in their hometown for filming. "On the one hand, it was amazing because I was sleeping in my own bed and you never normally get to do that when you're working. But it was hard because this was quite an extreme character going through some quite extreme circumstances. Sometimes it's easier to go off somewhere away from your life and just do it, then come back and keep that sort of separation. I think I've only worked in Glasgow one other time while I've been living there."
She added, "Filming always opens a place up to you in a way that you don't expect and that's particularly unexpected when it's your hometown."
Derek Riddell, who is also in the show's cast, said that filming in Scotland is "always nice, although I wouldn't say that filming in winter in Scotland is my favourite thing - getting up in the dark and going home in the dark. Actually, we started in the August so we had a bit of the summer too and it was nice to be able to catch up with friends and family."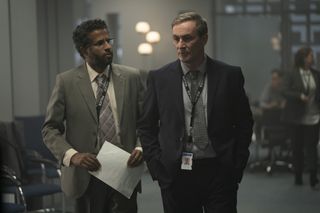 Payback cast
Morven Christie plays Lexie Noble (Grantchester, The A Word, The Bay)
Peter Mullan plays Cal Morris (Braveheart, Trainspotting, Children of Men)
Prasanna Puwanarajah plays DC Jibran Khan (The Crown, Line of Duty, Doctor Foster)
Derek Riddell plays DCI Adam Guthrie (Happy Valley, Doctor Who)
Steven Mackintosh plays Malky Roberts (The Confessions of Frannie Langton, The Pact)
Andi Osho plays DI Jean Royce (Sex Education, Good Omens, The Sandman)
Henry Pettigrew plays Rufus Hayes (The Confessions of Frannie Langton, Guilt)
Julie Graham plays Connie Morris (Maternal, Ridley, Shetland)
Grace Chilton plays DC Alice Hardy (World on Fire)
Eileen Duffy plays Doris Szabo
Jack Greenlees plays Aaron Morris
Steven Miller plays DS Rob Livingston
Actress Morven Christie spoke of her experience filming with acclaimed actor Peter Mullan. "If you're on the Royal Mile [in Edinburgh] like we were, and you've got Peter Mullan stepping out to look across at me on the other side of the road, you just get people coming up going, 'Oh big man! I love you, man! You're one of my favourites!'
"So that was a bit challenging. We had four different weathers that day and we had to stop multiple times for people coming up and going, 'I love you, Peter, man!'"
Meanwhile, writer Debbie O'Malley praised Morven Christie's performance, saying, "She's astonishing. She brings a rawness and a truthfulness to the performance that is quite remarkable. There are so many moving parts in a complicated, plot-driven thriller that it would be very easy to lose sight of that emotional heart but she is the lynchpin of the show. It's a tough performance because she can never relax for a moment but Morven found nuance and layers."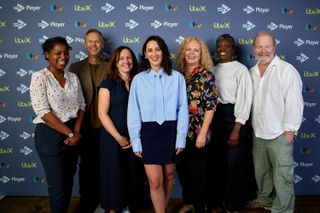 What is Payback about?
Payback is a new ITV crime drama following Lexie Noble as she becomes entangled in a perilous police operation to topple a notorious crime lord, Cal Morris.
The ITV synopsis for the show reads: "With an idyllic family lifestyle in the suburbs of Edinburgh, Lexie is unaware her husband, Jared, has been laundering Cal Morris' illegal earnings on a vast scale. Jared's every move is being monitored by financial investigators DC Jibran Khan and DCI Adam Guthrie, who are determined to use the Noble family to bring Cal Morris to justice.
"A partner in Jared's business, Lexie is forced into working for Cal, at the same time as the police net inexorably tightens. Soon Lexie finds herself walking a treacherous tightrope between Cal and the police in which her safety, and even her life, are in grave danger."
Payback premiered on Wednesday 4 October at 9pm on ITV and STV in Scotland, and all episodes are available for streaming in full on ITVX and STV Player.
For more shooting location inside information, we have the lowdown on where war drama All the Light We Cannot See was filmed, and where psychological thriller The Woman in The Wall was filmed too. We can also reveal all the locations featured in the Caroline Moran comedy, Henpocalypse!