Who is Naomi Osaka dating? Everything to know about Cordae
The tennis star is expecting her first child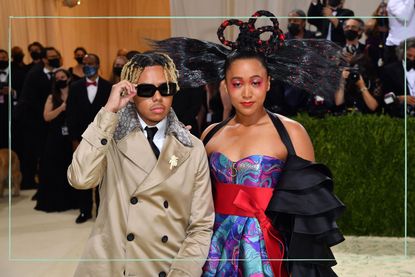 (Image credit: Getty Images)
After the tennis champion announced her pregnancy in January 2023, fans want to know who is Naomi Osaka dating?
For tennis fans who've been wondering when does the Australian Open start (opens in new tab), they might be disappointed to find that four-time Grand Slam champion Naomi Osaka won't be competing. Her withdrawal took many by surprise, but after she reveal via Instagram that she's expecting her first child, everyone's been asking who is Naomi Osaka dating?
And she's not the only tennis pro that people are curious to know more about. As the 2023 tennis season kicks off, sports fans have also been asking is Cam Norrie married (opens in new tab) and where is Emma Raducanu from (opens in new tab)?
Who is Naomi Osaka dating?
Naomi Osaka is dating Cordae Amari Dunston - better known as just Cordae - a 25-year-old American rapper. The pair have kept their relationship pretty private, but it's thought that they first started dating in 2019.
Rumours of the pairs romance first appeared in April 2019 when Naomi posted a video with Cordae on her Instagram (opens in new tab), captioned "Can't take this guy anywhereeeee lol". In a Q&A for GQ (opens in new tab), Naomi and Cordae said they'd first met at a Clippers game.
In a separate interview for the publication, Cordae revealed: "We were dating for almost a year before people knew about us. So we kind of move very reclusively."
He went on to say that he didn't know anything about tennis before meeting Naomi - and didn't actually know she was a tennis player when they first met - but by June 2019 he was in the stands supporting her at the US Open.
Since then he's supported her at plenty of tournaments, and a video (opens in new tab) of him hyping up her Grand Slam win at the US Open in 2020 went viral online.
Who is Naomi Osaka's boyfriend, Cordae?
Cordae is a Grammy-nominated rapper, singer and songwriter. He first gained popularity by releasing remixes of popular songs on YouTube, such as 'My Name Is' by Eminem.
In 2018, he joined the YBN collective and the group went on to release their only project together, YBN: The Mixtape, which featured collaborations with Gucci Mane, Wiz Khalifa, Lil Skies, Machine Gun Kelly, and Chris Brown. However, Cordae dropped out of the group in 2020.
In 2019 he released his debut studio album The Lost Boy, which received two Grammy nominations - one for Best Rap Album and the other for Best Rap Song for the single 'Bad Idea'.
Cordae's second studio album, From a Bird's Eye View, was released in 2022.
Naomi Osaka pregnancy
On 11 January 2023 Naomi Osaka announced she was pregnant via her Instagram. She shared a carousel post featuring a baby scan and a screenshot of a message in both English and Japanese.
The message read: "The past few years have been interesting to say the least, but I find that it's the most challenging times in life that may be the most fun. These few months away from the sport has really given me a new love and appreciation for the game I've dedicated my life to.
"I realize that life is so short and I don't take any moments for granted, every day is a new blessing and adventure. I know that I have so much to look forward to in the future, one thing I'm looking forward to is for my kid to watch one of my matches and tell someone, 'that's my mom,' haha."
She added: "2023 will be a year that'll be full of lessons for me and I hope I'll see you guys in the start of the next one cause I'll be at Aus 2024. Love you all infinitely."
The announcement comes after Naomi withdrew from the Australian Open - a tournament she has won twice - on Sunday 8 January, prompting speculation about her absence.
Naomi Osaka net worth
According to Celebrity Net Worth (opens in new tab), Naomi Osaka has a net worth of $45 million - that's roughly £37 million.
Osaka is a four-time Grand Slam singles champion, having won two US Open and two Australian Open titles. In 2018 she took home a 3.8 million USD prize for her US Open win, and then 3 million USD for her win in 2020. She also received 4.1 million Australian dollars for each of her Australian Open wins.
In addition to her high-flying tennis career, Naomi has her own skincare brand, KINLÒ (opens in new tab), which announced an exclusive partnership with Walmart in April 2022.
But the majority of Naomi's earnings come from brand endorsements and partnerships, and she has worked with Nike, Beats, Mastercard, Panasonic, Levi's, AirBnB, Louis Vuitton and more.
In May 2022, Forbes (opens in new tab) reported that Naomi had earned $58 million from endorsement deals alone in the past 12 months.
Video of the Week
Ellie joined Goodto as a Junior Features Writer in 2022 after finishing her Master's in Magazine Journalism at Nottingham Trent University. Previously, she completed successful work experience placements with BBC Good Food, The Big Issue and the Nottingham Post, and freelanced as an arts and entertainment writer alongside her studies. In 2021, Ellie graduated from Cardiff University with a first-class degree in Journalism.