UK Eurovision entry 2023: Mae Muller is representing the UK in Eurovision this year
We reveal who will be representing the UK in Eurovision 2023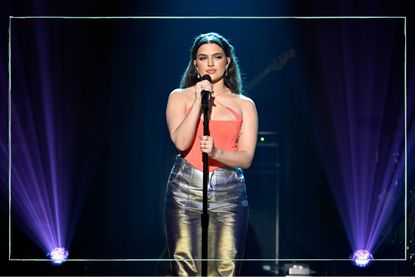 (Image credit: Getty Images)
Fans of the song contest are starting to ask who the UK Eurovision entry is for 2023 - and the exciting news has just been announced.
It's getting to that time of the year again when the iconic song contest is approaching. With the Eurovision 2023 presenters (opens in new tab) announced and tickets on sale, people all over the UK want to know how much Eurovision tickets are (opens in new tab) as preparations get underway for the competition to be held in Liverpool, after the host city was changed due to the war in Ukraine (opens in new tab).
Of course, the question we all want to know the answer to is who will be representing the UK at Eurovision 2023 - especially after Sam Ryder's success during last year's contest. And now this year's entry has been announced, we take a look at all there is to know about pop artists Mae Muller, and how she'll be representing the UK at Eurovision 2023.
Who is the UK Eurovision entry for 2023?
The UK's 2023 Eurovision entry is Mae Muller. The 25-year-old will perform her track 'I Wrote a Song' at the competition in May, which will be held in Liverpool.
"To compete in such a massive music competition is simply brilliant," she said, describing her involvement as "a dream". She also revealed, "I'm a huge fan of so many of the artists that have found success at Eurovision, from ABBA to Måneskin," adding, "Sam Ryder was so amazing last year and proved the UK can be back on the left-hand side of the leaderboard."
Our UK artist for #Eurovision2023 is the incredible @maemuller_! 🎉Here she is with the official video for her #Eurovision track, 'I Wrote A Song' 🥳 pic.twitter.com/ypzFj7edJtMarch 9, 2023
See more
The BBC teamed up with TaP music to select this year's entry - a global management and music publishing company that has worked with some of the world's most successful pop artists, including Lana del Rey, Ellie Goulding, London Grammar, Dermot Kennedy and Mabel.
The management company hopes Mae Muller will be just as successful - if not more so - as Sam Ryder was last year, the UK act that came in second place with his track 'SPACE MAN'.
A spokesperson for the company said of Mae, "She has the most wonderfully warm and fun personality. We have always been fans of Mae for her voice, songs and star charisma, and when we heard I Wrote A Song, we were really taken by its impactful message - 'songs as a form of therapy' (a great message for the biggest song contest in the world!)"
Who is Mae Muller?
Mae Muller is a 25-year-old singer-songwriter from Kentish Town, and she first entered the music scene in 2018 with a song she wrote while on a train journey.
Mae wrote her first song, 'Close', when she was 19. Since then she has gone on to support girl group Little Mix on their 2019 tour, and her 2021 single 'Better Days' - featuring Neiked and Polo G - peaked at number 32 in the UK charts. She recently admitted that her musical inspirations are Gwen Stefani, Florence and the Machine and Lily Allen.
At just 10 years old, Mae Muller appeared in a music video for popstar Mika's hit 'Grace Kelly'.
Some might say Mae's Eurovision entry is written in the stars, as she was born in the same year the UK last won the competition - which was in 1997 with Katrina and the Waves.
She announced the news (opens in new tab) that she will be performing at Eurovision on her Instagram account on Thursday 9 March, writing in the caption: "this has been the hardest secret to keep in the WORLD (literally nearly let it slip a million times lol scream) but the news is finally out!!! the song is out right now, i'm so pleased it's finally yours, and what an honour to host on behalf of ukraine, it's going to be so special ❤️".
Appearing on Zoe Ball's Radio 2 Breakfast Show on the day of the announcement, Mae said: "I've been waiting to say that for months, I literally, that has been on my lips and in my brain, in my soul, in my nails.
"I can't believe I've just said that, it's done, it's out there – I've known for like two months, I'm pretty sure, my timeframe is all over the place at the moment.
"It's been a hot minute and I love to chat."
Mae Muller 'I Wrote a Song'
'I Wrote A Song' is a revenge song that Mae Muller wrote about her ex-boyfriend, and is the song she will be performing at Eurovision 2023.
When appearing on Zoe Ball's radio show, Mae said of the track: "This song is for the girlies that went through heartache, hurt or pain and came out of the other side, who persevered and came out stronger, who took the high road and chose to love themselves.
"Crying at home? Absolutely not. Spend the night at home? It's a no from me. Trash the benz? Too busy having a stunning time. It's giving growth. It's giving empowerment. It's giving liberation".
When was the UK Eurovision entry announced?
The UK Eurovision entry for 2023 was announced on Thursday 9 March on Zoe Ball's Radio 2 Breakfast Show, where she was joined by Mae Muller herself and TV personality Rylan Clark - who is one of the presenters for this year's Eurovision.
Mae Muller had been rumoured to be the UK's entry prior to the official announcement, and Eurovision commentator Graham Norton revealed in February that she had already been selected - though he didn't give away who she was.
He appeared on Zoe Ball's BBC Radio 2 show on February 28, and when Zoe said, "I haven't heard the song. I don't even know who the person is, but I think I was accidentally told who the person is," Graham added: "Yes, I think I know who the person is."
The UK is one of the last competing countries to reveal its song for 2023, and with a deadline of 13th March to announce, there are only a handful of countries left that haven't revealed their entries.
Video of the Week
Ellie joined Goodto as a Junior Features Writer in 2022 after finishing her Master's in Magazine Journalism at Nottingham Trent University. Previously, she completed successful work experience placements with BBC Good Food, The Big Issue and the Nottingham Post, and freelanced as an arts and entertainment writer alongside her studies. In 2021, Ellie graduated from Cardiff University with a first-class degree in Journalism.