You season 4 part 1 ending explained: Everything that happened in the mid season finale
Still in shock?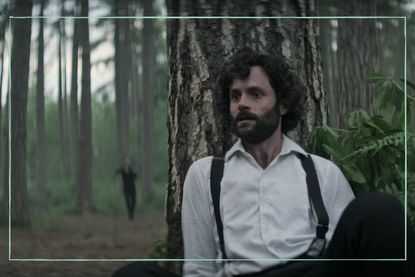 (Image credit: Future/Netflix)
What does the future have in store for Joe?
Viewers highly anticipating You season 4 coming out (opens in new tab), have now waded through part 1 of the latest instalment of the psychological thriller and have a new question - what does that mid season finale mean? Fresh from faking his own death and leaving baby Henry behind in the US, Joe Goldberg is now working as a university professor in London. Going by the alias Jonathan Moore, Joe was still pining for Marienne when he arrived in London - the one that got away in season 3. Having already dropped by Paris to try and woo her, and being brutally rebuffed, the irredeemable psychopath took a job in London while trying to lay low. We all knew he was never going to stay under the radar for long, before people started dying. This time around though, Joe isn't responsible for the spate of dead bodies, and the hunter becomes the hunted with a new serial killer on the loose. When Joe's new friends start dying, plans for pursuing gallery owner and latest object of intrigue, Kate, are on hold, while he investigates the new killer in town. Here's everything that happened in the You season 4 part 1 finale.
A You season 3 recap (opens in new tab) might also be in order, to help join the dots for season 4 - a lot of Joe's decisions are based on the events of the previous series. We also have a full rundown of You season 4 filming locations (opens in new tab), with the move to a new city and some iconic new locations leading viewers to ask exactly where key scenes were filmed.
You season 4 part 1 ending explained
You season 4 part 1 begins with Joe organising a countryside jaunt with his friends, in an attempt to reveal the Eat The Rich Killer's identity. With several of Joe's newfound circle already dead at the hands of the new murderer, Joe is out to solve the mystery.
When the group settles down for dinner at the country house, Gemma leaves the table and is not seen alive again. Kate and Joe later find her body, and dispose of it together - Kate's father runs security for the estate, and having cut him from her life, she doesn't want to risk running into him by alerting him to a body on the premises.
Finished season 4 of " you" and my words for the ending of part 1.. are " Wtf" in a good way.February 9, 2023
See more
When Gemma's body is found, Roald accuses Joe of being the Eat The Rich Killer while holding him at gunpoint. With Sophie, Blessing, and Connie present, Roald presents evidence that he's sure implicates Joe as the killer, and the trio find themselves convinced he's right. Joe appeals to the ladies that he is innocent (in this instance anyway,) but sure of his guilt, they leave Roald to sort Joe out. Making the decision to offer him a head start, Roald then chases Joe into the nearby woods, with the intention of killing him. Giving Joe the opportunity to run first proves to be the wrong one, proven when Roald catches up with Joe only to be promptly knocked out by him.
Momentarily thinking he is safe, Joe lets his guard down only for Rhys Montrose to arrive, and knock him out too. Rhys tells Joe they should pin all the murders on Roald and kill him in the cellar, making his death look like a suicide. This does seem a good prospect for Joe, knowing Roald has strong feelings for Kate that could stand in the way of his pursuit of her. Rhys instructs Joe to undertake the murder of Roald, not wanting to do it himself. Joe is unsure about this part of the plan - he is trying to reform himself after all, but he agrees to be part of the plan while thinking of a way out. Joe attempts to free himself from his chains in the cellar to avoid having to kill Roald himself, but this only enrages Rhys when he realises Joe lied about going through with killing Roald to buy time to escape.
Tipping over a lantern, Rhys sets the cellar on fire, telling Joe to find him in London if he gets out alive. Kate arrives on the scene to rescue them, and this cements Joe's feelings for her. In the aftermath of the rescue, the remainder of the group return to London, where Kate asks Joe on a date. Grappling with his past and knowing he can be a danger to those he loves, Joe turns her down. His plan is to focus less on romance, and more on getting revenge on Rhys. The mid season finale ends with Rhys announcing he is to run for Mayor of London, and Joe vowing to stop him - for ever.
Who is the murderer in You season 4?
Rhys Montrose is the killer in You season 4, having admitted being the Eat The Rich Killer to Joe when he held him captive in the cellar. He has already killed Malcolm, Simon, Gemma, and attempted to murder Joe and Roald. He's also been stalking Joe with threatening messages.
Joe is shocked when Rhys makes his admission, as the pair had bonded over their traumatic childhoods and growing up in poverty. With a shared disdain for the privilege surrounding them, Joe felt he had a friend and not an enemy in Rhys. The show writers explained they felt it was time Joe had a male friend, with twisting that relationship adding an interesting dynamic.
Writer Sera Gamble told Netflix Tudum (opens in new tab) "It's kind of devastating when you become friends with somebody you think you can really look up to and share the same point of view on the world, and now he has to question everything about what Rhys has ever said to him because the guy is clearly a very good liar."
Joe's decision to step away from a romance with his latest object of obsession is also a development for his character. He feels that starting something with Kate will put her in danger, if Rhys should find out the pair are together. Gamble said of this decision "She lives right across the courtyard from him. So it isn't as though he gets to just disappear in the night and she'll be safe forever. It's more that they are moving in the same circles, and he does really like her, and it's kind of torturous."
How many episodes does You season 4 have?
You season 4 will have 10 episodes, the same as previous seasons. A change to this season is that Netflix has released it in two parts, with the first five episodes forming part 1, and the final five episodes due to be released later in the year.
When the part 1 release date was confirmed, Sera Gamble weighed in on the decision to split season 4 into two parts. She said "Trust me, you'll need the time to process… and maybe place a few friendly bets about where it's all going." Expanding on this, Gamble told The Hollywood Reporter (opens in new tab) "Netflix approached us. The structure split cleanly down the centre of the season because [executive producer] Greg Berlanti and I have written so many midseason cliffhangers for old school [broadcast] television."
She added "The idea was always to search for this killer and then find them and have the conversation shift the show into something that can only be done if Joe knows who he's talking to". With Netflix having previously split many successful shows into two parts, this allows the streamer to slow down the rate audiences digest them. This strategy effectively keeps audiences talking about a series for longer, building increasing hype around the second half of a serason landing.
When is You season 4 part 2 coming out?
You season 4 part 2 will be released on Thursday, March 9, consisting of episodes 6 - 10. Seasons 1 - 3 are also available to stream on the platform.
A Twitter user made their thoughts on the show clear on the platform. They said "Just finished 'You' Season 4, Part 1 and it definitely didn't disappoint. This entire show hasn't actually bored me once. They always manage to give you just enough to have you stay hooked. I shall now patiently wait a month for Part 2."
Just finished 'You' Season 4, Part 1 and it definitely didn't disappoint. This entire show hasn't actually bored me once. They always manage to give you just enough to have you stay hooked.I shall now patiently wait a month for Part 2. pic.twitter.com/RvdncvMNK4February 10, 2023
See more
Another viewer shared their opinion on the series so far, and it wasn't positive. They said (opens in new tab) "Not only was You season 4 pt 1 boring, it also introduced way too many new characters that were unrelatable, unremarkable, and pointless because they didn't even attempt to make them interesting. They absolutely wasted Marienne I'm literally wondering what the point of the s3 finale was."
Another agreed, adding (opens in new tab) "Not liking you season 4 so far none of the new characters are likeable they are all surface-level and materialistic and impossible to form a connection with. Also the plot is not giving You vibes at all, it's giving Pretty Little Liars."
Video of the Week
Lucy is a multi-award nominated writer and blogger with six years' experience writing about entertainment, parenting and family life. Lucy has contributed content to PopSugar and moms.com. In the last three years, she has transformed her passion for streaming countless hours of television into specialising in entertainment writing. There is now nothing she loves more than watching the best shows on television and telling you why you should watch them.