You season 3 recap: Everything that happened in the third season of the Netflix thriller ahead of season 4 release
Everything that went down in season 3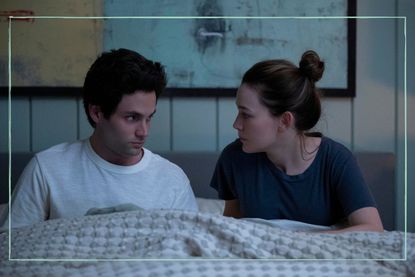 (Image credit: John P. Fleenor/Netflix/Future)
The murderous Joe is back for another outing of unbridled killing in You season 4, but what exactly did he do in season 3?
Netflix's psychological thriller You, is back for a fourth season on February 9. The love-obsessed serial killer has managed to evade capture for another round of murder - just in time for Valentines Day. Based on the books of Caroline Kepnes, previous season have seen psychotic Joe see off aspiring writer Beck in season 1, and a whole host of others until meeting his match Love, in season 2. Lasting into season 3, Love and Joe's relationship continues, as both of their dark secrets mount up. Now before you've binged your way to the You season 4 part 1 ending (opens in new tab), read on for a full recap of season 3, in time for a huge You binge - and you can check up on all the You season 4 filming locations (opens in new tab) too.
Elsewhere on Netflix, the Lockwood & Co ending (opens in new tab) has everybody talking. Fans of the supernatural thriller are demanding there to be a Lockwood & Co season 2 (opens in new tab), needing to know the big reveal Lockwood was about to make during the final moments of season 1. Similarly, those watching the hugely popular family drama need Ginny & Georgia season 3 (opens in new tab) news - we have the latest speculation and statements from the show's writers.
You season 3 recap
You Season 3 picks up where season 2 left off, with Joe driving into suburban life with his wife Love, and their baby Henry. The pair are determined to put their murderous pasts behind them, but everyone knows this is unlikely to work out for either of them.
Living in the quiet town of Madre Linda (Sweet Mother) was never going to suit city man Joe. Not enjoying fatherhood and convinced his son hates him, is compounded by his mother-in-law's shaman insistence Henry is the reincarnation of her dead son, Forty. Joe can't help becoming obsessed with other women, with the first of season 3 being neighbour Natalie. When Love rushes to her mother's when she and Joe fight one evening, Natalie invited Joe over for a drink. She seems equally up for romance, and kisses him. He does decline sex though, displaying some kind of loyalty towards Love - on this occasion.
Love is also unhappy in Madre Linda. Condescending Momfluencer Sherry Conrad befriends her, introducing her to her nasty friends who proceed to baby weight-shame Love and offer unsolicited parenting advice. At a party, she later overhears them gossiping about her, only to be comforted by Natalie. When Love speaks about her dream of opening a bakery, the realtor reveals she has just the thing.
Natalie's days are numbered however, when Love discovers Joe's infatuation with her - he kept a box of Natalie themed trophies that Love stumbled upon when unpacking boxes. When Natalie later shows Love around a vacant bakery, Love takes an axe to her throat, seeing off her first rival of the season.
Joe and Love enter into marriage counselling, speaking in code to therapist Dr. Chandra's about what is going wrong in their marriage. Joe is actually furious about Love murdering Natalie, and him having to dispose of the body - he just can't say this out loud. Joe heads for a post-therapy jolly to the library, where he stumbles on Marienne - his next infatuation target. On her way home, Love meets the cocky Theo in a car park, and the gender studies major doesn't let her marriage or baby get in the way of outrageous flirting. It turns out Natalie was married, and Theo is her husband Matthew's stepson from his first marriage.
At another neighbourhood party, Joe and Love discover that Natalie's husband Matthew designed a ring that could track the wearers location - if Natalie was still wearing it, her body would be easily found. Digging up her body Joe locates the ring, dumping it in a nearby public toilet. He and Love then relocate her body to a construction site where concrete is poured all over it, and proceed to have another huge argument.
Filling in their therapist (with murderous details omitted) about their latest argument, the pair agree there will be less killing. Joe suggests they construct a new cage in the bakery basement, where they'll go to prevent murderous urges. Meanwhile, Natalie's husband Matthew is clearly devastated by his wife's disappearance, and the press are snooping around. Joe and Love decide they have to frame Matthew for the killing, but get side tracked when Henry becomes really unwell with measles.
Joe also becomes really sick with measles, and passes out while trying to plant evidence of Natalie's killing at Matthew's house. He completely freaks out when he wakes on Matthew's sofa, who instantly quizzes him over his wife's whereabouts. Realising Matthew is a genuinely nice guy and great father, Joe and Love dispense with plans to frame him, and need a plan B. This walks into Love's shop in the form of Gil. When he visits the bakery and confesses being an anti-vaxxer whose daughters gave Henry the measles, Love begins to hatch a plan.
Dragging him to the cage, Love plans to kill Gil and frame him for Natalie's murder instead. However, when Joe asks her to reconsider, the plan forges ahead when Gil hangs himself in there and dies anyway. During a search for Natalie, Love breaks from the crowd and plants the axe she used to kill Natalie, adorned with Gil's fingerprints in the woods. With the search party in full flow, Joe moves Gil's body to his own house, with a staged letter admitting to killing Natalie.
Six months later, Love is much happier with Madre Linda life, and the bakery is very successful. Joe however, is bored with no friends, and increasingly obsessed with Marienne. As a distraction from his life and frequent arguments with Love, Joe agrees to go on a camping trip with Momfluencer Sherry's husband, Cary. There's a moment where Joe, expecting to hate the entire trip, feels finally accepted by a group and finds himself crying.
Back in Madre Linda, Theo is obsessed with Love, who has been keeping him at arms length. However, with Joe away she agrees to go on a scooter ride with him. When he admits to failing at college because he can't stop thinking about her, Love gives in and has sex with him. She's later horrified to learn that while she was out romping with Theo, she missed Henry taking his first steps. Joe returns from his camping trip with his sights set on Marienne - he promises himself if he pursues her, it'll be different this time.
Matthew meanwhile, doesn't believe the theory about his wife and Gil at all, still suspecting something isn't right with his new neighbours. Putting Love and Joe under covert surveillance in a bid to find out what happened to Natalie, his suspicions they could be linked to her death become ever stronger. Theo is annoyed when he discovers what his dad is up to, and when Love is away for a work conference and drunk dials him, Theo arrives at the venue to confess all.
Joe discovers Marienne is in the middle of a custody battle with former partner and news reporter, Ryan. Ryan's wealth means he is well placed to gain custody of their daughter Juliette. Her dream future is to start a new life in Paris with Juliette, and she confides this vision for her future in Joe. While Joe is busy with his new romance, Love starts a full affair with Theo to get information about what Matthew knows.
Love and Joe attend a Gala where Marienne is also present, which obviously rattles Joe. Their night is interrupted when they find out Love's drunk mother Dottie has stolen Henry from the babysitter. Not being given the vineyard she owned, in a divorce settlement with her ex-husband, has hit her hard. She's for some reason decided to take Henry to Casa Gia to set fire to it.
Love cuts Dottie out of her life, who is ordered to attend rehab. Joe finds out for the first time that Love's husband was in remission from cancer when he died, and he realises the extent of his wife's dangerous nature for the first time. Matthew is seen watching Joe and Love from the cameras he's placed all over town - he has a room dedicated to sitting in to follow their whereabouts.
In a twist nobody saw coming, Sherry and Cary announce they have an open marriage, and want to swing with Love and Joe. Joe has zero interest in this, but Love is really up for it. He agrees because he's worried about what his volatile wife could do if he refuses. Sherry and Cary arrive for an evening's swinging adorned with of sex toys, and Sherry and Love pair up leaving Joe and Cary together.
Halfway through shenanigans, Love has a fit of jealousy and pulls Joe from the room to hiss at him about fancying and murdering other people. Horrified that Sherry and Cary could have heard her, Joe suggests they reconvene and see how the other couple react to them. When they reconvene Sherry and Cary try to act cool, but it's obvious from their shifty demeanour that they heard every word. After a scuffle, its off to the cage for both Sherry and Cary.
With the Conrads in the bakery basement, Joe has to decide what to do with them. He is also worried about Marienne, whom he hasn't heard from in a while after she loses custody of Juliette. When Joe eventually tracks her down, he convinces her he wants to leave Love, and they can make a life together. Love learns form Theo at this time that Matthew is increasingly unhinged, and hacking security cameras everywhere in a bid to find something on the Goldbergs.
Hearing that Marienne plans to follow Ryan and Juliette who have moved to New Jersey, Joe decides he's had enough of Ryan getting in the way and kills him. Love decides the only way to get Matthew to leave them alone is to out him as a huge stalker. Writing a blog post about his harassment of she and Joe, the town goes into uproar and insists Matthew cease trailing them - which he does.
Theo decides to look at some of the footage his dad had, and when he sees some of Joe getting into Natalie's car, he decides to show it to Love. Heading to the bakery, he makes his way down to the basement thinking that's where she is... Coming across the Conrads, they explain everything to him, and he goes upstairs to try and find a key to the cage to free them, but is intercepted by Love. Despite knowing the truth, Theo pleads with Love to run away with him. She responds by slamming his head with a fire extinguisher and throwing him into the basement with the Conrads.
At the end of the season, Joe is planning to leave for Paris with Marienne and fulfil her dreams. We discover Theo is actually still alive, and when Joe finds this out, he takes him to hospital instead of finishing him off. Love finds out Joe killed Ryan for Marienne and is heartbroken her husband has yet another infatuation. Confronting Joe over it all, he asks her for a divorce.
When Love leaves the room to see to a crying Henry, Joe picks up a nearby carving knife. One step ahead of him, Love has anticipated his actions and laced the handle with aconite, the same paralytic that saw off her first husband. Joe becomes immobile and Love uses his phone to text Marienne and invite her over. With a knife behind her back, Love tells Marienne that Joe is dangerous, and to grab her daughter and run - she leaves and that's the last we see of her. In another surprise escape, the Conrads also make it out of the cage alive.
As always, clever Joe is one step ahead of his wife. He worked out she was growing wolfsbane in the garden to turn into aconite. He'd therefore made preparatory antidotes, in case he ever needed one. Anticipating his wife would poison him when he asked for a divorce, Joe had already taken the antidote and when it worked, was ready to take on Love. He ended the series by injecting her with a lethal dose of her own aconite.
What happens to Love at the end of You season 3?
Love dies at the end of You season 3. Sinking into paralysis induced by the poison, she tells Joe they were perfect for each other, but not good for Henry.
With his actions coming closer to seeing him in a prison cell, Joe now needs to leave quickly. Before departing, he creates a crime scene that makes Love's death look like an accident. He cuts off two of his own toes to bring the belief he and his wife had a violent tussle, before he sets fire to the house. He's staged the scene to look as though Love killed him, then took her own life.
Meanwhile, Theo is released from hospital and begins rebuilding his relationship with Matthew. Sherry and Cary cash in on their experience, releasing a high profile book about being imprisoned by the killers and managing to escape. Joe is last seen heading to Paris, presumably to find Marienne. However, with season 4 due to take place in London, we may find out he either failed - or killed her.
What happens to Joe and Love's baby?
Joe leaves Henry with his colleague Dante, and his partner Lansing. Before leaving, he writes a note explaining why he is leaving him, and takes his child to Dante's house to be raised without him.
Joe is unable to take Henry with him, as this would slow him down and be a bind. He also doesn't want his child to grow up in care as he did - he hates the thought of Henry also suffering a terrible childhood. He promises Henry he won't leave him for ever, meaning he could try and return in the future to find him. Joe later finds that Love's mother Dottie had tried to gain custody but failed - he was to stay permanently with Dante and Lansing.
You season 3: Reviews
The critics appeared to enjoy You season 3, with having a 95% critic score on Rotten Tomatoes. The audience score is more mixed, with 68%.
Anthony Morris from ScreenHub (opens in new tab) said "Joe is an often despicable character, an unrepentant self-serving creep, and yet sharp writing and a great performance from Badgley make him one of the more entertaining characters on television."
Alison Herman from The Ringer (opens in new tab) added "In Season 3, You has room to unpack the full potential of that twist. The show is no longer about a single predator who fixates on women; it's about a couple of predators who have to balance their own impulses..."
An audience member wrote "Great season. The season began with the cashmere sandpaper that is Joe's quixotic ramblings about romance and the world viewed through the heart-shaped glasses he wears to blot out the trail of destruction caused by his hysterical tendencies. But Love keeps the show fresh as she is both Joe's perfect partner, and ultimate enemy. Their obsession with the concept of flawless love, unyielding to the imperfect realities of romance, puts them at odds with one another's psychoses. The introduction of the psychologist and their child to provide brief interludes of reality before diving back into the battle between Love and Joe was also a great touch."
A viewer who hadn't enjoyed it said "I confess, I didn't make it past Episode 4. It has the feel of a series which has stayed on a little too long. Nothing wrong with the acting. It's just starting to seem like a zombie version of itself - a lifeless husk of a series which somehow continues to stagger forward regardless of the emptiness inside."
Related Netflix Features:
Video of the Week
Lucy is a multi-award nominated writer and blogger with six years' experience writing about entertainment, parenting and family life. Lucy has contributed content to PopSugar and moms.com. In the last three years, she has transformed her passion for streaming countless hours of television into specialising in entertainment writing. There is now nothing she loves more than watching the best shows on television and telling you why you should watch them.