You season 4 filming locations: Where was the latest season of the Netflix show filmed?
'Darcy College' was shot at Royal Holloway University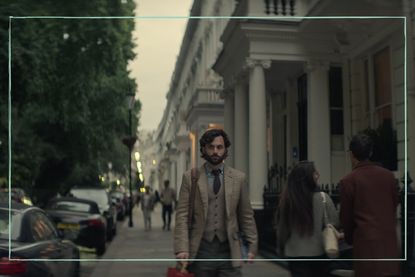 (Image credit: Netflix)
The highly anticipated You season 4 has landed on Netflix, and fans want to know more about the show's filming locations...
For those eagerly awaiting the time when You season 4 comes out (opens in new tab), the day is finally here. Those who don't need a season 3 recap (opens in new tab) may well have already binged the new episodes, only to discover that the latest season comes with a twist in its format, with Joe putting on his detective hat to solve a murder mystery that's targeting himself and his new group of rich friends. And the plot isn't the only thing that's looking a little bit different in You season 4, as Joe Goldberg has moved across the pond and is now residing in the UK. It certainly shook things up for the You season 4 part 1 ending (opens in new tab)!
Much like TV fans have been asking where is Treason filmed (opens in new tab) - another popular Netflix drama - now viewers want to know about the You season 4 filming locations too, so we've done some digging and found out everything there is to know. Spoilers ahead...
You season 4 filming locations
You season 4 is filmed and set in London. This might come as a surprise to some viewers, as the end of series 3 showed Joe in Paris, searching for his latest obsession, Marienne.
And although a small part of the season is set in Paris, most of You season 4 was filmed in London, some of which was on location at at Royal Holloway University. One fan took to TikTok to share a video of the cast out filming (opens in new tab). The caption read, "Arrived to campus today and they were filming You season 4."
Joe's back for a bloody good time. If his book choice tells us anything… our boy might not be in Paris anymore. pic.twitter.com/xXH7BAjnBUApril 1, 2022
See more
Meanwhile, the MailOnline (opens in new tab) shared some pictures of Penn Badgley and Tati Gabrielle on set in London. The photos showed Badgley's character Joe sporting a beard and longer hair as part of his new look, while Gabrielle - who plays Marienne - was spotted running through the street.
Let's take a look at some of the You season 4 filming locations...
1. Royal Holloway University
London's Royal Holloway University is the You season 4 filming location for the fictional 'Darcy College', where Joe works as a professor under the name Jonathan Moore.
The University's courtyard outside the Founder's Building - part of the Egham campus - features in several scenes in You season 4.
And while the shots are visually pleasing, those familiar with the area will notice the geography in You isn't quite correct, as Joe is often pictured walking from central London to the university building - which is actually situated on the edge of Surrey.
2. Knebworth House
Knebworth House in Hertfordshire is a 15th Century Tudor manor and is the setting for Phoebe's party in episode four of You season 4.
Netflix fans might notice that Knebworth House looks familiar, as it was also used as a filming location for season 5 of The Crown (opens in new tab), as well as for scenes set at Balmoral in the film The King's Speech.
Knebworth House will open to the public in spring, so You super-fans can go a walk the very same rooms as Joe Goldberg.
3. Four Seasons Hotel
It's been widely reported that the Four Seasons in London was used as a filming location in You season 4, and many think it was the set of Phoebe's luxury flat.
4. Gaddesden Home Farm
Gaddesden Estate is located in the Chilterns' Area of Outstanding Natural Beauty and is no stranger to TV and film production. In You season 4, the Estate reportedly serves as the location of a lumberyard.
5. Lincoln's Inn
Along with Knebworth House, Lincoln's Inn in London was also used as a You season 4 filming location, where some scenes set inside Darcy College - specifically the library - where shot.
Lincoln's Inn is a prestigious centre for British barristers located in Holborn, but has also been used as a filming location for other TV shows such as Downton Abbey. Unfortunately, however, it's not open to the public. Only those who are barristers themselves or a member of the Inn are allowed to visit.
6. Kynance Mews
Joe's flat in London is shot in South Kensington, on a cobblestone street called Kynance Mews considered to be one of London's most beautiful streets.
In the voiceover for You season 4, Joe says, "when I saw my neighbourhood, my first thought was: 'I'm in a Hugh Grant movie'" - and he's not far off, as the well-known British actor lived in South Kensington while filming Love Actually.
7. Old Billingsgate
Old Billingsgate is an event space on the River Thames and is used in You season 4 as the filming location for the gallery where Kate hosts Simon's art show.
There's also a scene shot right outside, in which Joe sits on a bench with a view of Tower Bridge in the background.
8. St Pancras station
Joe follows season 3 love interest Marianne to Paris before ending up in London, and it looks like he took the Eurostar across the channel, judging by the scenes shot in London's St Pancras train station.
9. St Bartholomew the Great
This medieval church is used as a filming location in You season 4 for Simon's funeral. As the funeral moves onto Sundry House, Kate detaches from the group to grab a drink by herself, doing so in The Builders Arms in Kensington.
The church was founded as an Augustinian priory in 1123 and is situated relatively near Farringdon and Barbican stations.
10. Fabric
It's not been confirmed where 'Sundry House' - the club where Joe and his new friends like to spend their time - is filmed, but it's been widely reported that these scenes were shot at Fabric, a nightclub in London.
11. The Bargehouse
Art gallery director Kate is Joe's latest love interest in You season 4, and the scenes shot around her gallery are done so at Bargehouse, an exhibition space located in the Oxo Tower on London's South Bank.
12. Seething Lane Garden
This small botanical garden found not far from the Tower of London also features as a You season 4 filming location.
Related features:
Video of the Week
Ellie joined Goodto as a Junior Features Writer in 2022 after finishing her Master's in Magazine Journalism at Nottingham Trent University. Previously, she completed successful work experience placements with BBC Good Food, The Big Issue and the Nottingham Post, and freelanced as an arts and entertainment writer alongside her studies. In 2021, Ellie graduated from Cardiff University with a first-class degree in Journalism.