The Barbie Dreamhouse Black Friday sale is already live at Amazon and it's almost half-price
The Barbie Dreamhouse Black Friday deal is already live at Amazon and it's almost half-price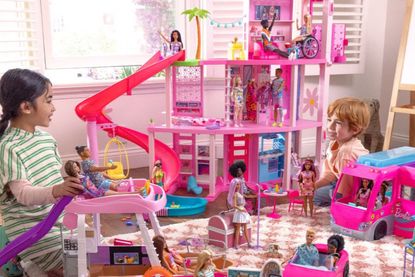 (Image credit: Mattel)
The Barbie Dreamhouse Black Friday sale has already gone live at Amazon and it's almost HALF PRICE.
If, like me, you've longed to own the Barbie Dreamhouse ever since you were a little kid, this might be the moment to make your inner child happy because Amazon has it on sale for its lowest price ever in an early Black Friday sale.
When it comes to the top Christmas toys that grace kids' wish lists and letters to Santa every festive season, the Barbie Dreamhouse is one of the most enduringly popular items, popping up year after year but especially this Christmas.
And in a plot twist almost as good as everyone wondering if the Barbie movie is for kids, Amazon has only gone and dropped the price of the Barbie Dreamhouse in what amounts to an early Black Friday sale.
We checked the price of this just last week and it was still £349.99 - I know this for a fact because I distinctly remember the office chat about whether the Barbie Dreamhouse is really worth it at the price - and my advice was to wait for the Barbie Dreamhouse Black Friday sale at Amazon, when you can usually pick up this most sought-after Barbie toy for a fraction of the usual price.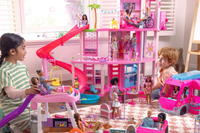 Barbie Dreamhouse - was £349.99 now £199.99 | Amazon
Snap up a serious bargain with this early Black Friday deal on the latest Barbie Dreamhouse with the biggest slide ever plus interactive light and sound features. This is the lowest price it's ever been at Amazon, with a whopping 43% off, saving you £150.
Er, and then Amazon went and caught me by surprise with this early Barbie Dreamhouse Black Friday deal. It's a clever move because the box-office success of this year's Barbie movie means that Barbie toys are set to be one of this year's most popular items for kids this Christmas.
And according to a quick analysis of Google search data, demand is already rising for Barbie toys so it's clear that parents are keen to get their hands on this year's must-have toys from Mattel. (Barbie is also set to be a popular choice for Halloween costumes this year.)
So whether you're looking to snap up one of the best selling toys of all time for your little Barbie fan or considering treating yourself to the toy you always wanted as a kid, it looks like now is the time to get your hands on the Barbie Dreamhouse.
Amazon Prime Big Deal days
We have no way of knowing how long this Barbie Dreamhouse Black Friday deal will last but with yet another Amazon Prime Day event set to happen a little later this month, it looks like this is an early access deal.
Amazon is calling its forthcoming sale 'Prime Big Deal Days' and it kicks off at midnight on Tuesday 10 October. Expect 48 hours of discounts on everything from the best toys 2023 to the best air fryers. The sale will end on Wednesday 11 October.
At the time of writing, the Barbie Dreamhouse is still full price if you buy direct from Mattel (£349.99) but it's down in price at Argos (£249.99) while Very (£199.99) has price-matched Amazon, shaving £150 off the original price of £349.99.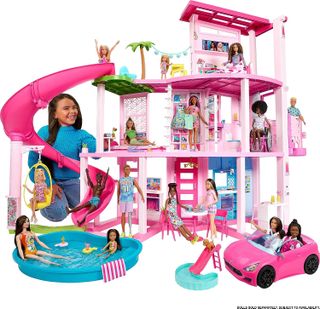 The Barbie Dreamhouse is suitable for children over the age of 36 months and this updated, open-plan version of Barbie's iconic house features 10 different play areas and three storeys to explore, as well as more than 75 accessories.
Laugh if you like, but I reckon channelling my inner Margot Robbie with a little bit of Barbie Dreamhouse play is just the way to unwind after a difficult day at work. And who knows, maybe I'll sell it for a fortune as a retro toy one day in the future and it'll help fund my own Barbie (retirement) Dreamhouse?!
My favourite premium features are the spiral slide - it's the biggest yet on a Barbie Dreamhouse - and the wheelchair-accessible elevator that has its very own pet entrance.
Also included are a dedicated pet slide and pool, a pet bed, a doggie door, and a pet house. And if all that's not enough to get you in the mood for a (come on, Barbie let's go...) party, the Dreamhouse has interactive light and sound features and clever surprise elements, like the living room that turns into a starry backdrop with an extra bed for last-minute sleepover guests. (But not for Ken, obviously.)