Barbie movie age rating: Is the Barbie movie for kids?
Following the film's premiere, fans want to know about the Barbie movie age rating. And it turns out it's not entirely suitable for the whole family...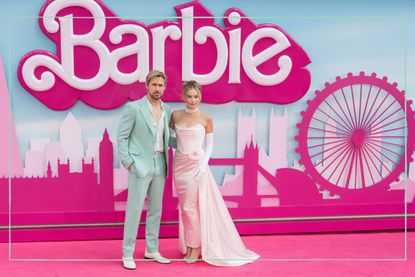 (Image credit: Getty Images)
Following the film's star-studded London premiere, parents are asking about the Barbie movie age rating, and if the new film is for kids.
It's the movie we've all been waiting for, and after smashing box office records everyone wants to know when Barbie will be available to stream. It's now over 60 years since the first Barbie was made, with the original doll inspired by creator Ruth Handler's daughter. Yet, this is the first live-action movie featuring the character. Starring Margot Robbie as the iconic Mattel doll, the film follows Barbie on her journey out into the real world with Ken, who's played by Ryan Gosling - the pair have made history by being paid the same staggering sum for their roles.
Barbie has earned its place as one of the best toys out there, with the most popular Barbies contributing to the 100 Barbie dolls sold worldwide every minute. Now, much like parents want to know if Doctor Who is suitable for kids, the same is being asked of Barbie. We've found out everything you need to know...
Barbie movie age rating: What age is the Barbie movie for?
In the UK, Barbie has received a 12A age rating from the British Board of Film Classification (BBFC), with the classification citing "moderate innuendo, brief sexual harassment, [and] implied strong language" as the reasons for the rating.
This means that the movie is not deemed to be suitable for children under 12, and no one younger than 12 may see a 12A film in a cinema unless accompanied by an adult. The official definition of 12A films adds, "Adults planning to take a child under 12 to view a 12A film should consider whether the film is suitable for that child."
Meanwhile, in the US the Barbie movie has been given an age rating of PG-13. This means that parents are "strongly cautioned", because "some material may be inappropriate for children under 13." That doesn't mean that kids younger than 13 can't see the movie - this is up to their parent or guardian to decide.
Some parents have been left unimpressed by the movies age rating, with one pointing out on Facebook, "They put it in the trailers for all the other kids films in the cinema." Others were equally as confused, as another Facebook user wrote, "These age ratings are weird anyway. How are parents supposed to decide if it's appropriate for their kids if they haven't seen it?"
But some agreed with the classification. Another Facebook comment read, "Good… let the millenials and Gen x have something nostalgic that isn't wrapped up in kid tape".
Barbie movie: Full BBFC guidance
Violence: Comic fight scenes include undetailed punches, kicks, headbutts and use of improvised weapons.
Threat and horror: Infrequent scenes of mild threat include a car chase. This occurs within a comic context.
Language: There is a use of bleeped strong language ('motherf**ker'), as well as moderate bad language ('b*tch') and milder terms such as 'crap', 'God', 'hell', and 'damn'.
Sex: Moderate innuendo includes occasional gags about 'beaching off' and 'sugar daddies'.
Sexual violence and sexual threat: There is a scene of sexual harassment in which men catcall a woman and make inappropriate comments about her appearance. A man slaps a woman's bottom, however, his behaviour is immediately challenged and results in negative consequences.
Dangerous behaviour: A child melts a doll's hair using a lighter.
Theme: There are occasional verbal references to death and mental health. Occasional references are made to patriarchal attitudes about women's roles in society. These attitudes are clearly condemned and satirised.
Is the Barbie movie for kids?
The Barbie movie is not aimed at children, although it has been deemed appropriate for children aged 12 and above, making it suitable for teenagers.
While the age rating may seem surprising for a film that's based on a child's toy, Greta Gerwig's latest work sees Barbie experience something of an existential crisis as she leaves Barbieland and enters the real world, with strong themes around gender roles present throughout the film.
Meanwhile, cast member Will Ferrell revealed in an interview with The Wall Street Journal that the movie will serve as a pointed satire on male patriarchy and the role that Barbie plays in society, especially regarding social and beauty standards for women
Trailers for Barbie have already teased some "suggestive references" in the film, for example in a scene where two Kens get into an argument about 'beaching' each other off.
This is not to say that younger children would not be entertained by humour, musical sequences and fantastic pink outfits in the Barbie movie, but it's up to their parents to decide whether the themes are too mature.
What is the Barbie movie about?
Barbie sees Margot Robbie as the title charactergo on a journey of self-discovery after her expulsion Barbieland, with Ryan Gosling's Ken by her side. Alongside the pair is a large ensemble cast that includes Emma Mackey, Dua Lipa, and Nicola Coughlan as various Barbies, and Will Ferrell as the CEO of Barbie manufacturer Mattel.
When they enter the real world, where the Mattel corporation and its CEO await, the film highlights the contrast between the utopian, female-centric Barbieland and the realities of modern society. Ken becomes radicalized by America's notions of patriarchy, while Barbie has to deal with being cat called and groped.
In an interview with Screenrant, Simu Liu, who plays another Ken, said, "You have to really watch the movie to understand this, but it is a feat to have gotten Mattel on board with this movie. Because this movie really goes there, and it attacks all the criticisms of Barbie in the past. It joins in on the conversation, and it's not just like a fluffy, cash-grabby, 'Look at us, we're fine. Everything's perfect.'"
Meanwhile, America Ferrera told PEOPLE in 2022 that viewers should expect the unexpected with the new movie. She said, "People don't have any idea what to expect [about the film's plot], and I think that that's the right vibe. Whatever you think it is, it's not that. It's something else."
Barbie movie reviews
Barbie has arrived on the big screen to rave reviews from film critics, and landed on review website Rotten Tomatoes with an impressive 89% score. Not everyone was impressed however, with the Daily Mail's Sarah Vine writing, "It's all just a bit of a poorly thought-out soup," and criticising it for being "deeply anti-man".
How to watch the new Barbie movie
The Barbie movie will be released in cinemas in the UK on Friday 21 July. You can book tickets via Cineworld, ODEON, Vue, Showcase Cinemas and most other UK cinema websites.
It's likely that later down the line Barbie will be available to stream on HBO Max, as Warner Bros. - the company distributing the Barbie movie - also owns HBO Max. For UK viewers, HBO isn't available. However, you can get access to the streaming platform by installing a VPN (our pick is ExpressVPN).