Meghan Markle has reportedly hired a Doula to help with her pregnancy and birth plan
Meghan's birth plan also includes acupuncture and hypnotherapy…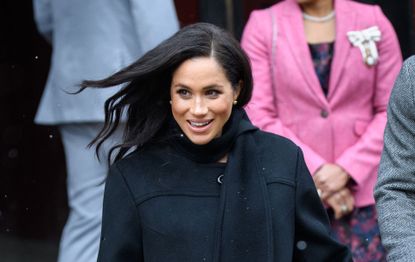 GoodTo newsletter
Sign up to the GoodTo Newsletter. You can unsubscribe at any time. For more information about how to do this, and how we hold your data, please see our privacy policy
Thank you for signing up to . You will receive a verification email shortly.
There was a problem. Please refresh the page and try again.
Meghan Markle will likely have her birth plan all finalised by now and it's been reported that part of it includes hiring a Doula to assist her.
Meghan Markle and Prince Harry are no doubt excitedly counting down the months for their little one to arrive and they don't have long to wait… (opens in new tab)
They announced their baby news back in October during their first royal tour (opens in new tab) abroad and now they are over half way through the pregnancy.
So it's no surprise that everyone is starting to speculate about Meghan's birth plan and the things she might be opting in or out of.
When it comes to where Meghan will deliver her first child, it's been reported that she might shun royal tradition and give birth at home. (opens in new tab)
However, staff at St Mary's Hospital have reportedly been told not to book holiday in spring.
So Meghan could be set to follow in the steps of her late mother-in-law Diana and sister-in-law Kate Middleton and give birth at the Paddington-based Lindo Wing. (opens in new tab)
Will Meghan and Harry step out on the famous steps outside of the Lindo Wing?
According to US Weekly Meghan has also hired a doula (opens in new tab) to assist her and Harry throughout the pregnancy.
The source said: 'Meghan is focused on calm and positive energy around the birth—she's a big believer in that.'
A doula is a person who supports women through their labour and birth but is not a trained medical professional.
During a GoodtoKnow interview with midwife Anne Richely, hiring a doula was one of her tips to have an easier labour (opens in new tab) – no wonder Meghan is considering all her options!
Meghan's birth plans also reportedly include hypno-birthing (opens in new tab), a technique widely praised by mum-of-three Giovanna Fletcher and several other celebrity mummies.
A source told Vanity Fair: 'Meg wants a natural birth if she can have one. Her mother is very into anything that is holistic and natural, and having been brought up with yoga and mindfulness, it's all very much part of Meghan's birth plan.'
Perhaps less conventionally, it's also been reported that Meghan is using acupuncture during her third trimester to help relax and boost her blood circulation.
A source told Vanity Fair: 'Meghan has been having regular acupuncture sessions to help her unwind and relax. It's brilliant for the blood circulation and boosting blood flow to the uterus. She plans to use acupuncture right up to her due date.'
It's unlikely the royals will give the exact details regarding Meghan's birth plan but closer to the time they will confirm where Meghan will give birth.
Are you expecting a baby at a similar time to Harry and Meghan? Are you worried your baby name (opens in new tab) might match theirs? (opens in new tab)
What things are in and out of your birth plan? Head over to our Facebook page to join the conversation…
Jessica currently works as a Senior Food Writer at Future. She writes food and drink-related news stories and features, curates product pages, tests, and reviews equipment, and also develops recipes that she styles on food shoots. An enthusiastic, self-taught cook Jess adores eating out and sharing great food and drink with friends and family. She has completed the Level 1 Associate course at the Academy of Cheese and is continually building on her knowledge of beers, wines, and spirits.