Meghan Markle reportedly planning to give birth at the Lindo Wing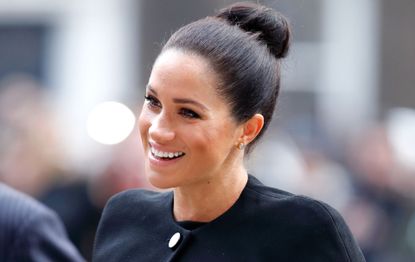 (Image credit: Getty)
GoodTo newsletter
Sign up to the GoodTo Newsletter. You can unsubscribe at any time. For more information about how to do this, and how we hold your data, please see our privacy policy
Thank you for signing up to . You will receive a verification email shortly.
There was a problem. Please refresh the page and try again.
Meghan Markle is reportedly planning to give birth at the Lindo Wing.
Back in December it was speculated that Meghan Markle might break with the royal birthing tradition (opens in new tab) of recent years.
While in the past royals used to choose to opt for home births (opens in new tab), over the last few decades it's become tradition for royals to give birth in St Mary's Hospital's Lindo Wing.
It's also become a much-loved routine for them to present their newest addition to the world, and hundreds of awaiting fans, with an appearance on the hospital's iconic steps, thanks to Kate Middleton and Princess Diana.
Last year, Vanity Fair reported that the expectant Duchess would go down the older route and possibly welcome the newest royal with a home birth (opens in new tab), as at the time Harry and Meghan will be based in Windsor.
'Doria plans to be around a lot when the baby arrives, and there are plans for her to have a dedicated space at their new home,' a source told the publication.
'She wants to be on hand to help Meghan and Harry with the baby. Doria will be involved and if she's involved she will be encouraging Meg to go for a natural birth.'
However, it seems that now the mum-to-be, who recently let slip that she is expecting the royal baby (opens in new tab) in April or May (opens in new tab), may have decided to follow in the footsteps of more recent royals and head to the Paddington-based hospital after all.
According to a source, staff at the Lindo Wing have been advised not to book leave in the spring, which has sparked speculation that Meghan may be planning to have her baby there.
'Staff at the Lindo Wing have been asked not to take holiday in April,' a source told the Telegraph.
'Everyone thinks it's got something to do with the royal baby but no one is confirming anything.'
If the Duchess does opt for famous London hospital, she will be following in the footsteps of both her sister-in-law, The Duchess of Cambridge, and her late mother-in-law, Princess Diana.
Last year Kate Middleton welcomed her and Prince William's third child (opens in new tab) Prince Louis in the Lindo Wing. She had also previously chosen the hospital when she gave birth to five-year-old Prince George and three-year-old Princess Charlotte (opens in new tab).
Back in 1982 and 1984, Princess Diana gave birth to Prince William and Prince Harry respectively in the same wing.
It was the first time that a royal family member had chosen to give birth in a hospital and break the long-standing tradition of home birthing.