Meghan Markle's due date could have a very special significance to the royal family
The due date could have an extra special significance...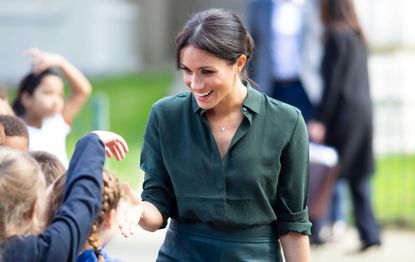 Meghan Markle and Prince Harry have confirmed that they're expecting their first child together – here's everything we know including the due date, gender and all the bump pictures we've seen…
The Duke and Duchess of Sussex have announced that they are expecting their first child together, (opens in new tab) just five months after tying the knot in a picture-perfect wedding at St George's Chapel, Windsor Castle. (opens in new tab)
Here's everything we know so far...
When is Meghan Markle's due date?
For months people have been trying to guess if Meghan was pregnant and some thought that her hair was a tell-tale sign she was expecting. Royal fans started to speculate about Meghan Markle's baby bump at Princess Eugenie's wedding, just three days before the news was confirmed.
Harry and Meghan are thought to have told several family members about their happy news at the wedding too. (opens in new tab)
Kensington Palace confirmed fans' suspicions on Twitter with a statement that reads: 'Their Royal Highnesses The Duke and Duchess of Sussex are very pleased to announce that The Duchess of Sussex is expecting a baby in the Spring of 2019.'
While at the couple's first joint engagement of 2019 Meghan let slip that she was six months pregnant (opens in new tab) and that the baby is due in April.
There are quite a few significant dates during spring for the couple. Not only is it just before they celebrate their first wedding anniversary on 19 May, it's also Harry's youngest nephew Prince Louis' first birthday on the 23 April, and Princess Charlotte's fourth birthday on 2 May.
Plus it's the Queen's birthday on the 21 April, so it's possible that Prince Harry's baby could share their birthday with another family member...
Will Meghan and Harry have a boy or a girl?
We are yet to find out if the couple are having a baby boy or girl (opens in new tab) and it's unlikely the couple will do a celebrity-style gender reveal.
Royals tend to wait until the royal baby's birth to share the news with the world but it is not known if they actually know the gender of their unborn child or if the birth is when they find out too.
Going by the popular Chinese birth predictor (opens in new tab), it's most likely that Prince Harry and Meghan Markle are having a baby girl - but only time will tell for certain!
Will Meghan and Harry's baby have a royal title?
Despite the fact that Prince Harry is sixth in line to the throne, his and Meghan's children are not likely to receive a royal title. (opens in new tab)
Plus, due to an unusual royal rule, the couple will also not have full legal custody of their own children.
Meghan Markle's baby bump
So far the only pictures we have of Meghan are from Princess Eugenie's wedding but now the couple are on their official tour of Australia, New Zealand, Fiji and Tonga hopefully we'll see a lot more!
We can't wait to see Meghan's maternity fashion and if she takes any tips from sister-in-law Kate Middleton…