Is there anything Kate Middleton can't do? 3 reasons why this question is so damaging to mums
Yay for Kate and her never-ending list of talents - but let's stop deifying her and other famous mums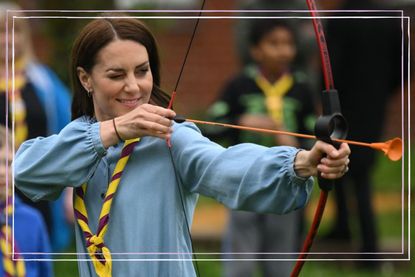 (Image credit: Getty)
Is there anything the Princess of Wales can't do? Yes, actually, and here are three reasons why we need to stop saying that.
So the Princess of Wales keeps bees. In case we didn't already think of her as the bee's knees, Kensington Palace wowed us all on World Bee Day (who even knew that was a thing…) by sharing a picture of Catherine wearing a bee keeper's suit and tending to a beehive in a nod to the importance of our buzzy little black and yellow friends. Of course, she looked fabulous to boot.
The caption read: 'We are buzzing about #WorldBeeDay. Bees are a vital part of our ecosystem and today is a great opportunity to raise awareness of the essential role bees and other pollinators play in keeping people and the planet healthy.'
Good for Kate, I thought, when I saw the post. But a quick scroll of the comments made my heart sink. Here's a snippet of how Royal fans responded to the sight of our future Queen in Queen Bee mode:
"Wow. Is there anything the Princess can't do?"
"Is there anything that this lady can't do? I don't think so."
"And she can keep bees too?!?!!?? 🤦‍♀️ #mustbesomethingshecantdo 😉😆"
Why does this bother me? Because the adoring narrative of 'Is there anything she cannot do?' isn't the harmless admiration that you might think it is. Nope, if you ask me, it's part of a broader tendency to celebrate women - and particularly mums - who display an impossible suite of talents. We might not be urging girls to 'have it all' as ferociously as we did when I was at school. But we're certainly implying that they should do it all.
I know this to be true because I did it myself when the Princess of Wales unveiled her remarkable musical skills at last year's 'Together at Christmas' concert held at Westminster Abbey. The words 'Is there anything she can't do?' tumbled forth from my own lips when my mum asked if I'd seen the concert. Having lost my dad very unexpectedly during lockdown - followed by an acutely painful funeral with only six people present instead of the celebration of his life that my dad deserved - the concert was especially moving for families like ours. I shed tears as Tom Walker sang 'For those who can't be here' and I was in awe of the Princess of Wales as she accompanied him on the piano in her first public performance.
But since then I feel I've been bombarded by images of the Princess as the perfect wife and mother. She grows her own vegetables. She plays tennis like a pro, is a keen rugby player, and is an accomplished sailor. She's good at scuba diving, photography and even singing. We get it. She's really good at lots of stuff.
But I keep hearing this phrase over and over again: Is there anything Kate can't do? And I think it's about time we stopped greeting news of yet another of Kate's talents with this tired phrase. Here are three reasons why...
1. It idolises impossible standards
Now please don't mishear me - this isn't about tearing anybody down. That's not my vibe. My point is that the Instagram effect is at play here, whereby we're idolising something that for most mothers is far from attainable. What I want to see is normal mums being celebrated for all the hats they wear, instead of one mum being extolled for a life in which many other people hold her hats.
By contrast, I consider myself lucky, as a working mum of three, if I stagger to the garage to use an old exercise bike three times a week. I attempted a run this week and gave myself blisters by wearing an ancient pair of runners that don't really fit because I can't justify forking out for a new pair when I'm working out if I can afford to finance my son's university education.
These are worries the Princess of Wales does not have, of course. And yet by continually lauding her for the many varied interests she has, we risk sending a message that 'normal' mums aren't quite cutting it if they don't produce their own honey or bake their kids' birthday cakes.
2. It feeds the 'perfect mum' myth
Even at the coronation, she was celebrated for the seemingly effortless task of keeping her kids in line. But most mums pull off a far more impressive parenting feat every time they attend a family wedding with the kids in tow - without the luxury of a Norland nanny waiting in the wings to whisk our offspring out of sight at the first sign of a meltdown.
Kate is clearly incredibly talented. But that's actually part of her job. I'm pretty sure I could be amazingly accomplished at all sorts of things too if I had the trappings of wealth and power that she does. I'd love to cultivate roses and learn beekeeping but most weeks I struggle to clean the loos and stay on top of the laundry.
While we keep asking if there is 'anything she can't do', we perpetuate the myth that mums ought to do more and, frankly, be more. Look at Kate charmingly humouring Prince Louis instead of dropping F-bombs and threatening to smash his iPad if he doesn't behave - if only you were more like her, is the message all this fawning sends to normal mums like me. Instead, we should be preaching from the bleachers that raising kids and earning a wage is truly admirable work.
3. It minimises all the incredible things we do every day
I played the piano as a kid and, like Kate, I picked it up again in lockdown. But having suffered a no-fault eviction after the pandemic, I had to put my piano into storage. Is there anything Kate can't do? I'm pretty sure she can't count dealing with that kind of stress and domestic uncertainty among her skills.
Can she make £11 stretch to feed a family of 5 until payday? Does she know how to keep her cool when juggling a demanding career with extortionate childcare costs and ageing parents whose ailments will take 12 months or more to reach the top of the NHS waiting list? Can she make a fun staycation out of not being able to afford a family holiday?
I'm pretty sure there are plenty of things that the Princess of Wales cannot do. And while we keep over-enthusing about her accomplishments, we inadvertently send the message that those of us who aren't adept at sailing and scuba diving are somehow slacking. We're not. My kids' granny doesn't have a swimming pool in her basement so I have to add queuing for a slot at the local leisure centre to my mental load.
What can't Kate do? I bet she can't do half the things that you or I pull off on a daily basis. So it's time we stopped buying into the ridiculous idea that she - or any mum in the public eye, for that matter - is some kind of paragon of modern parenting. Instead let's start celebrating normal mums, like you and I, for all the normal stuff that we accomplish - without fanfare - every single day.
Related features:
As a parenting specialist for more than 15 years, Heidi has written for most national newspapers and for a wide range of consumer magazines, including Mother & Baby where she was the Shopping Editor for six years, looking after regular consumer features including buying guides and gift roundups.