How to make money from home: Best work from home jobs and ways to make extra cash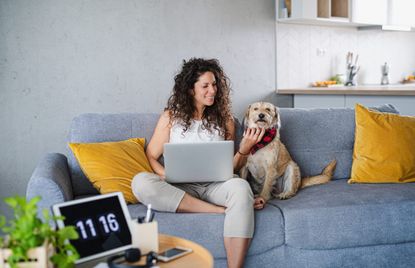 Learning how to make money from home is the difference between a dream job and an average nine-to-five for millions of people.
Even before the pandemic, people at the very least had begun to take days working from home to add a bit more balance to their lives. Now many people, especially those trying to work from home with kids, are keen to get back to a bit of normality - but others have opted for the working from home life indefinitely.
There are more ways to make money from home than just doing a standard office job from your kitchen table, though. Sites like PeoplePerHour and GumTree are set up to help those who want everything from a whole new job to just a little bit of extra cash at the end of the month.
Best work from home jobs to make money from home
Avon seller
You've probably heard of Avon, one of the world's best known cosmetic companies. They're famous for their award-winning skincare products and amazing perfume dupes. Avon representatives showcase the products in people's homes, so it's a good one to look into if you have friends and family who live locally.
The start-up cost is very low, so it's handy if you're looking for a relatively simple way to make money from home. You can apply to be a seller on the Avon website.
Pet sitter
With pet sitting, you can either have pets at your home or go to other people's homes to look after them.
Much like babysitting, there's no compulsory training that you have to do but it's important to consider any difficulties you might get into if an animal becomes unwell. It's certainly a good idea to take out Public Liability Insurance with an insurer accredited with the Association of British Insurers.
Many dog sitters who work full-time in the role also take Pet First Aid course, to make their services more attractive to pet owners.
Flower arranger
If you've got a flowing garden, full of flowers, why not turn it into a business? It's the perfect job to do at home if you've got a real creative flare.
You'll need training or at the very least some experience as a florist. Offer to volunteer part-time at a local business or take a floristry course at your local school. You can even start by volunteering for a local church or organisation that regularly needs flowers to get some practice in.
After this though, you can arrange the flowers at home for all types of events and deliver them yourself to the venue.
Children's books author
If you have children yourself, you've probably read a few children's books in your time. So why not write one yourself?
While it may not be easy or one of the most predictable ways to make money from home, it's certainly doable. You'll need a great idea that stands out and the determination to pull it off, so be sure to check out your local university or college and see if they're running any creative courses to help you get started. Alternatively, you could try one of the creative Future Learn course from the Open University, which should kickstart your creativity.
Courses are a good way to build up your writing confidence and get feedback from tutors and other students. There's also some excellent advice on the Penguin website about how the publishing process works, when you get to that stage.
Data entry clerk
While it may not be the most exciting job, data entry is one of the best working from home jobs. If you have experience in the field, even better.
Update your CV and join a job website such as reed.co.uk, indeed.com or e4s.co.uk. It might take a while to find the right job to suit your schedule but there certainly will be one, with hundreds of jobs available all the time.
Be aware of some recent money scams though, particularly ones that promise you'll earn thousands for just working a limited number of hours per day. Make sure you do your research and ensure it's a reputable company before you sign any contracts. From the off, there shouldn't be any fees to register for work so keep this in mind.
Virtual assistant
If you're organised, have good WiFi internet at home and a reliable computer or laptop, becoming a virtual assistant could be a good job to do from home.
If you've got experience as a personal assistant, secretary or similar job, you could join Time etc and assist with anything from booking flights and accommodation to sorting out expenses and receipts.
Dog groomer
If you love animals - and dogs in particular - this is a great working from home. You don't need formal training to be a dog groomer but knowing how to handle animals, especially uncomfortable or scared ones, is a must. Experience will certainly help with this, as will some knowledge around the techniques and different breeds. Check out the City & Guilds course on this for more information.
You will need space such as a spare room or a garage where you can set up the cleaning area with dryers and other kit so there will be some upfront costs.
Wedding planner
If you've got a natural gift for hosting, becoming a wedding planner is certainly a great working from home job. You don't need any formal qualifications but like most other jobs in hospitality, catering and organising, experience is a good thing to have. For more information, it's worth looking into courses like the Level 2 Award/Certification in Event Planning.
A smart website advertising your services will help. You should also get to know local spots, from churches and other licensed premises so you always have ideas in your back pocket. Getting to know the people who run these venues, along with local florists and caterers is also a good idea as these relationships will certainly come in handy.
If you're new to the industry, it's worth offering your services to friends or family first to build up your experience as it's unlikely you'd get a paid job without a portfolio.
Set up a baking website
Baking is big business in the UK, with popular TV shows like The Great British Bake Off reviving the hobby every year. If you love baking, you could share your favourite recipes, review local bakeries and cafes and even sell baking equipment.
The more you know about the subject and the better your content is, the more readers will come to your website or blog. Learn about search engine optimisation (SEO) and what makes a good website. You could also reach out to bakeries and offer to share their recipes on your website, helping them spread awareness of their business and giving you content for the site.
Copywriter
Already familiar with SEO? If you've got good writing skills and can adapt your style to different brands, copywriting is a great job to do from home. Pick your own hours, what you write about and who you work for - just three of the benefits of this working from home job.
Everyone needs things written, whether it's a kitchen company's leaflets and brochures or an entire website. Along with directly contacting marketing agencies and companies, you could also apply for jobs on People Per Hour under the 'copywriting' section.
It can be hard to get freelance copywriting work without experience so if you're new to the business, it is probably worth approaching local companies directly to see if they need any copy written. It can also pay off if you take the initiative and spot things which could be better written then offer your services (tactfully!).
Market research interviewer
A telephone interviewing job is a great one to do from home. From standard tele interviewing jobs and customer service to more advance background checking work, are plenty available on all the job sites like reed.co.uk and indeed.com.
This is really a good one as you don't need any extensive training outside of what the company will offer you or much prior experience. It will all come down to your telephone demeanour and how you speak to people.
Virtual tutor
Thinking of leaving your full time in-office job to work from home? Being a tutor is not only a rewarding experience, helping students from primary school all the way through to adulthood with topics they find difficult, but it tends to also be very well paid.
If you've got a degree or higher education qualification in any subject, private tutoring is the way forward. Maths, science, English and languages are probably the most sought-after but other subjects will have their needs too. This is a particularly good one to go for if you excelled at homeschooling during lockdown, remember all the great educational apps and resources you used, and reckon you could do it all over again without too much of a struggle.
Word-of-mouth is naturally the best way to get work but you'll need a couple of students already to make that happen. Create a profile on a site like MyTutor or thetutorwebsite.co.uk, where you can list your qualifications and expertise and tell potential pupils a little about yourself. All tutoring can then be done virtually.
Caterer
If you've got a real talent for cooking, love hosting dinner parties and are (very) organised, you might want to consider starting your own catering business. It can all be done from home, from organising the entire event's food menu to making and delivering it.
You'll have to contact your local authority to register your business, organise appropriate waste disposal and recycling collection, and apply for an environmental health license.
Music teacher
If you play a musical instrument to a high level and have experience playing, being a music teacher is one of the best working from home jobs. Much like being a tutor, you'll likely need to prove your capabilities to be appealing to those looking for classes. Verified music grades from the Associated Board of the Royal Schools of Music (ABRSM) will likely be expected, alongside at least a basic DBS check and possibly other experience teaching.
Sign up to tutoring websites like MyTutor, where you can find students who want to come to your home or you to come to them for a music lesson.
Language translator
Speaking or being able to read and write another language is a massive asset these days. So whatever you know, from French and Spanish to Hindi and Mandarin, there is bound to be someone who needs these skills. A site like gengo.com is a good one to go for, as need a variety of translators for different services and it can all be done from home.
Translation will be easier to do from home as it is written and you would usually translate from the foreign language into your mother tongue language. You could be translating anything from children's books to letters. If you don't have a degree, look into the Diploma in Translation which is run by the Chartered Institute of Linguists.
Beautician from home
If you've developed a real set of make up skills, love beauty treatments and products, this is a great way to make money from home. It needs lots of commitment though, with some awareness of social media marketing to get your services out there and you will need a qualification. A minimum NVQ Level 3 is required in whichever speciality you go for, whether it be massage or manicures.
Blogger
Blogging isn't just a hobby, it can be a career too. If you're good at writing, have a captivating style, can keep readers engaged and are fascinated by a certain subject - whether that be parenting or film - there is real money to be made in blogging.
The plus side is that there are no qualifications required and it really costs nothing to start up a blog. Websites like Weebly and Wordpress allow users to set up a blog for free, with paid for add-ons available to buy later down the line.
To make it successful, you'll need to know your way around search engine optimisation to attract readers online and a bit about social media, to make a name for yourself. Start with reading around the subject. Once you've got this going, you can even set up affiliate deals with brands where you'll be set to make more money.
Holistic practitioner
Holistic therapy covers a whole range of treatments from aromatherapy and homeopathy to reflexology and even baby massage. More and more people are looking for alternative ways to manage pain and other ailments, from back pain to skin conditions. So if it's something you're interested in, it can be worth training as it is well suited to help you make money from home
For credibility, qualifications and courses are essential. VCTCT Accredited courses are industry standard and the Holistic Therapy Centre offers them all year round, with payment plans available for training courses.
Hairdresser
If you learnt how to cut your own hair during lockdown or are professionally trained, whether as a hairdresser or a barber, this is definitely a skill you can make use of working from home. And if you're not already trained, there are courses you can do to teach you the basics. Even just knowing how to trim a fringe can bring in some extra money on the side of your day job.
It's unlikely that clients will ask for qualifications because really, the proof is in the haircut. Get plenty of practice and once you feel like you've got it down, offer to cut friends' hair at a discount to get experience and help spread the word.
You might also decide to go to other people's homes instead which can be easier if you don't have the space at home.
Bookkeeper
It might sound a little dry, but every business needs someone to manage their books and accounts so if you're good with numbers and good on detail, this could be a flexible way to earn income from home. You may not need formal qualifications but experience is useful, if not essential. Otherwise you can do courses with the or Institute of Certified Bookkeepers to stand you in good stead.
You might also want to reach out to friends and family you're close with and offer them your services, so you can start to build up a list of clients.
Graphic designer
If you've got an artistic flare and can easily wrap your head around complex computer programmes, you could learn how to make money from home as a freelance graphic designer. To get started, you'll need to sign up to a subscription to Adobe Photoshop, Illustrator, Dreamweaver and InDesign to name a few. These programmes will give you the tools you need to work.
It's also best to have a look at some courses in graphic design too, as these won't only help you use the programmes but will give you a good idea of whether this is something you want to do before you take the plunge. Experiment with ideas and create a portfolio of work which you can show to prospective employers.
Dog walker
If you live in a neighbourhood with plenty of pooches, this could be an excellent working from home job. It can be a real earner, as you can walk multiple dogs at the same time, and don't need any qualifications or much prior experience.
Just make sure you have appropriate public liability insurance, as this will protect you if something happens to the dogs or a member of the public when you're out. Some clients might also want you to have Pet First Aid training, so perhaps check out short courses from the College of Animal Welfare.
Advertise your service on a site like NextDoor, where you can post what you're offering and what you'll be charging. People in your local area only will then see this and be able to hire you.
Personal trainer
Much like hairdressing, personal training is one of the best ways to make money from home. As long as you've got the space and the capacity to take on a qualification to get started, you can begin working with clients fairly quickly.
HFE offer internationally recognised qualifications in personal training, from beginners' courses to more specific and advanced training.
This is definitely one for the fitness fanatics and those who nailed the best workouts to do from home during lockdown. The great thing about it is, whether your passion is yoga or weightlifting, there will be people who want to incorporate that activity into their fitness regime. You'll also need the space to host clients and the equipment you'd typically use in your chosen activity.
Best ways to make extra cash from home
If you're not looking to give up your day job but want to make some extra money on the side, this is how to make money from home.
Cake baking
Do you love baking? You could start your own cake-making business if you fancy turning this classic lockdown hobby into a business. It can start small - you can make birthday cakes to order for friends and family or sell your cakes at local markets and fairs. You could even approach local cafes or restaurants to see if they would take any orders from you.
Find out how to start a cake business and be sure to check out the Food Standards Agency website for how to register your food business.
Host foreign students
When foreign students come to the UK to study with a school, they often need somewhere to stay. If you've got a spare room and a family life that allows you to have an extra person in the home, foreign students can be a good way to bring in extra money.
It's an added bonus if you or anyone else in the family is learning their language, as the situation could work as a bit of a language exchange as well.
Contact schools directly for this or look at websites such as ukguests.co.uk and homestaybooking.com. You can also contact Education First to see if you can register your home for their students.
Make and sell greeting cards
Those with a knack for bringing kids' craft ideas to life with perfect precision already know how to make money from home - by making and selling greeting cards! If you've got a unique artistic style then even better, as the list of occasions that people need cards for is endless - from birthdays to anniversaries to get well soon cards.
Set up a profile on a site like Etsy, where people looking for homemade and alternative greeting cards will likely go to. It's also worth checking in with local businesses (such as coffee shops and boutique stores) as they might be interested in stocking your cards for a small cut.
Sell produce at your local farmer's market
The number one guarantee at a farmer's market is that you're buying homegrown or homemade produce. So if you've got a pretty big garden and a knack for growing, cooking or baking, it's worth checking out your local farmer's market to see if you can find a gap in the market. It's one of the best ways to make money from home, with just two trips out at the weekend.
We all remember the boom in bread baking over lockdown, so if you've got the perfect recipe for sourdough then maybe a bread stall is the way to make a little extra money? Alternatively, jams and other preserves, baked goods and even homemade meals have been known to snatch up custom at a farmers' market.
Before you get going though, make sure to contact Environmental Health officers and Trading Standards as they'll both need to be involved in the set-up of this side hustle. Both can be contacted via your local authority.
Selling unwanted clothes and items on eBay
Whatever it is you want to sell, whether it's jewellery, unwanted clothes from the back of the wardrobe or crafts that you've made, selling them via ebay is one of the easiest ways to do it. Everything is set up for you - from payment methods to the website - so all you have to do is post your items and check regularly for enquiries and confirmed purchases so you can send out items on time.
Make and sell jewellery
This is another great side hustle to do from home if you've got a little more expendable income that you can invest in silver and gold to turn into jewellery. While many people just learn from online tutorials, you can also take courses at local academies to learn the practical skills you'll need.
When you've got a good selection of pieces, you can start to sell them on retail sites like Etsy. You can also host jewellery parties - invite friends and friends of friends to your house, provide a few drinks and nibbles and let them browse (and hopefully buy) some of your creations.
Sell your sewing skills
Getting clothes repaired can be difficult - and expensive. With fewer tailors on the high street than ever before, those looking for the help of a seamster often turn to online for their repair needs. So if you're a dab hand on the sewing machine, you could earn a nice little side income by doing alterations and minor repairs. It's a case of word-of-mouth, so spread the news of your new service with friends and via social media to help slowly build up your business.
Also take a look at People Per Hour for work, where there are jobs available for everything - from sewing placemats to getting involved with up and coming fashion brands.
While these ways for how to make money from home might not make you a millionaire, they're certainly sure to help make ends meet.
Grace Walsh is a Features Writer for Goodto.com, covering breaking news health stories during the Covid-19 pandemic as well as lifestyle and entertainment topics. She has worked in media since graduating from the University of Warwick in 2019 with a degree in Classical Civilisation and a year spent abroad in Italy. It was here that Grace caught the bug for journalism, after becoming involved in the university's student newspaper and radio station.