I've banned my kids from buying Mother's Day gifts from anywhere but Tesco - here's why
Our Consumer Editor says her kids can't spend more than a tenner and they have to go to Tesco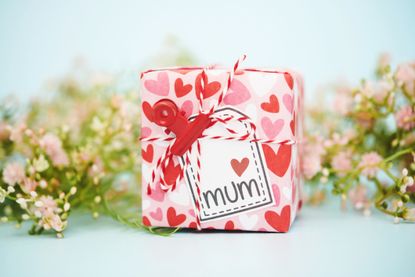 (Image credit: Future)

With Mother's Day fast approaching on Sunday 19th March, it's time to celebrate the nation's mums and maternal figures. But the best Mother's Day gifts (opens in new tab), in my book, are those small, affordable items that help the kids to appreciate the value of their money.
And that's why this year I've set the kids a challenge when it comes to buying me a Mother's Day gift. They have to spend less than a tenner. And they have to go to Tesco. Why? Well, the tenner bit is self-explanatory. Kids are living through a cost-of-living crisis too. And I'm using this as a teachable moment to help the kids grasp that money is not to be wasted. If you're going to spend some of your hard-earned cash or savings, you might as well get something back at the same time. And with Tesco Clubcard prices on selected Mother's Day gifts, the kids can add to my Clubcard points AND pick up some bargains while they shop for my Mother's Day treats!
This year, Tesco is introducing a range of brand-new gifting products and they've also brought back some firm favourites to help shoppers spoil the mum-figure in their lives - without spending a fortune. From pamper sets and candles to indulgent chocolates and even bottles of fizz to toast the celebrations, there's something thoughtful for every mum, auntie, gran, step-mum, or motherly figure - no matter your budget. 
The supermarket also has a brand-new selection of plants and bouquets plus the usual variety of Mother's Day cards. And gifting options are available both in-store and online, with selected items available on Clubcard Prices.
So whether you're looking to celebrate fantastic mothers, awesome grans, amazing step mums or any kind of mother figure, you could definitely do worse than directing the kids to the nearest supermarket. Just don't forget to arm them with your loyalty card while you're at it.
Best Mother's Day gifts from Tesco
Here's my pick of this year's best Mother's Day gifts from Tesco. And all except one of these items cost less than a tenner.
1. Mum Mug, £2.50 |Tesco (opens in new tab)
This charming floral mug is the perfect Mother's Day gift if your mum loves nothing more (except for you!) than a nice cup of tea. Featuring the official verdict - wonderful mum - with a lilac handle and rim, it's also dishwasher safe and suitable for the microwave. Also perfect for the mum who never gets to drink her tea while it's still hot!
---
2. You're Lovely Scented Candle, £3.50 | Tesco (opens in new tab)
If candles are more your mum's cup of tea - see what we did there - then you can't go wrong with this pretty little scented number from Tesco. It has a sweet vanilla and honey scent with a pretty floral design on the glass jar. I collect candles like they're going out of fashion so kids if you're reading, this is definitely worth wrapping up for Mother's Day.
---
3. The Fuzzy Duck Cotswold Bath Salt, was £7.00 now £3.50 | Tesco (opens in new tab)
This Bayliss and Harding Baylis & Harding The Fuzzy Duck Cotswold Bath Salt is just the ticket for a mum whose favourite pampering ritual is a long, hot soak in the bath. That'll be me, then. This price is for Clubcard holders so don't forget yours in your dash to the checkout. Apparently the bath salts are themed around 'calm', 'indulge' and 'sleep' and have scents that will soothe mind, body and soul. One box won't be enough, boys.
---
4. Make Your Own Gin, £8 | Tesco (opens in new tab)
This needs no introduction. Crafted for gin-loving mums who have a creative flair, this kit simply requires you to add 200ml of your favourite gin and a couple of pinches of your preferred botanical of choice to the glass bottle provided - and allow the delicious concoction to infuse to create the perfect flavoured gin. Yum.
---
5. Baileys, was £21.00 now £13.00 | Tesco (opens in new tab)
If gin isn't her thing but she loves a tipple, treat her to a bottle of Baileys. With this cracking Clubcard price, it's a steal, saving you £8. Put that towards a bouquet of flowers and your Mum will be chuffed to bits for barely more than £20. This famous cream liqueur blends the finest aged Irish whiskey with fresh dairy cream and a hint of cocoa and vanilla.
---
6. Cadbury Milk Tray Boxed Chocolates 360g, was £4 now £3.50 | Tesco (opens in new tab)
If all else fails, most mums will be delighted with a warm hug and box of their favourite chocs or treats. It's Milk Tray on Mother's Day in my house. Containing all the classic favourites including Hazelnut Swirl, Strawberry Temptation and (my personal fave) Caramel Charm, this box of chocs is bround to bring a happy smile to your mum's face this Mother's Day.
---
Related features:
As a parenting specialist for more than 15 years, Heidi has written for most national newspapers and for a wide range of consumer magazines, including Mother & Baby where she was the Shopping Editor for six years, looking after regular consumer features including buying guides and gift roundups.