The best sustainable Christmas gifts for women, men and children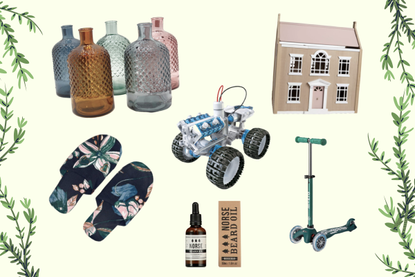 GoodTo newsletter
Sign up to the GoodTo Newsletter. You can unsubscribe at any time. For more information about how to do this, and how we hold your data, please see our privacy policy
Thank you for signing up to . You will receive a verification email shortly.
There was a problem. Please refresh the page and try again.
There's never been a more important time to go green. Which is why we're shipping and shopping the trend of sustainable Christmas gifts for 2021.
Christmas gift giving unsurprisingly comes at a huge cost to the planet (as well as our pockets). With quantity, packaging and unwanted presents all taking their toll on the environment. According to the GWP group (opens in new tab) - each year the average UK child will receive a staggering 16 gifts in total. And this is especially alarming when you consider that many of the top Christmas toys (opens in new tab) come with considerable packaging. Add to this the staggering £700 million spent on unwanted presents - with £42 million of these ending up in landfill - and we've got a serious problem.
Thankfully change is on the horizon, with research by American Express (opens in new tab) finding that the average UK shopper is expected to spend nearly £80 on sustainable gifts this year. And we're all for it. Those seeking tips for a sustainable Christmas (opens in new tab) should take note of these eco-friendly gifts for her (opens in new tab), him and the kids - that feature a mix of recycled materials and ethical production practices.
Sustainable Christmas gift - where to shop
Browse these ethical shops and big name retailers stocking sustainable products when gifting this Christmas:
Sustainable Christmas gift ideas for her
1. Tabbie Ecovero™ Printed Slippers With Bag
Treat the lady in your life to these woven printed slippers, boasting a stunning floral print by pre-Raphaelite painter Evelyn De Morgan. Not only are they super soft with a silk like quality, but they're made from recyclable polyester. Plus a material called Lenzing EcoVero™ that generates up to 50% less emissions than regular viscose. If you've got the budget, why not match with the co-ordinating Tabbie pyjamas (opens in new tab) for a gorgeous (eco-friendly) nightwear gift.
VIEW AT THOUGHT | £24.95 (opens in new tab)
2. Recycled Glass Bottle Vase
One of our favourite picks in our sustainable Christmas gifts edit. These ornate vases are made from 100% recycled glass. And we're a big fan of both the striking diamond design and colours available. The company are commited to minimising their carbon footprint - from recycling packaging to choosing sea and train shipping where possible. A green gift that will look lovely in any home, they can display as is or pop in some dried flowers.
VIEW AT ETSY | £14.50 (opens in new tab)
3. Bergamot & Black Tea Hand Care set
This sustainable gift set is good to skin and the environment. The boxes are made from mushroom technology and hemp stalks which are 100% compostable and break down naturally in 40 days. Whilst the bottles and pumps are made from 100% PCR recycled plastic, with vegetable-based dyes that give them a chic colour.
VIEW AT NATURAL SPA FACTORY | £27 (opens in new tab)
4. Chilly's 500ml Stainless Steel Water Bottle: Coral
Say goodbye to plastic bottles for good with an eco-friendly Chilly's instead. Quality guaranteed - it's double wall insulation works to keep hot drinks hot or cold drinks cold for up to 12 hours. Add to that the leak-proof screw top lid and it's lightweight design, and you're onto a winner.
VIEW AT JOHN LEWIS | £20 (opens in new tab)
5. Upcircle Beauty Espresso Martini Soy Candle (180ml)
Female fans of the coffee based cocktail will love this UpCircle candle, which delivers lovely scents of coffee and creamy vanilla. Cruelty-free and vegan-friendly, this candle is hand-made and poured in Yorkshire using EU sustainbaly-sourced soy wax and fragrance oil. With some repurposed Arabica coffee grounds added to give it that gorgeous smell.
VIEW AT UPCIRCLE | £19.99 (opens in new tab)
Sustainable Christmas gift ideas for him
6. Finley GOTS Organic Cotton Boxer & Sock Gift Box
This breathable boxer and sock set are made from recycled polyester, viscose derived from bamboo and organic cotton. Rather stylish, it's also been GOTS certified - meaning the Global Organic Textile Standard approves of the production process. The box is reusable too - made from FSC card and vegan glue.
VIEW AT THOUGHT | £27.95 (opens in new tab)
7. Mosley Recycled Wool Mens Knitted Jumper
Smart and stylish, this jumper will go great with jeans or chino trousers. Making it a brilliant gift for him (opens in new tab) this Christmas. We like the Thorn Green colour (sure to compliment any colouring) plus the fact it's made from 55% recycled wool.
VIEW AT THOUGHT | £69.95 (opens in new tab)
8. Willow Earth Bags Vegan Rucksack in brown
One of those sustainable Christmas gifts that's both chic and handy. We know a few dads that will love this brown satchel-style rucksack. It's made from washable kraft paper - an ethical alternative to leather and vegan. And the bag has a lovely antique quality to it, thanks to the vegan leather straps and brass clasp and fittings. Water repellent, durable and hard wearing, it also has plenty of space to fit their things in too.
VIEW AT ETSY | £27.50 (opens in new tab)
9. Norse Natural Beard Oil
Give the gift of eco-friendly male grooming this Christmas. In particular this Norse beard oil - which is made in the UK, uses natural, Vegan and ethically-sourced ingredients and arrives in plastic free packaging. It comes in two different scents - woodsman and citrus - which both promise a sexy scent and some healthy looking facial hair.
VIEW AT WEARTH | £18 (opens in new tab)
10. Sonic Wave Electric Bamboo Toothbrush
VIEW AT NOTHS | £90 (opens in new tab)
Sustainable Christmas gift ideas for kids
11. Micro Scooter Eco Mini Deluxe
A scooter is a staple of any childhood - and this eco offering is a great buy for 2-5 year olds. It's made from recycled fishing nets that are taken from the sea, cleaned and melted into pellets that is then moulded into parts for the scooter. Your little eco-warrior will love you meeting them at the school gates with this to whizz home on.
VIEW AT JOHN LEWIS | £79.95 (opens in new tab)
12. Librio Search and Find personalised book
Suitable for kids aged 3-8, this is one of those personalised books for kids (opens in new tab) with a difference. The books are made from 100% recycled post-consumer waste materials and are printed locally in the US, UK, Germany and Australia. Librio also donate 2.5% of their yearly revenue to re-planting trees.
VIEW AT LIBRO | £21.99 (opens in new tab)
13. Wooden Leckford Doll's House
No doubt on every little kid's Christmas wish list - this charming doll's house is crafted from FSC-certified wood. A true statement piece that will stand out in their bedroom. It's also got that heirloom quality to it - as they can gift it on for generations to come.
VIEW AT JOHN LWIS | £100 (opens in new tab)
14. Lanka Kade Wooden Tiger 1-5 Jigsaw Puzzle
Little hands will love crafting together all 5 chunky pieces of this rainbow hued tiger jigsaw. The hand-crafted puzzle is made by skilled artisans at Lanka Kade - a fairtrade company in Sri Lanka. It's made from MDF and painted with non-toxic paints. And it's a great activity kids can do to help learn their numbers.
VIEW AT ETHICAL SUPERSTORE | £7.50 (opens in new tab)
15. Salt Water Powered 4 x 4 Monster Car
A monster truck that's water powered? Genius! The DIY kit comes with instructions on how to assemble it. And it's a great toy for teaching kids about alternative energy sources - with them being able to see the salt water energy in action though the clear engine. No batteries necessary.
VIEW AT ETHICAL SUPERSTORE | £15.95 (opens in new tab)
16. Green Creativity Recycled Paper Beads
One of those great sustainable Christmas gifts for children and families who enjoying doing crafts for kids (opens in new tab) together. It's hard to believe that these pretty beads are actually recycled magazines and newspapers. Follow the instructions and craft quirky jewellery pieces together.Suitable for 5 years +.
VIEW AT ETHICAL SUPERSTORE | £11.95 (opens in new tab)
More ideas for eco-friendly gifts:
There's more you can do than simply purchasing specified sustainable Christmas gifts. We've rounded up some tips from a number of experts on how you can make gift-giving greener in other ways too.
Gift experiences
"If your loved ones don't know what they want, give them vouchers," says Emma Ash, sustainability champion and co-founder of circular economy app YoungPlanet (opens in new tab). "It's not very exciting to unwrap, but it'll help reduce the amount of unwanted landfill that tends to pile up post-Christmas." And of course who doesn't cherish an afternoon tea, spa or motor-racing experience. It's certainly more memorable too.
Fewer and relevant gifts
It sounds simple enough, but combat unwanted presents by getting them want they really want. If it's a little out of your price bracket - club together with someone else to buy it. Or similarly gift them a voucher which they can put towards it. Better quality presents will not only go down a treat, but they'll help reduce that excessive number of unwanted presents in landfills too.
Second hand
When shopping sustainable Christmas gifts - always seek out second hand. Be it a browse in your local charity shop or finding pre-loved clothing gems on apps like Depop (opens in new tab) or Vinted (opens in new tab). Buying second hand saves on resources that are required for new products.
Recycle and rent
"As the saying goes, someone's trash could be another person's treasure," says Hannah Rouch, Chief Marketing Officer of Gumtree (opens in new tab). "This festive season we're calling on the UK to consider whether they can swap the bin for re-commerce. And list the things they don't want for free. So that someone else can enjoy their pre-loved item instead of it heading to landfill or contributing further to emissions by incineration." When it comes to kid's toys you can donate them to charity. Or pop them online for a tidy profit. Another great hack is rental toy website Whirli (opens in new tab). Here you can rent the latest toys via a subscription. Then send them back for others to use when your kid has grown bored of them.
Refurbished tech
Tech is always at the top of people's Christmas lists but who says it has to be brand new? Every year, approximately 6.8 million iOS and Android devices are activated on Christmas day. And they all come with ample packaging. Why not pick up a refurbished bargain - that's not only as good as new but cheaper too. They'll probably never know the difference either.
Packaging
Plastic packaging is the biggest problem when it comes to sustainability. And so being conscious of this issue when shopping will make a real difference. "Ensure wood and paper are made from recycled or Forest Stewardship Council (FSC) certified materials," says the WWF (opens in new tab). "Avoid single plastics items that can't be recycled, and look for things like Organic-certified food and clothing."
Delivery
We all want to ensure our presents arrive in time. But next-day delivery is a real carbon footprint contributor. If you are purchasing early and have the time choose a more flexible delivery option. Ordering within the UK - or even better from local producers - is also better than shipping items from the other side of the world.
Shop high street
Even better than delivery is shopping in person. 'When ten million of us live just 200 metres from a high street, we really need to be popping to the shops," says Jackie Mulligan, founder of ShopLocalOnline.org (opens in new tab) and ShopAppy (opens in new tab). "That's better for health, local wealth and planet."
Video of the Week: