Easy craft projects for beginners that will help you create striking pieces for your home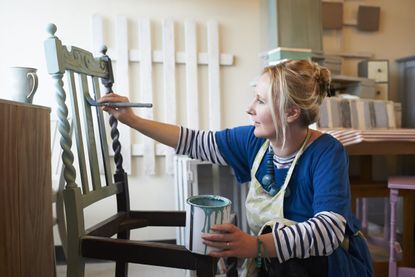 These easy craft projects for beginners are sure to get you back into a creative mindset, and give you the chance to transform your home with bright patterns and colours.
Or if you've got some extra time on your hands and are looking to pick up a new hobby, these easy craft projects for beginners could be for you!
Transform your bathroom, kitchen or entire home with our selection, designed to bring out your creative side and keep you busy on the weekend.
Try out these easy craft projects for beginners...
These easy craft projects are a brilliant way to use your time productively and create something beautiful. You don't have to be a natural-born artist to try these easy craft activities - with our easy step-by-step guides anyone can master them!
Give your home some sparkle with these tea lights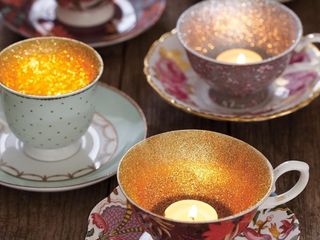 Bring a new lease of light into your living space in the evenings with this cute tea light craft idea from Women's Weekly. Really easy, these sparkle teacups only take 45 minutes to create and use up old ceramics that you'll likely have in the kitchen.
Find out how: How to make sparkle tea cups
Re-design your fabrics with this unique cyanotype print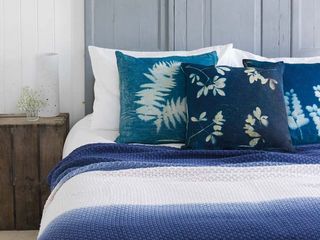 "What is cyanotype?" We hear you ask. It's a photographic process that produces cyan-blue prints by combining two different chemicals. It works by placing objects, such as leaves and flowers, onto the treated surface and exposing it to UV light. While the area directly under the foliage will be white, the rest of the surface turns blue.
Perfect if you've got some old linens lying around and you want to try something a little more adventurous.
Find out how: How to make cyanotype decorations
Restore your old tables to their former glory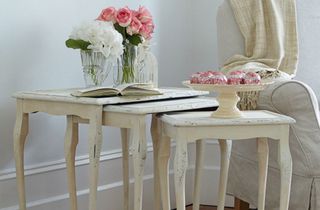 With this craft to make vintage-looking side tables, you really will be bringing your furniture back into the past. This project may look like it's going to be difficult, but if you've already got the tables then you're halfway there already. These look great as a bedside table or side table in your living room!
Find out how: How to make a vintage-looking distressed table
Create a unique frame for your favourite holiday memories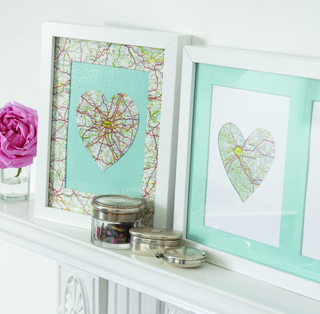 Holiday memories can last a whole lifetime. So immortalise those special days with these unique display frames, made using maps printed from the internet and a few crafting staples. Arrange them on your shelves or mantelpiece and light up your living room with colourful memories of days gone by.
Find out how: Inventive map upcycling projects to try
Marble your office stationary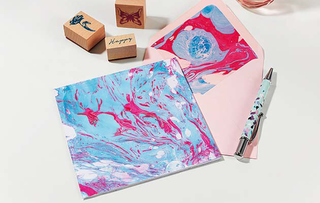 Marbling has come into trend in a BIG way over the last couple of years, with many big name brands like Paperchase using the technique to design ranges of products. This unique craft turns white stationary - anything from pencil cases to notepaper into colourful accessories for your home office.
Find out how: How to marble stationary
Re-vamp your kitchen shelves with personalised storage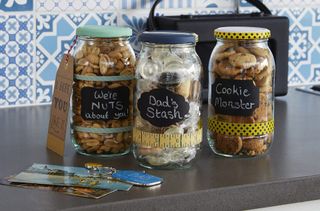 There's nothing more annoying than not knowing which container is the salt and which one is the sugar. It's a real recipe for disaster!
With this cute craft idea though, you'll never forget again. These jam jars can be easily personalised using just some basic craft materials into upcycled storage solutions for your kitchen.
Find out how: How to make a personalised jam jar craft
Use spray paint to update your bathroom essentials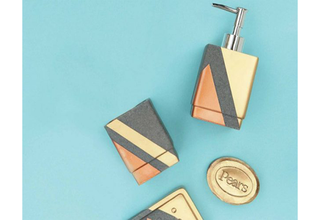 If your bathroom has seen better, brighter days then why not liven things up a bit? Use spray paint on your soap dish, dispenser and toothbrush holder to transform them with whatever style and colour suits your taste.
Find out how: How to spray paint your bathroom essentials
Make a pretty (and useful!) wall hanging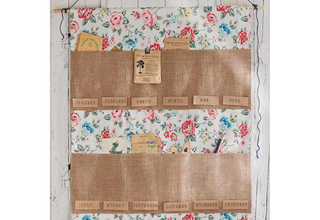 This is a great project to get into if you love a bit of sewing, along with cutting and sticking. This pretty wall hanging can be used in your kitchen perhaps, to hold anything from boxes of tea bags to utensils and the best part is, you can decorate it with whatever pattern you like!
Find out how: How to make your own wall hanging
Give your storage baskets a spring update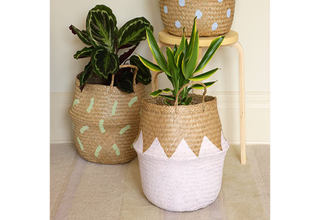 These are a great way to liven up your bedroom or living room, while keeping clothes and other items neatly tucked away. Using chalk paint, you can create whatever shapes you like on your baskets and it's not just these new ones you have to use! You can upcycle the baskets you already have with this jazzy, new technique.
Find out how: How to paint your own storage baskets
Make a cosy pom-pom blanket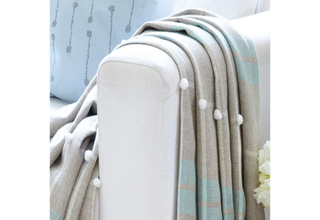 Liven up your living room throws with these pom-poms, adding a touch of flare and uniqueness to even the most basic of blankets. And because you're not making the blanket from scratch too (that would be difficult!), this one of the easiest craft projects for beginners on our list.
If you've got a few old t-shirts lying around as well, you can repurpose them into pom-poms.
Find out how: How to make a pom pom blanket
Sew some new cushion covers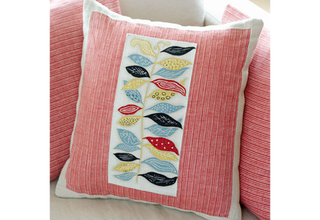 Bored of the same old cushion covers? Make your own! With this video from Women's Weekly, our sister site, we've created the easiest set of instructions to utilise your fabric and turn it into fun covers for your throw cushions.
Find out how: How to make your own cushion covers
Make your own marquee letters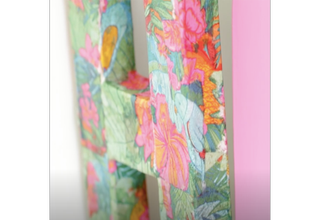 You're sure to have seen these in interior shops recently. Bespoke marquee lettering come back into style in a big way over the last couple of years and they're is now being sold at high prices. But you can so easily make your own!
Find out how: How to make your own DIY marquee letters
Crochet your way to some stunning new interiors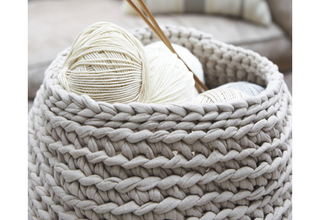 If you're looking to give a sofa or a bigger item of furniture a makeover, why not create a crochet throw to go over it? Using this super-easy instruction guide you can learn how to crochet, the skill that's quickly come back into vogue this year.
Find out how: How to crochet your own home accessories
Dip dye your linens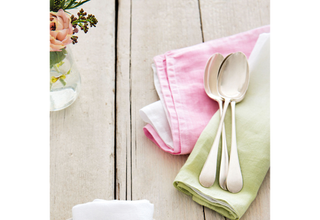 If your linens, like napkins, table cloths or even bedsheets are in perfectly good condition but need a bit of an update then why not dip dye them? Using your favourite pastel colours, you can easily give fabrics a lift and inject some creativity into your day - with minimal mess.
Find out how: How to create your own colourful dip dye napkins
Transform your home with chalk paint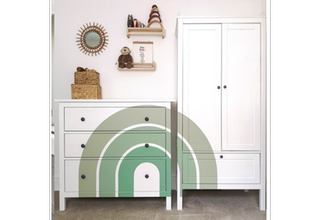 Whether it's giving a new lease of life to worn-out kitchen cupboards or decorating your back-garden shed, there's lots you can do with chalk paint. It's eco-friendly and non-toxic so even the kids can get involved from the very start - just maybe pick a colour that you don't mind seeing for a while!
Check out the full range of Frenchic chalk paints online, here.
Spruce up your child's bedroom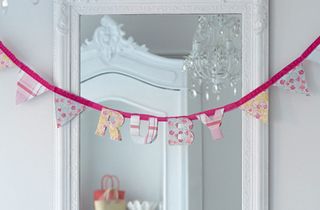 While most of these ideas are playful ways to update the group spaces in your home like the living room and kitchen, sometimes the kids' rooms also need a spruce and a flash of colour. This is a great one to do with them as well if they're old enough to handle scissors. They can also choose the colours and patterns they want, making it a great craft for you to do together!
Find out how: How to make name bunting
Make a bird feeder for your garden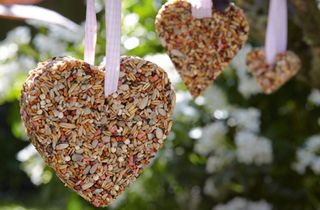 This one makes a great addition to your garden or outdoor space. A bird feeder not only attracts pretty wildlife like birds into your garden but looks great on its own, hanging from a branch.
Find out how: How to make a bird feeder
These easy craft projects for beginners should give you all the inspiration you need to get creating and transform your home.
Parenting advice, hot topics, best buys and family finance tips delivered straight to your inbox.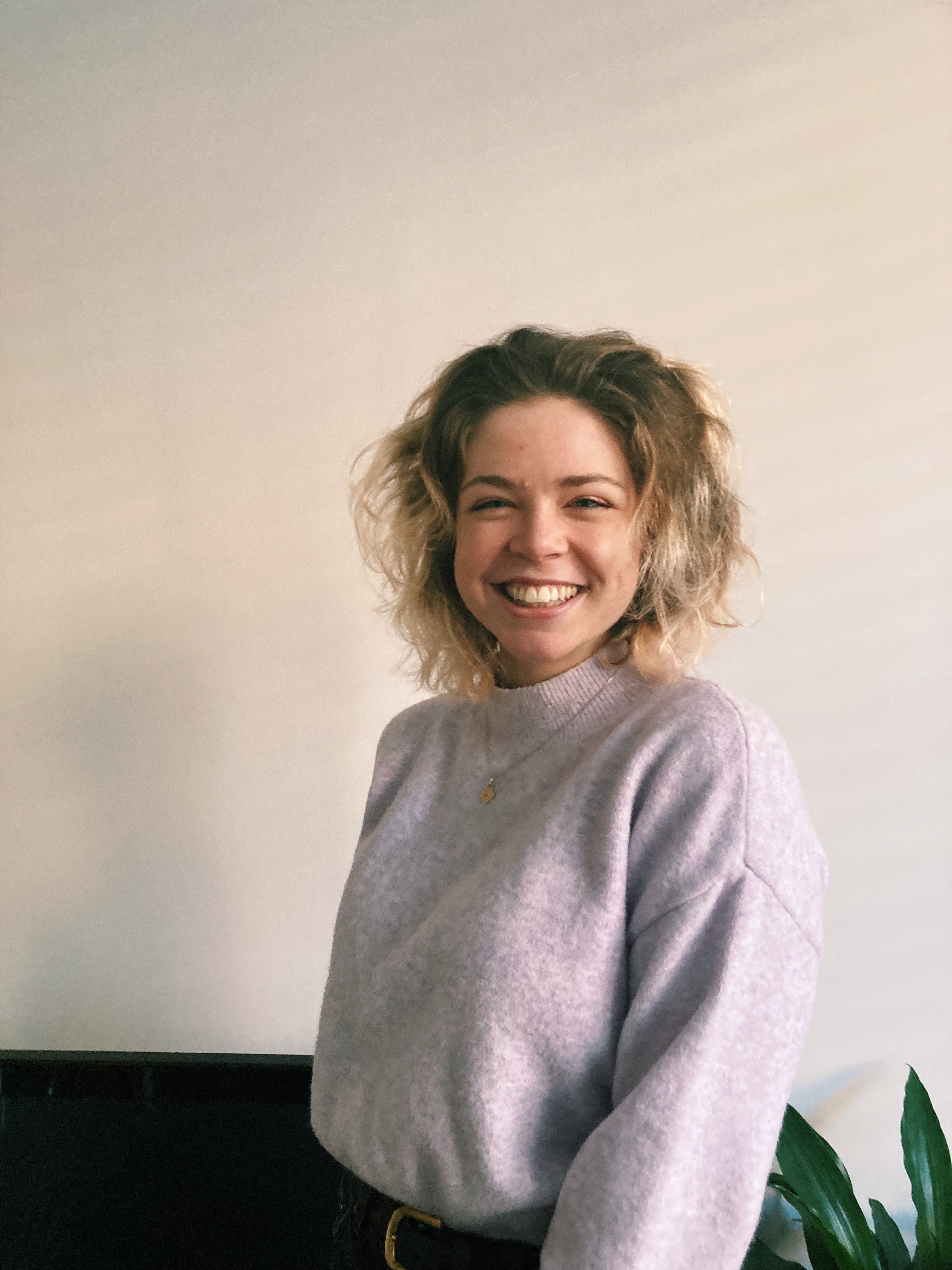 Grace Walsh is a Features Writer for Goodto.com, covering breaking news health stories during the Covid-19 pandemic as well as lifestyle and entertainment topics. She has worked in media since graduating from the University of Warwick in 2019 with a degree in Classical Civilisation and a year spent abroad in Italy. It was here that Grace caught the bug for journalism, after becoming involved in the university's student newspaper and radio station.