How to make a vintage-looking distressed table
Give your old furniture a vintage makeover with this simple guide on how to distress. We show you how in just a few simple steps.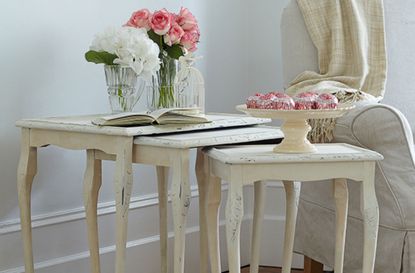 Looking to make a vintage-looking or distressed side table? Distressed-looking furniture is really popular at the moment and is the perfect way to get antique looking touches throughout your home without having to spend a fortune.
Turn an old table into a new and beautiful feature piece by following our easy steps for how to paint a table. The worn effect is created by layering paints and then sanding some of your hard work back off again!
This might sound crazy but it gives that aged look and feel, which is exactly what you're looking for in this style of table.
You can use this technique on any furniture, and in fact it creates a real sense of unity if you have furniture that doesn't match.
If you paint a chest of drawers, a wardrobe and a bedside table, for instance, all in this same way and in the same colour, they will look as though you bought them together - despite their different styles.
This will probably take you a full afternoon or morning, and could take a full day, by the time you prepare your furniture, leave the paint to dry and sand it down again, but it'll be worth the time invested! You'll have a brand new-looking piece of furniture to enjoy for years to come.
To make this vintage-looking distressed table you will need
Nest of tables
Paint
Paint brushes
Kitchen scourer
Varnish/wax
How to make a vintage looking side table
Step 1
Start by adding one coat of paint to each table. We used a clay-based paint, so the tables didn't need any preparation. Don't forget underneath for a fully professional finish. Once dry, give the tables a second coat with the same paint.
Step 2
To give a distressed look, take a kitchen scourer and rub away some of the paint. The best place to do this is where there is an embossed pattern and on the edges.
Step 3
Once you have the look just right, give your tables a coat of clear wax or varnish to protect against spills.
And there you go! A perfect, vintage-looking side table in three easy steps.
Jessica Dady is Food Editor at Goodto.com and has over 10 years of experience as a digital editor, specialising in all things food, recipes, and SEO. From the best food hampers to cookbooks, from the best cake stands to kitchen appliances, Jessica has a wealth of knowledge when it comes to must-have food products. A passionate baker, she spends some of her time creating celebration cakes for friends and family including her two lucky children.