Hamleys reveals its favourite 10 toys for Christmas 2022
Peppa Pig, Buzz Lightyear and more...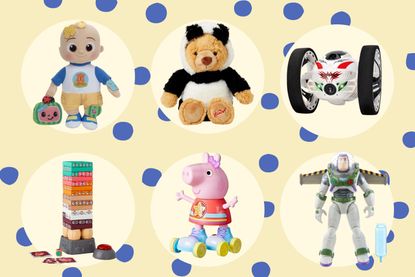 (Image credit: Future)
The world's oldest toy store has revealed its fave Christmas toys for 2022.
The countdown to Christmas is on, and whether buying for nieces, nephews, offspring, or just your favourite little people, Hamleys has got you covered when it comes to this year's top Christmas toys (opens in new tab) and presents for the youngest in your life. Who better to trust than the toy retailer that's been going for 141 years? The famous London store has put its expert toy testers to up to the challenge of selecting ten of the greatest toys for Christmas this year, which features famous family favourites such as Barbie and Peppa Pig, as well as some lesser-known additions too. It's their selection of the products expected to be on every child's Christmas list, but only the best make the cut, so you know that whether you're shopping for a toddler or a pre-teen, you'll find them the perfect gift with the help of Hamleys.
Victoria Kay (opens in new tab), Head of Buying at Hamleys, says: "The real focus this year has been about quality and investment pieces that you can hand down from generation to generation. It's not that kind of fast shopping, it's all about investing in good quality products. We've really gone for what we think has a lot of play value and there's a lot of product to get through to decipher." She adds, "We're aware this year that parents will be looking for a variety of toys within a variety of price brackets, to make Christmas as magical as they can. We've got a range of over 20,000 products in our stores with our prices starting from £2."
Hamleys favourite 10 toys for Christmas 2022
Why you can trust GoodTo Our expert reviewers spend hours testing and comparing products and services so you can choose the best for you. Find out more about how we test.
1. Peppa Pig Roller Disco
Specifications
RRP: £37
Age range: 3-4 years
Batteries needed?: Yes
If you're buying for a Peppa Pig fan, then this toy is bound to bring some Christmas cheer when it appears under the tree. At 28-cm tall, this adorable doll features lights, sounds, speech and music. Push her forward gently or pull her back and then let her go to make her move on her skates while playing fun tunes. If the doll falls, she says encouraging phrases to get up and try again. This toy giggles and plays three songs too.
---
2. Play-Doh Ice Cream Cart
Specifications
RRP: £100
Age range: 3-4 years
Batteries needed?: Yes
Get your kids involved in meaningful roleplay that will express their big imaginations with this 27-tool ice cream truck. Create pretend treats and customise each creation with the Play-Doh sprinkle maker, tools and pretend sweet moulds, and checkout customers at the register. The music and cash register sounds create the feel of a real ice cream truck, and the 12 pots of Play-Doh modelling compound provides all the colours kids will need to get started.
Designed with parents in mind, the Play-Doh Ice Cream Cart is easy to store and a locking bin keeps it organised. Plus, the cleaning brush sweeps Play-Doh bits into the rim of the counter to easily tidy back into the pot.
---
3. Disney And Pixar Lightyear Jetpack Liftoff Buzz Lightyear
Specifications
RRP: £60
Age range: 5-6 years
Batteries needed?: Yes
Following this year's release of the movie Lightyear, this Buzz Lightyear toy is sure to be making an appearance on many Christmas lists. The Jetpack Liftoff figure presents Buzz Lightyear in his familiar Space Ranger Alpha suit with a jetpack, and kids can fill the fusion cannister with water and load it into the jetpack to power up Buzz. Snap on his helmet then blast off to see the vapor trail of realistic engine exhaust he leaves behind, with lights and sounds that enhance action play.
Even small hands can use this figure to recreate dynamic flight scenes and signature moves with 12 posable joints, plus over 20 phrases and sounds from the thrilling animated adventure.
---
4. Barbie Cutie Reveal Snowflake Sparkle Husky Doll
Specifications
RRP: £33
Age range: 3-4 years
Batteries needed?: No
The unboxing experience of this toy is a gift in itself, with 10 surprises to be discovered. Inside is a soft, plush husky puppy with tinsel fur and four surprise bags, the remove the husky costume to find a Barbie doll. Open the surprise bags to find a cute skirt, headband, sponge-comb and mini pet husky puppy.
Kids can dress the doll with the included accessories, and reverse the costume top to find a super-soft fleece jacket with wintry print in shades of ice blue, while the head of the costume turns into a bed for the mini husky. As well as the cute Husky version, there's a Barbie Cutie Reveal Owl Doll (opens in new tab) too, with an owl wing headband, necklace, sponge-comb and mini pet owl.
---
5. Hamleys Bear Hoody Panda 24cm
Specifications
RRP: £22
Age range: 12-24 months
Batteries needed?: No
Is it a bear? Is it a Panda? Play dress up for hours with Hamleys classic heritage bear in a Panda onesie with a hood. This 24cm bear is super soft, easy to hold for little hands and has a range of dress up bear friends to collect. Complete with the distinctive Hamleys logo embroidery on the sole.
---
6. Tick Tock Brick Knock
Specifications
RRP: £34
Age range: 3+
Batteries needed?: Yes
Like Jenga, but more extreme! Choose your mode and start the timer to give yourself either 25 or 30 seconds to pull out a block and place it on the top before pressing the timer to stop the countdown. Be careful, if the timer runs out the 'bomb' base will explode, causing the stacking tower to collapse and the loser will have to draw a penalty card. This toy includes one dice, one timer, one base, four 'bombs', 42 blocks, 10 dare cards.
---
7. Ralleyz Jumping Sumo
Specifications
RRP: £70
Age range: 7-9 years
Batteries needed?: No
The Jumping Sumo 2.4Gh remote control car features the latest RC technology with impressive jumps and flips. The car can self right and reaches speeds of up to 15mph. It's rechargeable too, and comes with an easy to hold remote.
---
8. One Trick Pony
Specifications
RRP: £27
Age range: 4+
Batteries needed?: Yes
Carefully put your hand through the spinning lasso to try to capture some animals - but you have to be quick, otherwise the the cowboy's "loopin' lasso" will get you. This uniquely designed game has a spinning lasso that tightens when the time is up, and players have to see how many animals they can herd before time runs out - the player who rounds up the most animals wins.
This toy recommends two to five players, and includes one trick pony, one cowboy hat, one hay stalk, one rock, one fence, 15 animals, one spinner, and complete instructions. It requires three AA batteries, not included.
---
9. Cocomelon Boo Boo Jj Doll
Specifications
RRP: £44
Age range: 3-4 years
Batteries needed?: Yes
The CoComelon Boo-Boo JJ Plush is designed to teach kids aged 2-3 years that little bumps and cuts are ok. JJ will show you where he's hurt, whether it's on his head, elbow, knee, or foot, with light up areas so that your little one can quickly come to the rescue - bandage case in hand. When JJ starts to cry, kids can cure his 'boo-boo' by applying the bandage over the lit-up area, then wait for him to giggle and say, "Yay, my boo-boo is gone!" and other fun phrases to let kids know it's all better.
Not only will your child learn how to handle their own little accidents, but they'll also learn about cause and effect through interactive responses from JJ, and have the opportunity to practice their dexterity and fine motor skills by applying the bandages.
---
10. X-Shot Skins Last Stand
Specifications
RRP: £35
Age range: 7-9 years
Batteries needed?: No
X-Shot Skins takes the in-game experience of skinning your blaster into the real world, and the X-Shot Skins Last Stand blaster comes in 4 unique skins to select and collect - so choose your skin and join the battle.
This particular toy is the largest blaster in the Skins range, combining epic fire power, speed in action and accuracy all in one blaster. With a 14-dart capacity auto-rotating barrel, you can hit multiple targets up to 90 feet away, and unleash 14 darts in seconds thanks to its easy-to-prime mechanism. The Last Stand comes with a tactical grip and rail for easy loading and allows you to add accessories to your blaster to level up. The darts include new air pocket technology for a faster, further, and more accurate shot.
---
Related features:
Video of the Week
Ellie joined Goodto as a Junior Features Writer in 2022 after finishing her Master's in Magazine Journalism at Nottingham Trent University. Previously, she completed successful work experience placements with BBC Good Food, The Big Issue and the Nottingham Post, and freelanced as an arts and entertainment writer alongside her studies. In 2021, Ellie graduated from Cardiff University with a first-class degree in Journalism.