What is it with Elf on the Shelf? We ask parents and kids whether they love or hate the Xmas tradition
What is it with elf on the shelf, and why is it so popular? It even adds to our mental load... so who actually loves it?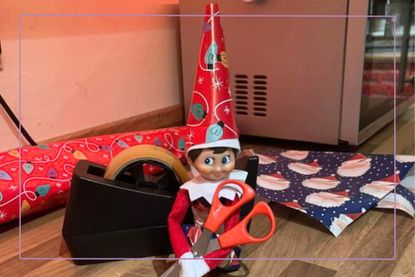 (Image credit: Future / Jess Bird)
What is with Elf on the Shelf? It seems to be everywhere since the beginning of time, right? While in reality it's a relatively recent Christmas phenomenon, originating from a 2005 children's book.
Elf on the Shelf sees parents, throughout December, research naughty elf on the shelf ideas and then place the stuffed toy elf in different positions around the house to suggest that it's watching over the kids and their behaviour.
The ritual is almost synonymous with other Christmas traditions like picking out a tree, wrapping up the top Christmas toys, belting out some cheery Christmas music for kids, or sharing Christmas jokes. Fuelled largely by social media, parents have become increasingly creative with where they put the elf every day, coming up with mischievous and outlandish positions and activities for the elf.
Our writer, Joanne has hummed and hawed over it for years and never quite committed, unlike our shopping editor who is seriously into Elf on a Shelf. Here she talks to mums, dads, kids and experts about the tradition, why they love or hate it, and whether it really can help with your child's behaviour in the run-up to Christmas. Can the lovers convince Joanne it's a Christmas tradition worth pulling into the festive season, or will the haters reassure her that it's not worth all that effort?
What is elf on the shelf?
The basic premise behind the idea, based on a children's story, is that the elf travels from the North Pole every Christmas to visit children's homes and report back to Santa each night on who's been naughty and nice.
When I talk to friends and family about elf on the shelf, it's clear there's a great divide in attitudes. Loads of parents love it. They tell me how it builds excitement and anticipation towards Christmas and how it creates amazing family memories that the kids (and parents) cherish. Some even say it helps improve their kids' behaviour during what can be a frantic and stressful time of year.
On the flip side I also found quite a few parent haters, either because they'd tried it and realised it was just one more thing to add to an already bulging festive to-do list, or they just found it plain creepy...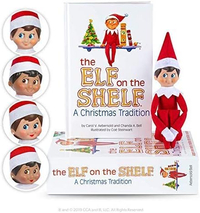 The Elf on the Shelf: A Christmas Tradition storybook, keepsake box and official adoption certificate - was £24.95, now £22.95 | View on Amazon

Discover more about the tradition that transcends generations with the original storybook, which also comes with a keepsake box and official adoption certificate.
What do parents (and kids) love about elf on the shelf?
Here are some parents and kids who reckon the little elf is a festive life-saver that they wouldn't be without.
"Poor old Elf on the Shelf gets a lot of hate these days. Ours is called Elvis and he brings some of the best laughs to our household every December. My youngest is ten now but we still look forward to the Elf's arrival every year and December just wouldn't be December if I didn't sit bolt upright in bed after lights out every single night and hiss at my husband 'Dammit, I forgot to move Elvis, it must be your turn'. So, Elf-haters, do you really not have capacity to indulge your kids in this gloriously silly bit of festive fun. No? Ok Scrooge, but I think you need to take a long, hard look at yours-elves…." Heidi Scrimgeour, Deputy Editor of Goodto and mum-of-three
"No apologies from me - I love doing elf on the shelf every year. My kids' faces light up every morning in December when they've seen what the elf has been up to overnight. You can't tell me that it's not making beautiful memories for them that they'll remember for the rest of their lives!" Sarah, mum of twin boys aged 7
"My wife hates it but for me it's the best way to get involved in the run-up to Christmas without having to do all the shopping and festive prep. I get the freedom to do whatever I want with our elf... which can sometimes be a bit naughty." Matt, dad of one
I definitely use the elf as a way of making the kids behave; it's not any different from saying 'Santa's watching!' in December, in my opinion. If they think the elf is watching and reporting any naughty back to the North Pole, I'm happy with that!" Lou, mum of three
"I only move the elf to a different spot each day. They don't do crazy things that take time and effort. And my kids are allowed to play with the elf whereas some aren't allowed to even touch them." Karen, mum of two
"We do it, but our elf is not a naughty elf - she's just funny - and Aria is easily entertained so just hanging the elf off the ceiling light is really funny to her!" Bex, mum to Aria, 4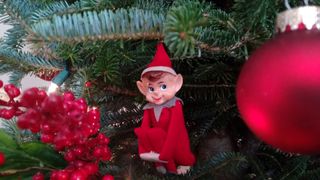 "Our elf sits still 'for 10-14 working days' in our house. My son doesn't like it being naughty so we just have to see where he has hidden that morning as opposed to finding what he's been up to. Which works for me." Jasmine, mum of three
"I loved it when I was younger. Our elves were called Esme and Ethan. I found it really exciting to search for them in the morning and find out what they'd been up to at night. It made me really excited for Christmas so I was really sad when they went away." Cara, aged 13
"Our elf is so silly. He put toilet paper all over our Christmas tree one year. When I saw it, I thought it had snowed inside! I like when the elf is a bit naughty, but I hope he doesn't get too naughty or he might end up on Santa's bad list." Arthur, aged 9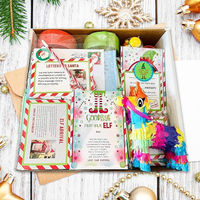 Elf Kit 12/24 Days Advent Calendar of Christmas 2023 - was £18.99, now £17.99 | View on Amazon
The kids will love this activities kit set that provides all the inspiration for your elf's antics!
What do parents hate about elf on the shelf?
Truth time - I couldn't find any kids who hated elf on the shelf, making me think that it could be a tradition almost every child can enjoy. But here's what the parents had to say...
"I loved it to begin with but ended up having to stay up late every night, scouring the internet for original ideas on where to put the elf. I ended up making a zip wire for it one year! The pressure was immense, and you always feel like you're competing with elaborate ideas on social media. It got even harder once a girl elf joined the boy elf. Despite the kids loving it, I was really relieved every Christmas Eve when they finally went away, and now they're older, I'm delighted I don't have to do it ever again." Murray, dad of two teenagers
"I had nothing to do with Murray's elf on the shelf. I hated the whole thing, right down to their beady little eyes. I left it all up to the husband..." Pauline, wife to Murray and mum of two teenagers
"I will not subject myself to more mental load for 25 days every year for 10 years. That's 250 days of my life I'm never getting back, not to mention the stress of remembering. Everyone I know who does it has regrets." Jen, mum of one
"So we started it because I was given the elf on the shelf as a gift for Milo when he was around 3. I thought it would be a fun little thing to help with the Christmas countdown but it turned into a beast. The elf ended up having his own wardrobe, bed, friends and even a passport (for the time he came to Finland with us). He also dressed up as Elvis, a reindeer and drew moustaches on us when he slept. I even had a spreadsheet of what he was going to be up to. I don't regret it though. Seeing Milo's face over the years as he searched for the elf has been priceless and worth all the blood, sweat and tears!" Jayne, mum of one
Still on the fence about elf on the shelf?
Despite the social media pressure and parents who say the mental load is huge, some people are still hopeful elf on a shelf could be a tradition they can enjoy in years to come with their little ones, while others think it's a step too far in a frantic festive season.
"In theory, I love the idea. I'm a sucker for traditions and doing things that will (hopefully) turn into good memories but the reality of adding a new daily task has absolutely put me off so far. My son is in year 1 now so I fear our time of blissful ignorance may be running out. Once we commit I feel like we'll actually love it, I just hope we have one more elf-free year." Holly, mum-of-two
"I'm not convinced about Elf on the Shelf... I know it can be magical and a lovely memory for kids to have as they grow up - but I'm not too fond of how so many people use it as a behaviour strategy - telling kids the 'elf is watching you and will tell Santa' for instance - hard disagree. Plus I forget most things most days, so adding one more to fail at and feel mum guilt over isn't the one for me, thanks." Stephanie Lowe, family editor at Goodto and mum of one
"I can't imagine myself getting involved with elf on the shelf if and when I do have kids. Maybe I'd feel differently if I had little ones who were desperate to have their own elf and all their friends' families were doing it, but I just think parents have enough to think about at Christmas! What with gifting, family gatherings to plan and keeping kids entertained during the holidays, it's an extra task that adds more stress to a time that can already be a bit frantic. I just don't think it's for me." Ellie Hutchings, features editor at Goodto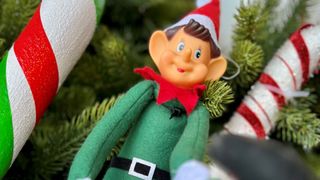 So, will I be doing elf on the shelf this year?
Ok, so I know that my son would actually love it if a tiny elf suddenly turned up on December 1st and got up to all sorts of japes for the next three and a half weeks. But I also know that I would either run out of steam in the first week or start pilfering ideas from the internet, which takes time and effort that I simply don't have. And what if I forget, and have to explain that maybe the elf had a hard night on the eggnog and slept through instead of getting up to mischief?
As one parent put it, the 'mental load' of elf on the shelf feels like yet another parenting stick to beat myself with in trying to create the 'perfect' Christmas for my family. I'm not sure the behavioural benefits add up either. So, no thanks, elf on the shelf. Go and bother some other time-poor, guilt-ridden parent instead. I'll stick to the chocolate advent calendar.