Best hot cross buns 2023: Where to buy the best hot cross buns for Easter
From Waitrose to Aldi, we've tried and tested the best hot cross buns for Easter 2023...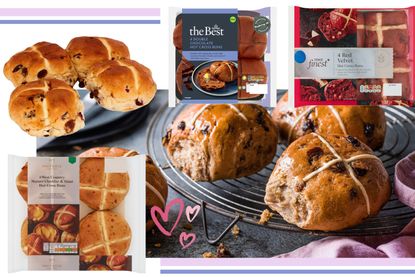 (Image credit: Future / various retailers)
Nothing says Easter more than a hot cross bun and this collection of the best hot cross buns is by far our favourite for this year.
Packed full of fruit and spiced to high heaven, there's something instantly comforting about hot cross buns for Easter (especially when they're toasted and slathered in butter). This year's hot cross buns have certainly raised the bar, with many supermarkets offering novelty and savoury buns as well as the traditional bun. There really is something for everyone.
This year's Easter taste test has been conducted by our expert Food Team; Food Director Jen Bedloe, Food Editor Jess Meyer, Deputy Food Editor Rose Fooks, and Junior Food Writer Georgia Sparks. Speaking about the testing, Rose said: "We know how many people eagerly await the start of hot cross bun season, so we really wanted to get this right. We spent hours testing the buns both toasted and untoasted and hope you love our selection as much as we do."
Collectively, the team has years of experience trying and testing thousands of new food and drink products each year as well as developing new and exciting recipes. This means you can trust their judgment and feel confident that they would only score a product highly if they truly thought it was worthy. With that in mind, here are this year's favourites...
Where to buy the best hot cross buns?
Best hot cross buns 2023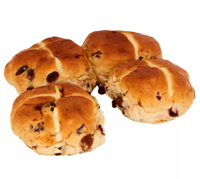 1. Asda The Bakery 4 Large Hot Cross Buns - View at Asda
Winner: The best hot cross buns for Easter 2023
RRP: £1.50
Rustic looking and decorated with a traditional cross, these Asda bakery buns were glazed and golden with a good rise. Soft to the touch, the dough was, as expected, light and airy, unlike the many doughy versions we tried.
As well as being visually appealing it delivered on flavour too. Packed with a generous amount of juicy plump fruit that was evenly distributed throughout, meaning the bun was moist. The bun also had a great balance of warming spices with no bitter tastes as was the case for many we tasted.
Food Director Jen Bedloe says; "This tastes like a traditional baker's bun, it's everything I would want from a shop-bought bun. It's better toasted, but we think that is the case for most. Slightly larger than your average bun, this would make a generous breakfast, toasted and slathered in butter or shared between two for a midday treat."
---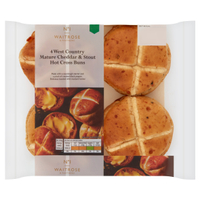 2. No.1 West Country Mature Cheddar & Stout Hot Cross Buns, 4 pack - View at Waitrose
Best savoury hot cross buns
RRP: £2.50
When hot cross bun meets cheese on toast, these Stout and Mature Cheddar buns by Waitrose gave us all the savouriness the judges were craving.
Made with a sourdough starter, mature cheddar, a splash of stout, and a little black pepper, these buns had no trace of the synthetic flavour that seemed to be prominent throughout this category. The bun was the perfect level of doughiness, not too doughy and not too dry.
Junior Food Writer Georgia Sparks says: "While purists may argue this is not technically a hot cross bun we would agree, but who are we to turn down a deliciously cheesy bun with limited availability?! Elevated by toasting, the cheese melts and creates little pockets of cheesy goodness. This would make an excellent alternative to a breakfast muffin, topped with a poached egg and hollandaise sauce."
---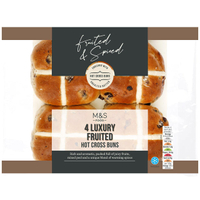 3. M&S Luxury Fruited Hot Cross Buns, 4 pack - View at Ocado
Best luxury hot cross buns
RRP: £2.00
These delightful-looking buns from M&S looked great. A good rise gave these buns a lovely domed shape, cooked in a hot oven, they were a deep golden colour and had a nice shine from the subtle glaze.
Laced with juicy sultanas, currants, orange and lemon peel that was spread evenly throughout ensured that every mouthful had an adequate amount of fruit in it.
As well as being packed with juicy fruits, the buns were flavoured with a fragrant blend of warming spices, which meant they weren't overly sweet or overpowered by a dominant spice. Many of the buns we tested had a soapy and slightly synthetic taste.
Junior Food Writer Georgia Sparks says: "The dough was enriched with butter, which meant that as well as giving a lovely depth of flavour, the buns were fluffy and not too doughy."
---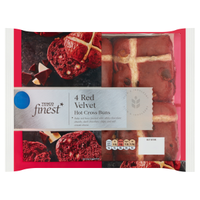 4. Tesco Finest Red velvet hot cross buns, 4pk - View at Tesco
Best hot cross buns for kids
RRP: £1.60
These ruby red buns are an inventive take on the humble hot cross bun (if you can still call it that?) and, despite the slightly garish red dough, the judges thought they were quite delicious.
With all traces of dried fruit removed from this exotic-looking bun and not a hint of warming spices, they would be a great treat for little ones. In their place, these bright buns are filled with white and dark chocolate chunks and little pockets of cream cheese which mimic the classic red velvet icing.
Deputy Food Editor Rose Fooks says: "The large chocolate chunks give the dough a predominantly chocolate flavour, and the cream cheese adds a nice richness to the dough. The dough was a little on the dry side, however, when toasted the chocolate and cream cheese melted a little, which made the dough softer."
---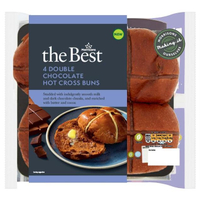 5. Morrisons the Best double chocolate hot cross buns, 4pk - View at Morrisons
Best chocolate hot cross buns
RRP: £1.25
Golden and glazed with a nice rise, these buns were a delight to look at. The dough itself is enriched with butter and cocoa which adds an extra luxurious dimension to the bun and made sure there was a chocolatey flavour in every bite.
Generously flecked with large chunks of good quality dark and milk chocolate added a lovely texture that there was plenty of chocolate in every bite.
Judges commented that the combination of the cocoa in the dough and the chunks of chocolate made it taste a little like chocolate ice cream.
Junior Food Writer Georgia Sparks says: "When toasted, the chocolate pieces melt and turn into delicious puddles of chocolate, which enhances the chocolate flavour even more. Judges thought these buns would make a great alternative to normal bread in a bread and butter pudding."
---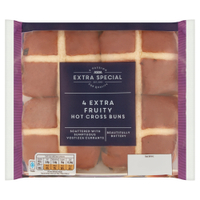 6. Asda Extra Special Fruited Hot Cross, 4pk - View at Asda
Best supermarket hot cross buns
RRP: £1.80
Following closely behind the Asda bakery hot cross buns, these Asda Extra Special buns were delicious too. Slightly smaller than their bakery offering, they were a lovely domed shape with a good rise. A shiny glaze made them a lovely deep golden colour.
Generously filled with plump vine fruits and mixed peel meant there was plenty of fruit in every mouthful. Delicately spiced, there was a good pleasant level of warming spice in the bun which wasn't too overpowering.
Junior Food Writer Georgia Sparks says: "Some may say the spice could be a little stronger, but we thought this would be good for those that don't enjoy the spiced element of a bun as much. Untoasted judges thought they were a little claggy, but when toasted the dough became less stodgy and the plump fruits became even juicier."
---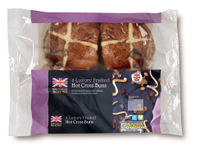 7. Aldi Specially Selected Fruited Hot Cross Buns, 4pk - View at Aldi
Best budget hot cross buns
RRP: £1.29
As far as bang for your buck will go, we thought these Aldi buns were the best at the slightly cheaper end of the scale. Whilst the fruit may not be as plump as others we tried, this bun was a really good all-rounder, and at just £1.29 for 4 you can't go wrong.
These buns were a lovely deep golden colour with a shimmering glaze and a smooth finish. A good rise meant these buns had plenty of height. Our judges went as far as to say they were one of the best buns they'd seen. With a nicely rounded shape, they were picture-perfect.
Deputy Food Editor Rose Fooks says: "Upon opening these buns, you are faced with a pleasant spiced aroma. Whilst there was plenty of spice in these buns, judges thought it was a little overpowering and could have been a little less. However, this didn't interfere with the soft and fluffy dough. When toasted and buttered the spice mellowed a little and wasn't so strong. A great all-around bun."
---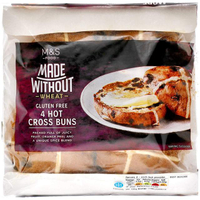 8. M&S Gluten Free From Fruited Hot Cross Buns (made without wheat), 4 pack - View at Ocado
Best gluten-free hot cross buns
RRP: £2
These gluten-free hot cross buns were the closest to the real deal that we tasted. Many of the buns in this category had a chewy texture, these buns managed to avoid this. Instead, they had a great springy texture that judges were pleasantly surprised by. Our judges commented that they would be happy to eat this bun, gluten-free or not.
Packed generously with fruit, every mouthful had a good amount of sultanas and raisins in it. The buns had a nice flavour made up of a combination of warming spice and a hint of orange. Judges thought these would be elevated when brushed with jam and heated in a low oven.
Food Director Jen Bedloe says: "This is a really good free-from bun, what they have done well is pack the dough with a generous portion of fruit so it doesn't rely too heavily on the dough."
---
How did we test the best hot cross buns?
Using their experience as professional recipe developers and food journalists, Jen, Jess, Rose and Georgia tasted each hot cross bun focusing on top quality produce. As well as overall taste, each bun was assessed on its texture, size, and look.
For texture, the judges were looking to make sure the dough hadn't dried out and that there was good aeration from a successful prove.
Size and shape should - in our opinion - be large enough to make a good, filling snack, and the shape should be round and puffed on top.
The overall look should naturally have the signature cross across the top, but also a pleasingly shiny glaze and perhaps an indicator as to what the flavour of the overall bun is.
Meet the experts: Tried and tested by...
Rose Fooks is Deputy Food Editor at Future Publishing, creating recipes, reviewing products and writing food features for a range of lifestyle and home titles including GoodTo and Woman&Home. She has a Diplome de Patisserie and Culinary Management at London's Le Cordon Bleu. Career highlights have included interviewing the wonderful Mary Berry and working on Truth, Love and Clean Cutlery; a guidebook of sustainable restaurants in the UK.
An experienced recipe writer, editor, and food stylist, Jen is Group Food Director at Future plc where she oversees the food content across the women's lifestyle group, including Woman and Home, Women's Weekly, Woman, Woman's Own, Chat, Goodto.com, and womanandhome.com. Jen studied Communications at Goldsmiths, then landed her first job in media working for Delia Smith's publishing company on Sainsbury's magazine. Jen honed her practical skills by combining courses at Leith's cookery school with time spent in the test k