7 of the best Slimming World cookbooks for 2022
From healthy filling meals to homemade takeaway favourites, this range of Slimming World cookbooks are sure to inspire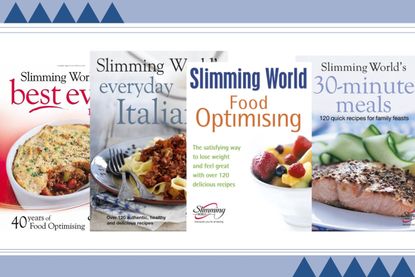 We've rounded up the best Slimming World cookbooks to buy online for 2022 including best sellers.
Following the Slimming World plan just got a whole lot easier. We've taken a look at their most successful cookbooks over the years, including Slimming World: World of Flavours, Slimming World's best-ever recipes, and Slimming World's Everyday Italian.
"Slimming World cookbooks have helped countless people lose weight while eating healthy, filling food. Some of their cookbooks go back decades but are still worth taking a look at. The methods of choosing foods may have changed over the years, but many recipes remain timeless favourites," says Senior Content Editor, Jessica Dady (opens in new tab).
Slimming World is a weight-loss organisation established in 1969. Recipes vary from classics such as roast dinner and curries to healthier dessert options. Some of the cookbooks follow old Slimming World syn-counting methods, however, the recipes that are in these cookbooks are still healthier alternatives for those looking to eat better.
Best Slimming World cookbooks
Why you can trust GoodTo Our expert reviewers spend hours testing and comparing products and services so you can choose the best for you. Find out more about how we test.
1. Slimming World Free Foods
Why we love it: Easy to follow, though some felt more photos of the meals would be helpful.
Food you can eat, in any quantity, whenever you're hungry. And without having to weigh, measure or count a single mouthful. What's not to like? Slimming World's revolutionary concept of 'Free Foods' includes such staples as rice, pasta, lean meat, and poultry. So you won't feel as though you are missing out on delicious dishes such as chicken curry or farfalle with a mixed bean salad.
Rated an average of 4.4 stars by Amazon customers. Reviewers said the cookbook is good, despite being a little dated; "Love the recipes in this book! Tasty and healthy. The plan is easy to follow and it's amazing how much you actually eat. Even if you don't follow the plan rigorously you're still getting delicious healthy meals and snacks. Though might not be optimising the weight loss. I didn't lose much weight but felt my habits changing and felt healthier. Whereas my dad lost half a stone in the first month."
2. Slimming World's World of Flavours
Why we love it: Inspirational recipes that will make you want to try new dishes.
Simply starting a weight-loss journey can be daunting – with images of a few lettuce leaves and thin soup springing to mind. And what about all those wonderful international dishes you love so much? Will they be a distant memory? Well, not with this great book. It's packed with nutritional and lifestyle information and 120 delicious low-fat recipes from around the globe. You'll still be able to indulge in Italy's pasta dishes, Indian curries, and Far Eastern stir-fries.
"I had this book on pre-order and have not been disappointed. I own a number of Slimming World books but have to say that this is instantly my favourite. It provides so much inspiration and includes many recipes that you may previously have fancied from the local take-away or restaurant but decided against it because you are 'trying to be good'. The recipes really work and for the first time they include the number of syns for green, red and extra easy days. The chapters are split into recipes from France, Spain, Italy, Greece, Morocco, India, China, Thailand and North America. I have always been a keen cook, and love food from different parts of the world. This book enables me to still enjoy creating a nice meal without feeling like I am on a diet," says one happy Amazon customer.
3. Slimming World's best ever recipes
Why we love it: The book uses the old red and green days - great for those who prefer to use the old syns system
Slimming World was founded in 1969 in Alfreton, Derbyshire, by Margaret Miles-Bramwell, and this book marked its 40th anniversary. The title also refers to Slimming World's highly successful weight-loss technique – Food Optimising – which means slimmers never have to go hungry. Inside you'll find plenty of information, plus over 120 recipes for starters, traditional British dishes such as fish and chips, global classics, and tempting desserts.
Rated 4.3 stars on Amazon. "Not only for people on Slimming World also good for anyone wanting to eat healthily," said Amazon customer Paula who rated this book 5 stars. "Perfect for healthy family meals! So many ideas!! It's just brilliant!"
4. Slimming World 30-Minute Meals
Why we love it: Great book for catering for the whole family
Fast food doesn't have to be junk food. This handy book will help you turn out wholesome dishes that are ideal for the whole family, without spending hours in the kitchen. The 120 recipes cover everything from mouthwatering soups and starters to divine desserts. You'll also find some filling snacks – such as 'skillet' pizzas, Tex-Mex tacos and grilled calamari with rocket.
"With such great recipes I cannot fail but to lose weight. Good illustrations and instructions, very easy to follow. Tried a couple and they are very tasty," said one happy Amazon customer.
5. Slimming World's Everyday Italian
Why we love it: A great selection of recipes that have been 'tweaked' to fit the Slimming World method, for example avoiding cooking methods that involve frying.
The Mediterranean diet has long been considered one of the healthiest in the world. And Italian dishes are amongst the most tempting. Following Slimming World's Food Optimising plan, the book has authentic recipes from Italy, with dishes such as Tuscan bean soup, steak tagliata with roasted vine tomatoes, and chilli and sage risotto. And who doesn't love a guilt-free dessert?
"I've just joined a Slimming World group and was pleased to lose 3 1/2lbs in my first week. I also love Italian food. The book starts with a thorough explanation of the principles of Slimming World, then follows the recipes. It's possible to get a complete listing by downloading a Kindle sample. The book was published in April 2014 and the recipes include a "syn" count referencing a legacy green and red (original) plan. However, there is also a count for the current "Extra Easy" plan. So though an update to ensure syn counts per se are current, for me it seems perfectly usable. There's a very good range of recipes including plenty of classics, tweaked to suit the Slimming World method. E.g. by either eschewing frying or using 1cal sprays," said one satisfied Amazon customer.
6. Slimming World's Curry Feast
Why we love it: A great selection of authentic Indian recipes with a healthy twist
Put the words 'curry' and 'healthy' together and what have you got? A heavenly combination, that's what. This book has excellent one-dish suppers and family feasts, and allows you to indulge in your tastiest curry favourites while staying on your weight-loss journey. Try classics such as slow-cooked lamb rogan josh or aromatic Goan prawn curry. Vegetarians will love the Tarka dhal or cumin-scented potatoes.
Rated an average of 4.5 stars, this cookbook is a popular choice on Amazon. "I have now about 10 cookbooks detailing various recipes from India. Although not exactly correct in many variants, this does cover most of the traditional meals that one can experience in India. The temperature/spiciness of the dishes is I feel tempered for the English market. Still, I enjoy referring to this book now and again, especially if I have guests who are not "au fait" with Indian cuisine. Very tasty and extremely simple to make - a good starter book for people who want an introduction to the Indian kitchen, the spices, herbs, and seasoning used. Well recommended."
7. Slimming World Food Optimising
Why we love it: The perfect book for learning more about the Slimming World diet
By adopting healthy eating habits for life, thousands of Slimming World members have reached their target weight. No foods are banned, there's no calorie counting and there are hundreds of 'free foods' that can be eaten in unlimited amounts. In the first chapter of this book, we learn about the benefits of Food Optimising and how it can help us lose weight in a way that's right for us. Subsequent chapters deal with Food Optimising menus and how to sustain weight loss. There are also over 120 great, easy-to-follow recipes, plus nutritional and lifestyle advice.
One happy Amazon customer said; "Good introductory book to how to food optimise, especially after joining Slimming World as a member. Good range of recipes to try out for various diets and mostly relatively healthy to aid weight loss. My only comment is that it would have been good for each recipe to show how many 'Syns' (if any) are included or the Healthy items A and B (dairy and fiber respectively) are included in each recipe to be able to track according to the Slimming World method. Otherwise, happy with the purchase and responsive customer service from the bookseller."
Related features:
Video of the week