10 incredible Bluey birthday cakes you'll want to make your Bluey-obsessed kids
From six-tiered cakes to 3D showstoppers, we've got all the Bluey cake designs you need...
(Image credit: @hey_sweet_cakes / @frangipaniscakes / @a_baking_blonde / @cakes_by_kaz)
If a Bluey birthday cake has been requested by your child this year, then don't panic as we've rounded up 10 of the best cake ideas and designs.
Fans of the popular cartoon will be familiar with the show's main character, the cheeky blue puppy Bluey, and her adventures with little sister Bingo and parents Bandit and Chilli. Whether you want to attempt a multi-tiered Bluey cake, one shaped in the first letter of your child's name or age, or you fancy getting into some complex 3D sculpting, we've got you covered with all the different techniques to try at home.
"My kids are well and truly obsessed with Bluey and I just know that next birthday Bluey or Bingo is going to be requested as their birthday cake," says Food Editor, Jessica Dady. "Choose a design that you know you'll enjoy creating and then it shouldn't be too stressful to make. For example, my daughter requested a Frozen birthday cake last year, and instead of trying to hand sculpt Elsa out of fondant, I decided to use an Elsa doll and create a cake dress decorated with buttercream. Go with what you're good at - and use what you've already got in the house. Our plastic Bluey and Bingo toys will certainly come in handy next year!"
In this article, we've included top tips for designing and easy cake decorating ideas for your Bluey birthday cake.
Bluey birthday cakes - ideas and designs
1. Bluey fondant cake by Barbette's Feast
Made by professional chef Barbette (@barbettesfeast) this ombre fondant cake would be a big hit with any Bluey fan.
2. Dairy-free Bluey cake by Kingley Bakes
This dairy-free cake made by Kingley Bakes features all the main characters from the hit TV series.
3. Six-tiered Bluey cake
This tall six-layered Bluey cake by Posh Cakes Confessions features paper characters in the top of the display making it a real showstopper.
4. Bluey cookie cake by Hey Sweet Cakes
This tasty cookie cake in the shape of a number or letter is a great way to personalise your birthday design. Created by Hey Sweet Cakes, you can go to town with the decorations from cut-outs and meringues to macarons and marshmallows.
5. Easy Bingo cake by Cakes By Choppa
Bluey might be the star of the show but her little sister also deserves her special day. Cakes By Choppa made this ode to Bingo, using fondant to make the 3D face and body. If that proves too tricky you can buy a Bingo cake topper sheet online.
6. Double Bluey and Bingo cake by Frangipani Cakes
Frangipani Cakes created this double story birthday cake that features a 3D Bluey on the bottom and her sister Bingo up top. The faces were created with fondant - buy your own from your local supermarket and have a crack at this showstopper of a cake.
7. Bluey cookies by Casey Bakes Creates
These cute Bluey cookies by Casey Bakes Creates make the perfect treat for your birthday celebration, and work well in party bags, too.
8. Bluey cupcakes by Cupkates Bakery
With buttercream icing and cute cartoon toppers, these Bluey cupcakes by Cupkates Bakery will be a big hit at any Bluey themed party.
9. Two-tiered Bluey and Bingo cake by A Baking Blonde
This adorable Bluey and Bingo cake by home baker A Baking Blonde is the perfect party pleaser for cartoon fans everywhere. With 3D characters and fondant confetti it's a real show stopper for any celebration.
10. Bluey buttercream cake By Cakes by Kaz
This chocolate cake is filled with Malteser buttercream and coated in vanilla buttercream and finished with a shop-bought cake topper for the ultimate sweet hit.
Top tips for making a Bluey birthday cake
The best place to start when making a Bluey birthday cake is looking at other similar themed cakes, so you can decide what you think is manageable to recreate at home.
It can be helpful to sketch out your cake design first so that you have a visual reference of the end result. You can also colour it in so that you know which bits need which colour fondant or icing.
Once you've confirmed your design, get a shopping list of ingredients and cake tools you'll need to make it. You might need some specialist kit like piping bags, stencils or cake cutting tools, so shop around online for a good price.
As you'd imagine, some cake making techniques are easier than others. You can keep it simply with blue buttercream frosting and then use shop-bought sprinkles to decorate. Or you can make your own royal icing and add handmade fondant characters.
If you're short on time - and expertise - you can buy cupcakes and readymade icing and then get edible character toppers to put on. You can do the same thing with a shop-bought cake. Get creative with your own decorations, and you'll find lots of Bluey themed ones online.
Related features to help you create your Bluey cake design:
Looking for more birthday cake inspiration? Have a browse through our roundup of unique cakes and some easy birthday cake recipes for kids too. We've also got kids' party food covered too if you're looking for inspiration.
Parenting advice, hot topics, best buys and family finance tips delivered straight to your inbox.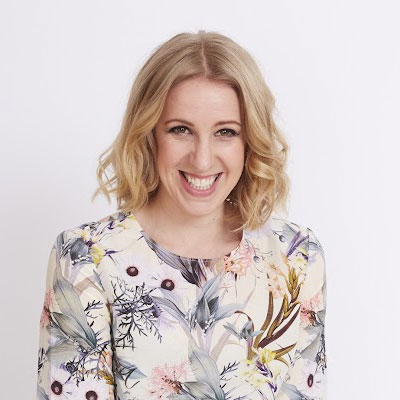 Freelance parenting writer
Maddy Biddulph is a freelance journalist specialising in lifestyle and family-focused content. With 25 years in consumer media, she has worked as a writer and editor for some of the bestselling newspapers, magazines and websites in the UK and US. As a mum of two art-obsessed daughters, Daphne and Esther, Maddy is always looking for parenting hacks to make life easier. She is also a Level 3 personal trainer, and creates energising workouts for busy mums who need some me time.