25 impressive Frozen birthday cakes and ideas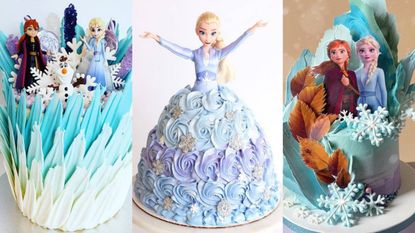 We've rounded up the best cake ideas and designs that are perfect if your children are fans of Disney's Frozen.
From a three-tiered ice palace to beautifully piped buttercream icicles, from fondant figures to royal icing winter wonderlands, we've got lots of different cake techniques you can try recreating at home to make your very own Frozen birthday cake.
Baking a cake for a special occasion can be tough, especially when a specific design or theme has been requested. Making a Frozen themed cake can be particularly challenging as you'll want to create an icy effect but not overdo it on the white and blue fondant.
In this article, we've included top tips for designing and decorating your very own extravagant Frozen cake. We've also included plenty of cake inspiration too from both Frozen and Frozen 2.
Top tips for making a Frozen birthday cake
The best place to start is by looking at other cakes of the same theme and picking what you like and think would be manageable to recreate at home.
We sometimes find its a good idea to sketch out your cake design on a piece of paper so you have a visual reference of what you want it to look like. You can also colour it in and so you know where you want colour to go and what types of fondant or icing you'd like to opt for too.
Once you've got your design, you can write a shopping list of what you'll need to create the cake. You will also need to keep in mind any special cake equipment e.g. piping bags, stencils, or cutting tools.
Some of the cake techniques are easier than others so if you're a beginner opt for the easier, more simple designs - less is more. For example, you could just cover your cake in a simple blue buttercream and finish with star sprinkles. If you want to push your cake decorating skills to the next level, try a few different techniques in one. For example, you could opt to cover your cake in royal icing and add handmade fondant snowflakes.
If you're short on time you could buy the fondant figures Elsa, Anna or Olaf instead of making them. That way your child can keep them as a gift too. You could also opt to decorate a readymade, shop-bought cake so all you have to focus on is the decorating and not baking a cake too.
If you're on a budget shop around and create your design ahead of time so you've got plenty of time to order specific equipment or extras like sprinkles, edible gems, edible glitter, and so on, online. Supermarket baking aisles are also a good place to look.
Related features to help you create your Frozen birthday cake design:
Frozen birthday cakes and ideas
1.
This elegant Frozen cake is decorated with blue buttercream and snowflakes cut from fondant icing.
2.
This two-tiered Frozen cake uses ready-to-roll fondant icing to make the icicles. It has been finished with edible blue lustre dust.
3.
The royal icing creates a dramatic, melting snow effect on this impressive Frozen cake. The plastic character figurines are a great addition.
4.
This Frozen cake uses blue candy melts for the drip effect and is topped with a swirled giant marshmallow held together with a skewer.
5.
The swirled buttercream piped on top of this Frozen cake is made using three different colours: blue, white, and pink. The snowflakes down the side and sprinkles at the bottom bring the whole cake together nicely.
6.
Piled high with icicles, this Frozen cake has a dramatic, eye-catching design. You can achieve this effect using fondant icing cut into icicles or melted white chocolate shaped into icicles and set in the fridge.
7.
Topped with a handmade Elsa fondant figure, this Frozen cake is sure to impress. The white chocolate drips and neat blue buttercream swirls match perfectly together.
8.
The blue buttercream, striped edges, and sprinkles really make this Frozen cake pop with colour. Finished with shop-bought edible snowflakes.
9.
Shaped into the number three, this Frozen cake is topped with mini meringues for an impressive layer of 'snow'.
10.
The blue and lilac piped buttercream swirls, and silver glittered snowflakes give this Frozen cake a dramatic finish.
11.
This three-tiered Frozen cake is decorated with fondant icing, blue candy melts, blue buttercream as well as blue mint icicles.
12.
Turn Elsa into a cake just like this amazing Frozen cake. The sponge cake is built around her to make a cake dress. Completed with buttercream swirls.
13.
The deep purple base and the vibrant blue frosting make this Frozen cake really stand out. Topped with glitter number and 'floating' snowflakes.
14.
This dramatic Frozen cake is adorned with blue chocolate shards and snowflake biscuits. This cake also uses artificial leaves to finish the look.
15.
Give your Frozen birthday cake some more colour by using blue, dark blue, purple, deep pink, and orange to create a Frozen 2 masterpiece.
16.
This professionally made, show-stopping Frozen cake defies gravity. Complete with fondant Sven, Anna, Olaf, and Elsa.
17.
This Frozen cake brings both Frozen and Frozen 2 together to make one beautifully decorated cake. The trees have been hand-drawn using an edible pen.
18.
Layered with chocolate icicles, this Frozen cake is topped with Anna, Elsa, and Olaf as well as edible crystals, sugar balls, and snowflakes.
19.
Use shop-bought sugar flowers to decorate this Frozen birthday cake. You can also opt to make the flowers from scratch using sugar paste.
20.
This Frozen cake is topped with paper fans cut into different shapes and colours as well as an artificial flower to create a dramatic effect.
21.
To create this effect, the cake maker has piped different coloured buttercream around the cake and then used a palette knife to spread around the cake to get a clean finish.
22.
Handmade boulders and stencil cut leaf shapes complete this Frozen 2 birthday cake. Topped with paper figurines.
23.
This amazing Frozen cake recreates Arendelle using fondant icing and sugar paste. This show-stopping cake is sure to impress.
24.
Coated in blue, purple, and cream luster dust, this Frozen birthday cake is perfect. The edible gold writing adds another dimension to this cake.
25.
Keep it simple and top your Frozen birthday cake with two-tone blue and purple buttercream swirls and plastic, non-edible Elsa, Anna, and Sven figurines.
Making a Frozen birthday cake is much easier than you may think. It's all about planning ahead, making sure you set enough time for yourself to decorate, and picking a design that suits your cake decorating level.
And if you need inspiration on which cake sponge to opt for too, we've got plenty of easy, delicious cake recipes to choose from.