We earn a commission for products purchased through some links in this article.
Whether you're a cocktail nut or a vino vulture, something on this list is about to change your life.
From sweets infused with your favourite booze to savoury crisps with flavours you won't believe, we've rounded up all of the best alcoholic food the internet has to offer.
Some of it contains real alcohol (sorry kiddos) whilst other items just imitate the flavour – but one thing's for sure, each of them is even more delicious than a glass of your favourite tipple.
Here are 18 amazing boozy buys you can eat yourself tipsy on – which one will you try first?
Pimm's chocolates
If a cold glass of Pimm's is on your top three things that you love most about summer list, then you need to head to your nearest Paul A. Young chocolate shop – asap.
The master chocolatier created special Pimm's chocolates, combining the drink with cucumber, strawberries, mint leaves and Columbian dark chocolate. So basically British summer nicely packaged and coated in chocolate…
Tequila sweets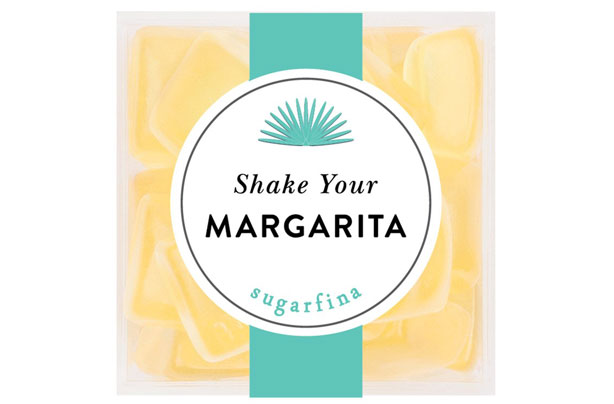 After bringing us rosé gummies, Sugarfina has teamed up with Casamigos, a popular tequila brand, to bring us tequila sweets!
The new collection features three different sweets, including Shake Your Margarita, gummies that taste like Margarita with hints of lime and agave; and Give It a Shot, which combines a rich dark chocolate cordial filled with a smooth sip of tequila – yum!
Prosecco frosting
Cupcakes will never be the same again thanks to Lakeland's newest frosting flavour – Prosecco!
If you're a fan of bubbly – and who isn't – then this new flavour is the perfect way to give your baked goods a fizzy update. Plus it's alcohol-free so you won't have to worry about keeping it away from cupcake-loving kids!
Lakeland, £2.49
Cheers alcoholic ice cream

If ice cream and booze are two of your favourite things on this planet, then you'll be happy to know the good people at Cheers have combined them so you can get drunk while eating a scoop.
Flavours available are toffee vodka, chocolate espresso martini, mojito and strawberry daiquiri, but we're crossing our fingers for more flavours coming soon! The perfect dessert for an adults-only dinner party.
Selfridges, £4.99
Rose wine gummy bears
https://www.instagram.com/p/BHFW1mbBMLO/?taken-by=sugarfina
Yes, you can now buy rose wine flavoured gummy bears! These delicious treats are just perfect for parties (adults only though).
Winter berries & prosecco hand cooked crisps
You've probably seen the hype around these already – not only do they actually taste of our favourite fizzy wine (trust us, we've snaffled more than one bag already), they're covered in tiny edible gold stars, for the ultimate in luxury snacking. They're limited edition for Xmas, so you'll want to stock up before they sell out.
Marks and Spencer
, £2
Prosecco and elderberry crisps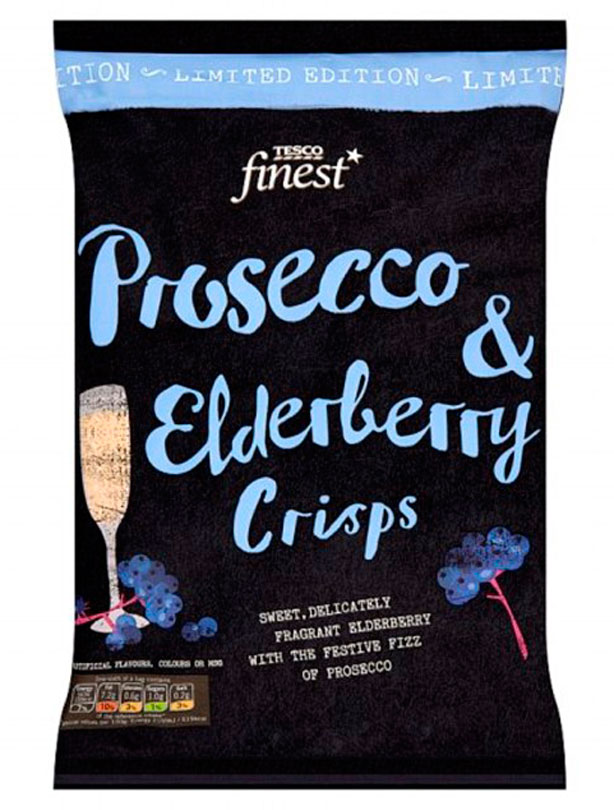 Of course, if your budget is doesn't stretch to edible gold, you could always opt for Tesco's equally delicious prosecco and elderberry version.
Tesco
, £1.59
Gin and tonic crisps
Prosecco not your bag? Gin and tonic crisps it is! These crunchy, Kettle-Crisp esque snacks are from Aldi, and have just a hint of gin flavour with a tangy finish of lime. Serve with a tomatoey dip if you're feeling adventurous.
Aldi, 99p
Gin and tonic popcorn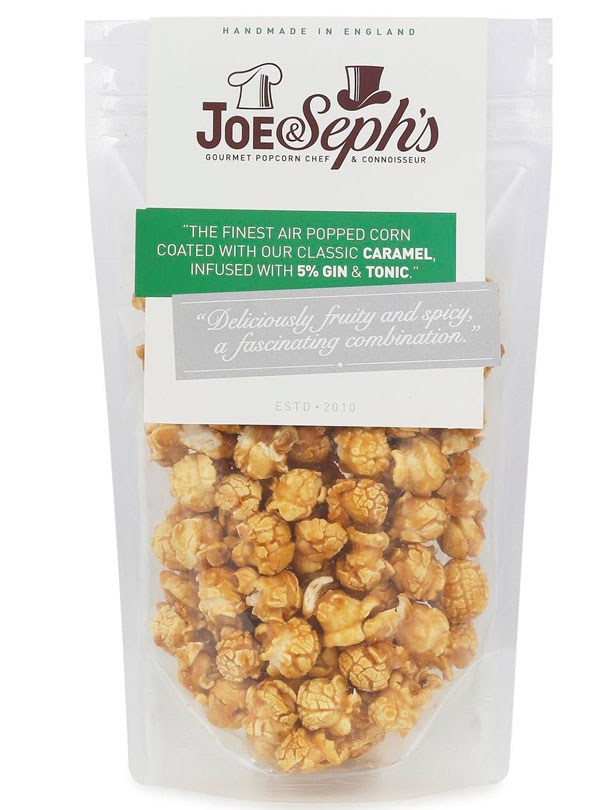 Whilst we're on the subject of gin, let's talk about Joe and Seph's amazing gin and tonic popcorn. Delicious nuggets of mushroom popcorn, coated in caramel and then infused with 5% gin. And as if that wasn't enough? They do three cocktail-based flavours too…
Joe & Sephs, £4
Gin and tonic caramel sauce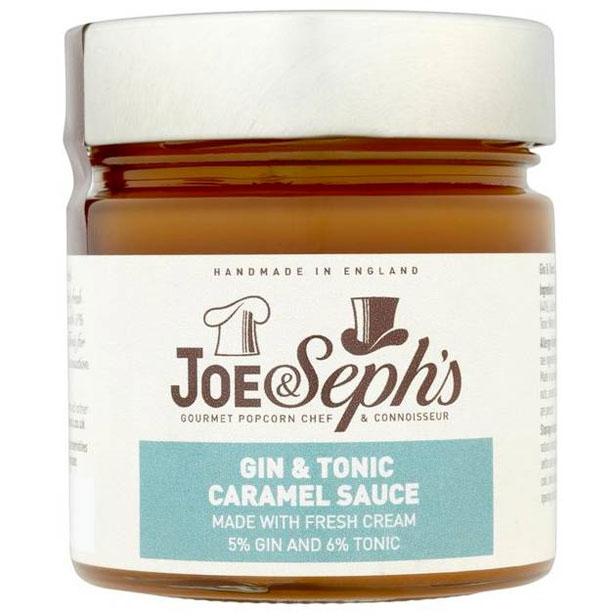 When you've eaten too much popcorn, now you can take to just eating the coating instead, with this new gin and tonic caramel sauce, which is also from the geniuses in the Joe & Seph's kitchen. Drizzle it over ice cream, bake it into cakes, or simply get yourself a spoon and go to town.
Joe & Sephs, £5.99
Mojito marmalade with rum and mint
You know what jam has always been missing? Booze. This mojito marmalade contains white rum and mint, and echoes the flavours that you get in your favourite cocktail in a thick, sticky spread. It's only 0.2% rum, so you'll need to spread a lot of it on your toast before it goes to your head, but we just see that as a challenge.
We Love ManFood, £4.95
Champagne gummy bears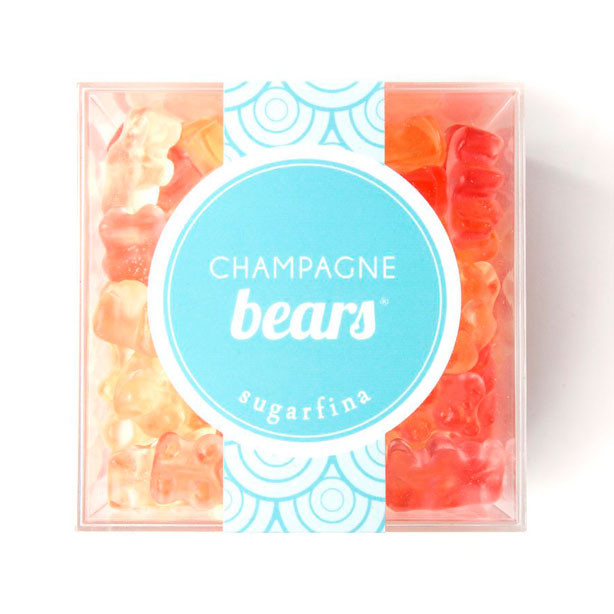 Champagne + gummy bears = the most perfect candy-based present we've ever seen. Their creator, Sugarfina even do a 'bubbly bears' version covered in tangy sugar! They're only available in the US at the moment, but thanks to the wonders of international shipping, you might just be able to get your hands on some…
Sugarfina, $8
Cocktail jelly beans
All of your favourites are in here – Pina Colada, Strawberry Daiquiri, Mojito, Peach Bellini and Pomegranate Cosmo sit in their own neat little compartments, waiting for you to devour them. There's actually no real alcohol in these, so they are technically child-friendly, but there's no real reason for you to tell your brood that.
Confection Affection, £6.75
Smith and Sinclair pastilles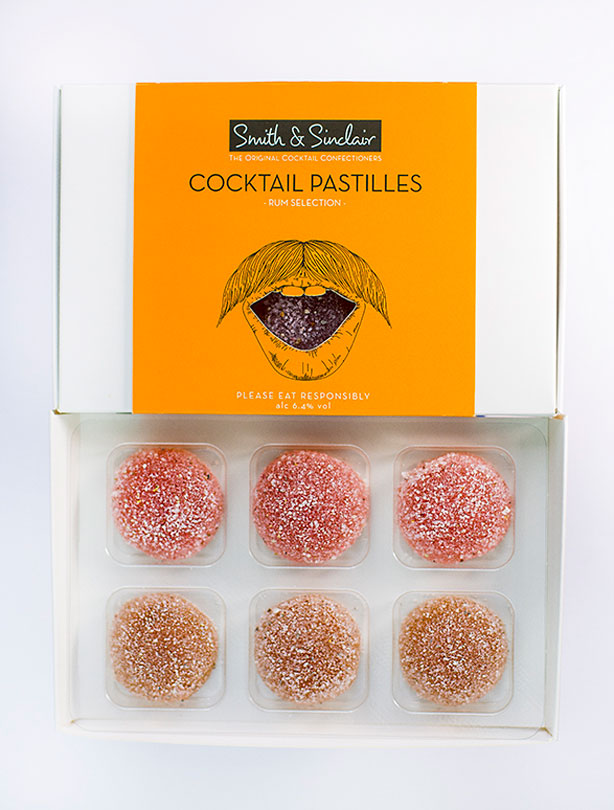 These Smith and Sinclair gummies, on the other hand, DO have real alcohol in them – 6.4% ABV, to be precise. The variety pictured here is the rum selection, but there are vodka, whisky and gin boxes available too.
Smith and Sinclair, £9.99
Wine ice cream
No, your eyes didn't just deceive you – two of your favourite things have merged into one! Mercer's Dairy amazing range of wine ice cream comes in six different flavours, including port, chocolate cabernet, and cherry merlot. The only problem is you'll have to fork out for a plane ticket to the States to try some!
Mercers Dairy, from $7.95
Bellini pops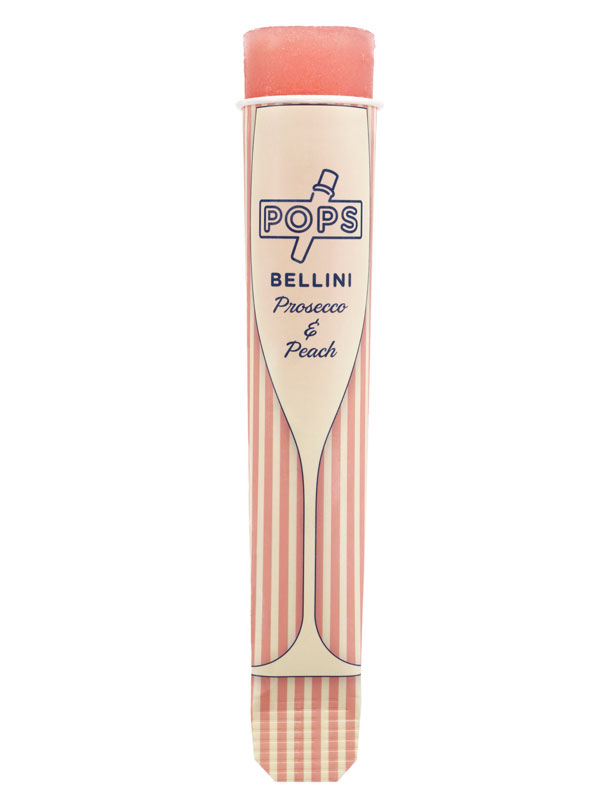 We first tasted these prosecco pops over the summer, and it's been a never-ending love affair ever since. Kind of like a cross between a Calippo and a cocktail, these peachy, boozy lollies are the perfect grown-up treat. FYI, they do a champagne version as well…
We Are Pops, £5
Neat & Dirty olives
These olives are not for the faint-hearted – they're steeped in 100% neat alcohol, and both the gin and vodka varieties taste pretty darn intense. Use them to take your next martini to the next level.
Olives et al, £10
Lord Levington's Bloody Mary peanuts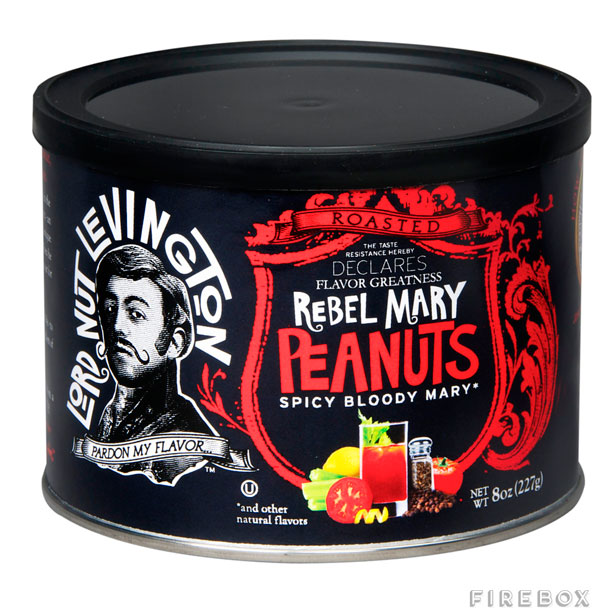 If a liquid hair of the dog isn't doing the trick, these fiery nuts certainly will. They're less vodka-ey, and more salty and tangy, with the flavour of sweet tomatoes, mustard and salty soy sauce. Be warned: they're so addictive you might end up eating the whole tub in one sitting.
Firebox, £5.99
Liquor Whipped cream
We've found the thing that's been missing from your ice-cream sundae life, and it's the vodka-infused boozy whipped cream. You can get hundreds of different flavours of the stuff in the US (darn our tiny, liquor-creamless island), and whilst the selection is more limited on this side of the ocean, it's definitely worth investing in a can.
Firebox, £14.99
Blueberry and gin marshmallows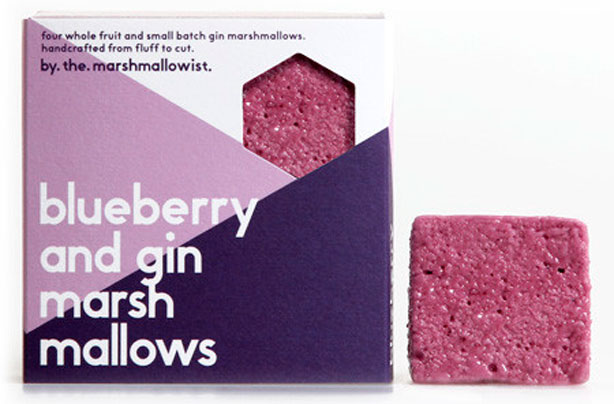 The Marshmallowist makes their light, fluffy mallows with Sipsmith gin, so they're perfect for the connoisseur of a finer tipple. If you love these, you'll love their raspberry and champagne flavour too.
The Marshmallowist, £6
Spreadable beer
Yes, this list has mostly been dominated by cocktails and wine, but we've not forgotten about lovers of the humble pint. This thick, sticky spread is 40% beer, and has a rich, savoury taste that beer lovers can't get enough of. Smear it on crackers, top it with cheese, and head straight on up to bar snack heaven.
irebox, £9.99
Have you tried any of these boozy treats? Let us know in the comments below!