Why is it called Coronation chicken? Origins and original recipe
A quick history lesson on the popular sandwich filler!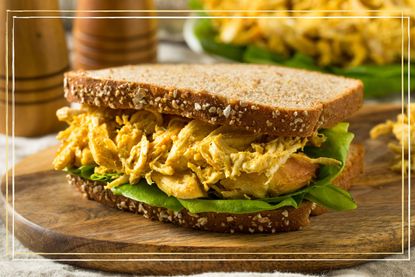 (Image credit: Future/Alamy)
Wondering how Coronation chicken got it's name? We delve into the history behind this classic British dish.
With King Charles III's coronation mere days away now, coronation fever has well and truly hit the nation. As people starting preparing for Coronation street parties, cooks across the country are thinking about buffet food ideas and coronation cakes and bakes to celebrate the historic occasion.
We're expecting many to reach for a classic Coronation chicken recipe for the upcoming party spreads, with the dish in question having a special royal link with the Queen's coronation. We've dug out the original recipe for Coronation chicken and shared details of who invented it, when and why.
Why is it called Coronation chicken?
Coronation chicken bears it's name as it was a recipe specially created for Queen Elizabeth II's coronation in May 1953. The creamy, curry-based chicken dish was served at the official luncheon on Coronation Day.
On the Queen's coronation menu, the dish was named "Poulet Reine Elizabeth", but it's more commonly known as Coronation chicken today. The lunch was prepared by the famed cookery school Le Cordon Bleu and served to 350 guests at 2pm in the Great Hall of Westminster School.
Poulet Reine Elizabeth, or Coronation Chicken as its known now, was created for the Coronation Luncheon of Queen Elizabeth which Le Cordon Bleu London catered for. Try making this classic dish for yourself with our recipe for Coronation Chicken Buns https://t.co/lHVr0IMznO pic.twitter.com/F5q3YIPScZMay 30, 2022
See more
Who invented Coronation chicken?
Chef Rosemary Hume and Constance Spry, former principals of Le Cordin Bleu, are credited as the inventors of Coronation chicken. Whilst Hume created the dish, Spry was responsible for publishing the recipe in the Constance Spry Cookbook.
According to Le Cordin Bleu, Sir David Eccles, the Minister of Works at the time, exclusively asked Rosemary Hume and her students to cater for the luncheon. Coronation chicken was served at the feast alongside "a well-seasoned dressed salad of rice, green peas and pimentos."
There are rumours that Hume and Spry based the recipe on Jubilee Chicken - which was a similarly spicy dish, that involved chicken mixed with mayonnaise and curry - for George V's Silver Jubilee in 1935. Though this remains to be proven.
Recalling the luncheon and special recipe in the cookbook, Spry wrote: "One would not venture to serve, to a large number of guests of varying and unknown tastes, a curry dish in the generally accepted sense of this term.
"I doubt whether many of the 300-odd guests at the coronation luncheon detected this ingredient [curry powder] in a chicken dish which was distinguished mainly by a delicate and nutlike flavour in the sauce."
Coronation chicken has appeared in every edition of the Constance Spry Cookbook since it's first edition in 1956.
In February 2022, Angela Wood, a former student at Le Cordin Bleu cookery school who helped cater for the Queen's coronation lunch, met with Her late Majesty in ahead of her Platinum Jubilee celebrations. The two discussed the luncheon and the Coronation chicken recipe.
Mrs Wood, who was 19 at the time, recalled: "For a month or more, I was cooking a chicken a day and we had to alter the balance of the spices in the sauce to get it right."
She told the Queen that it was "enormous fun" coming up with the recipe.
Original 1953 Coronation chicken recipe
Ingredients
(coronation chicken)
2 young roasting chickens
water and a little wine to cover
carrot
a bouquet garni
salt
3-4 peppercorns
(curry sauce)
1 tbsp oil
50g/2oz onion, finely chopped
1 dessert spoon curry powder
1 good tsp tomato purée
1 wine glass red wine
¾ wine glass water
A bay leaf
Salt, sugar, a touch of pepper
A slice or two of lemon and a squeeze of lemon juice
1-2 tbsp apricot purée
450ml/¾ pint mayonnaise
2-3 tbsp lightly whipped cream
Method
"Poach two young roasting chickens with carrot, bouquet garni, salt and peppercorns in water and a little wine, as well as enough barely to cover, for about 40 minutes or until tender.
"Allow to cool in the liquid. Joint the birds, removing the bones with care. Prepare the sauce given below.
"Heat the oil, add onion, cook gently for 3-4 minutes, add curry powder. Cook again for 1-2 minutes. Add purée, wine, water and bay leaf. Bring to boil, add salt, sugar to taste, pepper, and the lemon and lemon juice. Simmer with the pan uncovered for 5-10 minutes.
"Strain and cool. Add by degrees to the mayonnaise with the apricot purée to taste.
"Adjust seasoning, adding a little more lemon juice if necessary. Finish with the whipped cream. Take a small amount of sauce (enough to coat the chicken) and mix with a little extra cream and seasoning.
"Mix the chicken and the sauce together, arrange on a dish, coat with the extra sauce."
What to serve with Coronation chicken:
In the Constance Spry cookbook, it advises to serve Coronation chicken with a rice salad - as done at the Coronation luncheon.
"The rice salad which accompanied the chicken was of rice, peas, diced raw cucumber and finely chopped mixed herbs, all mixed in a well-seasoned French dressing," the cookbook reads.
"For convenience in serving at the Coronation, the chicken was arranged at one end of an oblong dish and a rice salad at the other."
In more modern times, Coronation chicken has become a popular sandwich filling or a jacket potato topping. You could also serve it alongside a simple green salad, for a lighter lunch or dinner option.
Related features:
Video of the Week
Emily Stedman is the former Features Editor for GoodTo covering all things TV, entertainment, royal, lifestyle, health and wellbeing. Boasting an encyclopaedic knowledge on all things TV, celebrity and royals, career highlights include working at HELLO! Magazine and as a royal researcher to Diana biographer Andrew Morton on his book Meghan: A Hollywood Princess. In her spare time, Emily can be found eating her way around London, swimming at her local Lido or curled up on the sofa binging the next best Netflix show.