Sainsbury's and Morrisons are dropping fizz prices just in time for Christmas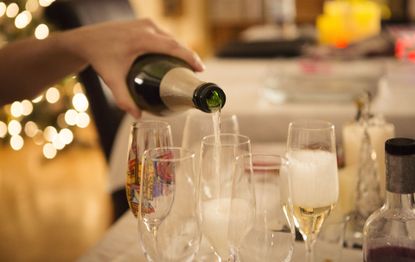 (Image credit: Getty)
GoodTo newsletter
Sign up to the GoodTo Newsletter. You can unsubscribe at any time. For more information about how to do this, and how we hold your data, please see our privacy policy
Thank you for signing up to . You will receive a verification email shortly.
There was a problem. Please refresh the page and try again.
With all the expense that comes with Christmas, one of the biggest probably comes from the booze.
Of course, depending on how generous we are the Christmas gifts usually take up a lot of space on our bank statements (particularly when it comes to the kids' Christmas toys (opens in new tab)), but after that it's usually all the drink that comes in at the highest price.
With all the prosecco (opens in new tab) and Champagne (opens in new tab) drunk throughout the season, not to mention the Baileys (opens in new tab), cocktails, wines (opens in new tab) and festive gin (opens in new tab), the cost swiftly adds up.
So now various supermarkets are stepping in to help us stick to our Christmas budget (there's a first time for everything) with their deals on bottles of fizz.
Leading supermarket Sainsbury's is offering their prosecco jeroboam for a shockingly low price.
Their Valdo Prosecco Marco Oro, which was previously £45, is on offer for a purse-pleasing £35 for a whopping three litres, making it just £1.46 a glass.
You can stock up on it to fuel the numerous Christmas gatherings throughout the season, or even give it away as a chic gift with the intricately crafted wooden box that it comes in.
'In terms of other larger bottles it would seem that size really does matter this festive season as we predict it will sell nearly 30,000 magnums between now and New Year's Eve,' said a Sainsbury's spokesperson.
'The peak day for customers buying fizz is set to be 'Sparkling Saturday' this weekend, and we're forecasting it will sell more than 400,000 bottles in a single day – more than at any other time of year.'
But, if you've overdosed on the Italian fizz during the last few weeks and have a taste for something a bit more expensive, head over to Morrisons.
They've slashed the prices of their award-winning Champagne to only £10 for the festive season.
The Adrien Chopin Champagne Brut Champagne, that has been made exclusively for Morrisons, won a silver medal in this year's International Wine Challenge so is sure to be a quality bottle of bubbles.
You can get your hands on the discounted bottle online and in-store until 1st January, so stock up.
'This is a wonderfully biscuity Champagne with citrus and hazelnut notes,' said Morrisons' Senior Wine Sourcing Manager, Clive Donaldson. 'It will go perfectly with turkey or smoked salmon this Christmas.'