5 things you didn't know you could make in a dishwasher
Your dishwasher isn't just for cleaning plates and bowls you know...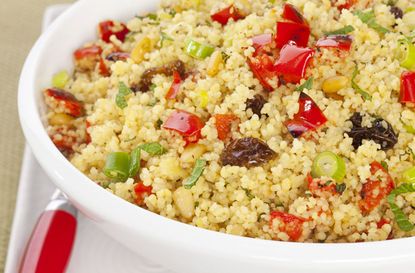 Your dishwasher isn't just for cleaning plates and bowls you know. It can actually be used to do something far more creative like cook food for example (no, this is not a joke!)
You really can make edible things in this everyday item and, thanks to YouTube users SORTED Food, we can show you how!
With just a click of the button you can have lunch ready in 30 mins, as well as clean dishes too. How we hear you ask? Well, let us explain…
A dishwasher is mechanical device that sprays hot water between 55-75°C – a temperature which is high enough to cook something, right? Right.
If you fancy getting creative and turning your kitchen into a science experiment it's time to roll up your sleeves and try one of these mind-boggling dishwasher recipes…
Salmon fillets
Yes, we're not kidding. You really can cook fish in the dishwasher. Pop a handful of fresh herbs and fresh greens like spinach or watercress into a Tupperware pot. Top with a salmon fillet and a knob of butter. Season with salt and pepper and then seal with the Tupperware lid. Wrap in cling film before 'cooking' in the dishwasher on a 70°C daily cycle. Dinner is served!
Couscous
Add a few tablespoons of couscous into a Kilner jar along with an equal amount of stock (chicken or vegetable – your choice) and a handful of veggies like peas or corn. Pop the lid on and make sure it's airtight. If you're worried about leaks, wrap in cling film. Press that all-important 70°C cycle button and wait for the magic to happen!
Poached fruit
You can clean your dirty dishes from dinner and make dessert in the process too with this next trick. Add a few splashes of your favourite alcoholic drink (like brandy, mulled wine or red wine), a handful or two of your favourite fruit (try peaches, pears, plums etc.) into a large jar, screw on the lid, press the button and ta-dah! Dessert is served. Serve with a scoop or two of ice cream.
Psst! We bet you didn't know you could make THESE in the microwave (opens in new tab)
Pork chops
We couldn't believe this either! Just season your pork chop with your favourite rub or seasoning combo, wrap in an airtight plastic bag. 'Cook' for the 2hr and 30 minute wash and enjoy! We'd recommend serving with thick cut chips and ketchup (it's a shame you can't make these in the dishwasher too!)
Flavoured vodka
(This one was our idea!) Take a 750ml bottle of vodka and add around 500g of your favourite boiled sweets (crushed to powder), fruit (chopped) or chocolate (grated). Screw the lid back on tightly and wrap with some cling film to make sure it doesn't leak. Put the bottle on the top shelve of the dishwasher and 'cook' on a 70°C daily cycle (2hrs and 30 mins approx.) and ta-dah!
http://www.youtube.com/watch?v=oHEroCp8bwk
Have you tried any recipes in a dishwasher? Comment below and tell us.
Jessica Dady is Senior Content Editor at Goodto.com and has over 10 years of experience as a digital journalist, specialising in all things food, recipes, and SEO. From the best food hampers to cookbooks, from the best cake stands to baking sets, Jessica has a wealth of knowledge when it comes to must-have food products. A passionate baker, she spends much of her time creating celebration cakes for friends and family - particularly for her two lucky children.