Burns Night: Create a classic Burns Night menu for the perfect supper
It's Burns Night on 25 January so celebrate the life of Scottish poet Robert Burns with these classic Scottish Burns Night recipes from haggis, neeps and tatties to whisky desserts.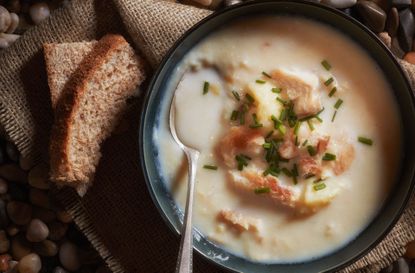 It's Burns Night on Saturday 25th January so celebrate the life of Scottish poet Robert Burns with these classic Scottish Burns Night recipes from haggis, neeps and tatties to whisky desserts.
And while you may not have a piper, no Burns Night supper would be complete without Rabbie's address to the haggis. Be sure to recite it aloud (theatrical voice a must) before you tuck into your delicious Burns night recipes.
Robert Burns & his address to a haggis:
Fair fa' your honest, sonsie face, Great chieftain o the puddin'-race! Aboon them a' ye tak your place, Painch, tripe, or thairm: Weel are ye worthy o' a grace As lang's my arm.
The groaning trencher there ye fill, Your hurdies like a distant hill, Your pin wad help to mend a mill In time o need, While thro your pores the dews distil Like amber bead.
His knife see rustic Labour dight, An cut you up wi ready slight, Trenching your gushing entrails bright, Like onie ditch; And then, O what a glorious sight, Warm-reekin, rich!
Then, horn for horn, they stretch an strive: Deil tak the hindmost, on they drive, Till a' their weel-swall'd kytes belyve Are bent like drums; The auld Guidman, maist like to rive, 'Bethankit' hums.
Is there that owre his French ragout, Or olio that wad staw a sow, Or fricassee wad mak her spew Wi perfect scunner, Looks down wi sneering, scornfu view On sic a dinner?
Poor devil! see him owre his trash, As feckless as a wither'd rash, His spindle shank a guid whip-lash, His nieve a nit; Thro bloody flood or field to dash, O how unfit!
But mark the Rustic, haggis-fed, The trembling earth resounds his tread, Clap in his walie nieve a blade, He'll make it whissle; An legs an arms, an heads will sned, Like taps o thrissle.
Ye Pow'rs, wha mak mankind your care, And dish them out their bill o fare, Auld Scotland wants nae skinking ware That jaups in luggies: But, if ye wish her gratefu prayer, Gie her a Haggis
Now it's time to take a look at the list we've compiled of delicious tatties and neeps Burns night recipes that you can add to your Burns Night menu....
Starter: Cullen skink
The traditional Burns' Night starter is this warming haddock soup, known as cullen skink, which has a rich creamy flavour.
Get the recipe: Cullen skink
Burns Night cock-a-leekie soup recipe
Starter: Leek Soup
For a slight alternative, make a warming cock-a-leekie soup as a starter for your Burns Night dinner or try our easy recipe for vegan leek soup with herby croutons.
Get the recipe: Cock-a-leekie soup recipe
Main course: Parcel of haggis
The most traditional Burns Night recipe is the savoury pudding haggis. Buy one ready-made and add pastry, chutney, beetroot and leek to make these parcels of haggis. Vegetarian haggis is also now fairly readily available and would also be jazzed up with a pastry wrapping.
Get the recipes:
Sides: Neeps and Tatties
Floury potatoes, milk and seasoning are all you need to make this classic mash recipe. Tatties are a classic side dish on Burns Night along with mashed turnips or swede (neeps).
Get the recipe:
Haggis, needs and tatties Mashed potatoes
Buttered swede with crispy bacon
Alternative: Kedgeree
If you don't fancy haggis, serve up this cheap, quick and easy Scottish-inspired smoked haddock kedgeree. It's simply smoked haddock, eggs, rice and coriander.
Get the recipe: Quick kedgeree
Dessert: Scottish Cupcakes
Victoria Threader has created these delicious Scottish-themed cupcakes, using whisky buttercream on top of chocolate cupcakes.
Get the recipe: Scottish Cupcakes
Dessert: Cranachan
Cranachan is one of the most traditional Scottish desserts, made with raspberries, cream, oatmeal and honey. Make it in advance, let it chill and bring it out half-an-hour before eating.
Get the recipe: Cranachan
Dessert: Whisky trifle
Trifles are another traditional Burns Night treat and this Whisky trifle is bound to go down well! Make individual portions for the kids with orange juice instead of whisky.
Get the recipe: Whisky trifle
Drinks: Hot Toddy
Perfect for cold January, this whisky-infused classic is an absolute must for Burns Night.
Get the recipe: Hot toddy
Drinks: Manhattan cocktail
Despite the name this cocktail actually does have a certain Scottish element to it - plenty of whisky! On a cold January night, nothing beats a warming cocktail to get the festivities going.
Get the recipe: Manhattan cocktail
Dessert: Scottish Shortbread
This Scottish shortbread recipe is simple and delicious. If you're having the family over for afternoon tea, this biscuit recipe is perfect. Packed with sweet butter and sugar, this recipe is a must-have.
Get the recipe: Scottish Shortbread
Jessica Dady is Food Editor at Goodto.com and has over 10 years of experience as a digital editor, specialising in all things food, recipes, and SEO. From the best food hampers to cookbooks, from the best cake stands to kitchen appliances, Jessica has a wealth of knowledge when it comes to must-have food products. A passionate baker, she spends some of her time creating celebration cakes for friends and family including her two lucky children.