10 tips to reduce your childcare costs from a money expert
Top tips from a finance expert on how to reduce your childcare costs amid the cost of living crisis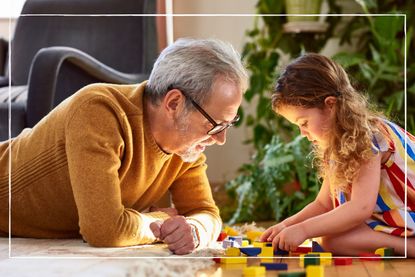 (Image credit: Getty Images)
If you're looking for ways to reduce how much you spend on childcare to help make ends meet, you're certainly not alone. The average cost of childcare in the UK (opens in new tab) is soaring. According to the latest study, the cost of childcare for parents with children under two has increased by more than £2,000 a year since 2010.
And at a time when families are concerned about how much it costs to raise a child (opens in new tab), it's never been more important to look at how much money you are spending and making sure you are paying the best price and getting the best value. But there's no one-size-fits-all cheapest option with childcare because every family will need their children cared for on different days and for varying numbers of hours.
Annabelle Williams (opens in new tab), personal finance specialist at investment company Nutmeg, says: "Paying for childcare is often a big chunk of the family budget and an essential outgoing too. As such it's not something that parents can easily cut costs on. It can be incredibly stressful looking at the different options. It's worth looking at all the ways there are to save money where you can, and still get the childcare working parents need."
1. Ask family or friends for help
If you're looking to save money on childcare costs, as a starting point, t's worth trying to find free childcare. This could be enlisting the help of family who might be happy to give up spare time to look after your children. This is normally only suitable when grandparents live nearby and there's a good relationship between you all. They'll also need to be retired or working part-time to find time to help. (If they're not already retired and look after a child under the age of 12, they may qualify for National Insurance credits. This is handy as the time spent caring will count towards their state pension eligibility.)
A new study found that parents are increasingly helping adult children to meet the cost of childcare, as the rising cost of living puts new pressure on the Bank of Mum and Dad.
Over the next two years, nearly a third of parents (31%) say they will provide financial support for childcare. Carol Anderson (opens in new tab), branch banking director of TSB says: "The impact of the rising cost-of-living is becoming more widespread. For those looking to offer financial support to their children, make sure you have open and transparent conversations as a family."
Another option you might consider is grouping with another family and working out a system where you can look after each other's children for some of the time. If you take them for one day each, you get two days of childcare for the price of one day off work. If you work part-time, this could be a real money-saver.
For this to work, you'll need to find one with a child around the same age, a similar approach to parenting - and the same need for affordable childcare.
2. Research free after school clubs
Organisations such as the YMCA, local authority play schemes or church groups or could be good places to investigate for free after school clubs and classes.
They're intended for parents who are unable to pick their children up after school, which can save on childcare. Services can be limited to only serving certain schools in the local area – but it's definitely worth a look.
3. Claim Government help
There's help from the government for childcare once your child reaches three. Currently, parents of three- and four-year-olds get up to 30 hours of free childcare per week (opens in new tab) in school term time. This is set to be extended to children over nine months old as the government announces changes to who is eligible for 30 hours free childcare (opens in new tab).
This works out as 38 weeks of the year and you can claim 30 hours with an establishment from Ofsted's childcare register, as long as you or your other half don't earn more than £100,000 a year. The hours can be used for childminders, day nurseries, playgroups, pre-schools and nursery schools, but cannot be used for care with a nanny.
Be prepared for some costs, however, as nurseries are allowed to ask for payments to cover the cost of things such as snacks, lunch and extra-curricular activities, like music classes.
4. You could get extra help if you claim benefits
If you claim benefits such as income support or universal credit (opens in new tab), there might be more help available to you earlier on. You may be able to claim 15 free hours for your two-year-old. This also applies if your children have a statement of special educational needs or are looked after by a local authority. You can find out more on the government website (opens in new tab).
You can also put child benefits (opens in new tab) towards the cost of childcare. The government will pay £21.15 per week for your first child and £14 per week for any children after that. Since 2013, the benefit has been capped so households where one earner makes more than £50,000 start to lose some entitlement. If they earn £60,000 you don't get anything.
However, it can be worth signing up for child benefit even if you are not entitled to it because signing up will earn you national insurance credits that will be important for your state pension if you are not working.
If so, you should register for it then not claim the money so you can still claim the credits. Find out more on the government website (opens in new tab).
5. Claim Universal Credit? Check you're claiming the childcare portion
Universal credit is a benefit that aims to help households on low incomes. There's a basic amount paid, but you can get extra money depending on your situation.
There's a child element which pays £290 a month for first or only child born before 6 April 2017 or £244.58 a month per child born after that date. You can only claim the child element for a maximum of two children. This money could be put towards childcare costs.
A further childcare costs element of Universal Credit is available if both parents are working. In 2022-23, this is up to a maximum of £646.35 a month for one child, or £1108.04 a month for two or more children. The benefit can be claimed if the non-working partner has limited capability for work or limited capability for work and work-related activity (LCWRA), is a carer for someone with a severe disability or is temporarily absent – for example, in prison, hospital or residential care.
6. Use tax-efficient childcare schemes
Childcare Support Scheme
Use the childcare support scheme – tax-free childcare (opens in new tab) – as a tax-efficient way of paying for nursery. You pay money into the online account and the government adds a top-up. For every £8 you pay into the account the Government will add £2. You can then use that money to pay any childcare provider on the approved list, which includes childminders, nurseries, nannies, after-school clubs and play schemes. The top-up is capped at £2,000 per child, per year and £4,000 per child, per year if they are disabled.
Parents must be working and earning the minimum wage for 16 hours a week or more, but earning less than £100,000 per parent.
Recent figures show there are an estimated 1.3 million families who are thought to be eligible for the scheme, who are not using it. Laura Suter (opens in new tab), head of personal finance at AJ Bell, says: "Family budgets are stretched with childcare costs rising along with all other bills.
"However, with an estimated 1.3 million families who are thought to be eligible for the scheme, meaning it is still chronically under-used. With the average family in the UK having 1.9 children, it means each family could be getting £3,800 on average towards their childcare costs each year – money that would go a long way to helping in the current bills crunch.
"At a time when many families are having to decide between heating and eating, this handout could hold some families back from the brink."
Childcare voucher scheme
If you are already in the childcare voucher scheme, it's a good idea to stick with it. This scheme is no longer available to new joiners – it closed to new applicants in October 2018. But you can still use them if you signed up before then, are with the same employer and it still offers them. Vouchers allow parents to pay for childcare from their income before tax and national insurance contributions are deducted, using something called salary sacrifice. A basic rate taxpayer can save £243 a month, a higher rate taxpayer can put aside £124 and for top rate taxpayers, it's £110.
Remember the vouchers aren't just for nursery fees or paying a childminder. If your child attends an independent school, they can go towards fees until they reach age 5. They can be used for older kids too. Even at school they can go towards accredited after school care and summer and half term camps, up to age 15.
Make sure you use up any vouchers before you child turns 15. In lockdown many people built up a surplus while most form of childcare was unavailable so spend them! Watch out for paper vouchers which come with an expiry date. Electronic vouchers do not expire.
7. Research nurseries early
Be organised and do your research on nurseries in your area as they will differ in approach and cost. Aim to view three or four so you can compare the facilities and value for money.
It's also a good idea to start looking as early as you can. It's likely you'll find that the more affordable nurseries get snapped up fast, so you should have your child on a waiting list as soon as you can. Make yourself known to the person in charge of admissions (befriend them if you can!) and check in at intervals to chase up how far up the list your child is.
8. Save on after-school children care
When children start school, there's still a gap to plug between when school finishes and the end of the working day. Schools usually offer after hours clubs. According to the Coram Family and Childcare, the average weekly price for families using an after-school club for five days a week is £66.52 a week, or £288.25 a month.
You might find a childminder is better value. While the average cost of a child minder is more at £71.39 a week, (£309.35 a month), care is usually until 6pm where after-school clubs might not run as late.
9. Find cheap and free holiday activities
If your child is at school, the stretch of the six-week summer holiday can be a daunting prospect. But there are summer holiday activities which offer some form of help during the holidays for free. Check out Coram Family and Childcare (opens in new tab), which lists organisations in your local area, where you can find information about childcare and family services.
Your local council may also run free or cheap activities for children during the school holidays. It's worth checking its website to see what's on offer.
10. Look for bursaries to help with private education
You might want your child to have private education. Bursaries enable bright and talented children of less well-off families – those who would otherwise not be able to afford the fees – to attend private school.
For the most suitable candidates, bursaries can be worth up to 100% of fees – and in some cases, if they cover trips and uniform, even more. As well as being based on the child's abilities, they are means tested which means that each year the recipient family's financial circumstances are examined by the school bursar.
Holly Thomas is a freelance financial journalist and writes across all areas of personal finance, specialising in investments. Holly's work can mainly be seen in The Times, The Sunday Times and the Daily Mail. Previously she worked as Deputy Personal Finance Editor at The Sunday Times, Money Editor at the Daily/Sunday Express and also at Financial Times Business. She has won a number of professional awards, most recently Investment Freelance Journalist of the Year at the Aegon Asset Management Media Awards in November 2021. Others include Freelance Financial Journalist of the Year at the Headlinemoney Awards.