KitchenAid Artisan K400 Blender review: Hibiscus Colour of the Year 2023
A quick, powerful, and easy-to-use blender by KitchenAid. The K400 Blender can take on the toughest ingredients at full speed and efficiency…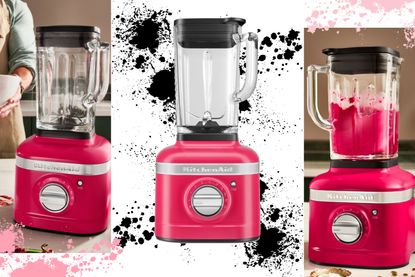 (Image credit: KitchenAid)
There's certainly no faff when it comes to using the KitchenAid Artisan K400 Blender. Just pop the glass jug onto the machine base, press the lid down firmly, plug it in, and go. It's quick and easy and most importantly powerful - blitzing a whole range of ingredients in seconds; from crumbling biscuits for the perfect cheesecake base to crushing ice for the best frozen daiquiris.
Reasons to buy
+

Quick, efficient, and powerful

+

Vibrant, eye-catching colour blender base

+

Quiet on lower settings

+

Easy to set up and get started as soon as it's out of the box

+

Sleek machine base and glass jug with a high-quality finish

+

Various speeds and settings when mixing

+

Measurements on the glass jug are very handy

+

Sturdy, durable, and easy to clean either handwash or dishwasher
Reasons to avoid
-

Rather heavy so best to find a spot for it on the kitchen counter and keep it there

-

Loud on higher settings - but lots of power behind it so was expected

-

Expensive
We put the KitchenAid Artisan K400 Blender to the test to see if it really is as powerful as it's said to be. In a stunning Hibiscus fuchsia, Colour of the Year 2023, this eye-catching machine would certainly take pride of place in the kitchen.
If you're looking to upgrade your blender or want to take smoothie making to the next level, say hello to the KitchenAid Artisan K400 Blender, a favourite among KitchenAid enthusiasts.
From soups to sauces to cocktails and beyond, this machine has been designed by KitchenAid with durability in mind, making sure it really can blend the toughest ingredients in seconds with ease.
Since 1955, the American kitchen appliance brand, KitchenAid has become iconic for its high-quality, efficient, and durable kitchen appliances, and the KitchenAid Artisan 5KSB4026 K400 Blender is no exception.
This large blender features a 3-part blender system; a unique asymmetric blade, ribbed jar, and adaptive Intelli-Speed motor, as well as 5-speed settings, a pulse option, and 3 useful preset programs: ice crush, icy drinks, and smoothie - and not forgetting a handy self-cleaning cycle too.
The K400 Blender featured in Hibiscus fuchsia, Colour of the Year 2023, also comes with a 5-year guarantee for peace of mind - particularly when investing in such an expensive kitchen appliance.
Design
Model: 5KSB4026 | Capacity: 1.4L | Power: 1200 W | Dimensions: H40cm x W19cm x D23cm approx | Cable length: 107cm UK plug 220-240V
"The colour truly is as striking as you think it's going to be. Bold, vibrant with a real pop to it. It's a great-looking machine - with a solid metal construction for the sturdy base and a high-quality finish glass jug complete with a suction seal lid and measuring cup combo," said Senior Content Editor, Jessica Dady.
"Other than looking the part, it's super easy to set up as soon as it's out of the thoroughly packaged box and is ready to use in minutes. A quick whizz through the basics in the instruction manual and I was ready to get going."
Designed to make blending and blitzing even the toughest of ingredients a breeze, this machine has a unique asymmetric blade that helps to break down ingredients from nuts to ice to ginger root. The glass jug and solid metal machine base does mean the machine is much heavier than others however it ensures durability and sturdiness during use.
"I was a little nervous when I realised that the jug attachment was actually glass. The thought of blitzing ice or whizzing nuts at high speed bouncing off glass walls made me a tad unsure, however, the glass is very thick and the weight of it keeps the jug in place when locked into the die-cast metal base," adds Jessica.
The grip at the bottom of the machine alongside the weight keeps the K400 blender in place during use - even at the maximum speed setting. Alongside the glass jug which is included with this blender, you can get a range of different attachments to fit the metal base including personal jars, larger blender bowls, and small batch jars - for making and storing your own purees or baby food.
Comfort and features
Once the blender is set up with all ingredients securely in the glass jug, and the lid has been tightly fastened (including the detachable measuring cup) it's time to start using the machine. Turn the dial to the 'O' and plug it into your power source.
"The dial on the front of the machine is really easy and self-explanatory with 5 manual speed settings to choose from, a pulse function as well as pre-set functions too which have auto timers associated with them," says Jessica.
"I started with something simple and made the kids an Oreo milkshake. I took manual control first so I could get a feel for the machine and understand how much power is behind it before turning all the way round to '5'. It's super powerful and the milkshake was mixed, and the biscuits were processed and ready in seconds - and I mean seconds."
Alongside the manual '1' to '5' speedy settings, you can also choose to 'pulse' the ingredients which means you blitz the ingredients in short bursts; great if you're trying to break up solid ingredients that are stubborn e.g. frozen strawberries clumped together for example. Other functions include 3 automatic pre-set functions; ice crush, icy drinks, and smoothie.
Swipe to scroll horizontally
| Setting | Description | Blending time |
| --- | --- | --- |
| Pulse 'P' | Allows precise control of the duration and frequency of blending | Manual |
| Variable speeds '1-5' | Manual speeds offer ultimate control of the blender | 3 mins |
| Ice crush | The blender runs at optimal speed to crush ice | 30 secs |
| Icy drink | Gradually ramp up to full power to blend hard foods | 30 secs |
| Smoothie | The blender will operate at the high speed to make purees of items or ingredients | 45 secs |
| Clean | Quick pulses of power and high speeds work to clean the blender jar | 13 secs |
"The smoothie function was great and very efficiently timed. You move the dial around to the 'smoothie' symbol and click the power button and it blends the smoothie ingredients for 45 seconds and then automatically stops once done. It worked perfectly for my frozen ingredients - banana, strawberries, and blueberries - and no lumps of frozen banana or soggy strawberry were left at the bottom of my glass once drunk which made me very happy," says Senior Content Editor, Jessica Dady.
Alongside manual speed settings, and preset functions the KitchenAid Artisan K400 Blender also features a handy self-cleaning function that allows you to clean the machine straight after use with a 13-second timed setting which pulses the blade mixing the warm soapy water around the machine to clean it.
"I really like the preset cleaning function. It gave the jug a quick wash around getting any hidden residue away from the blades. It didn't fully clean the jug though - so you couldn't just go again after using the cleaning function, I still had to rinse out and handwash it but the initial rinse round is a nice touch to ensure the blade is cleaned as its a tad awkward to handwash," adds Jessica.
Value for money
Like most high-quality kitchen appliances, the KitchenAid Artisan K400 Blender does come with a price tag. At the time of writing, the K400 Blender is £329 making it a high-end budget product suitable for those who truly want to invest in a high-quality, sought-after branded blender that will go the distance.
"The price tag will certainly make or break it for some people, however for those who use a blender on a daily basis, are avid smoothie makers, or love making homemade sauces or soups, or baby food or purees - it could be a well-worth investment," says Jessica.
"You can choose from a range of different colours to suit your kitchen, it's a show-off piece that you would certainly want to display on the kitchen counter - for both brand name and modern design. And the functions - both manual and preset - take blending to the next level that's for sure, not to mention all the attachments you can get to add onto the base too."
Related Features:
Jessica Dady is Food Editor at Goodto.com and has over 10 years of experience as a digital editor, specialising in all things food, recipes, and SEO. From the best food hampers to cookbooks, from the best cake stands to kitchen appliances, Jessica has a wealth of knowledge when it comes to must-have food products. A passionate baker, she spends some of her time creating celebration cakes for friends and family including her two lucky children.