Could Kate Middleton become Queen before Camilla Parker Bowles and will Camilla be Queen at all?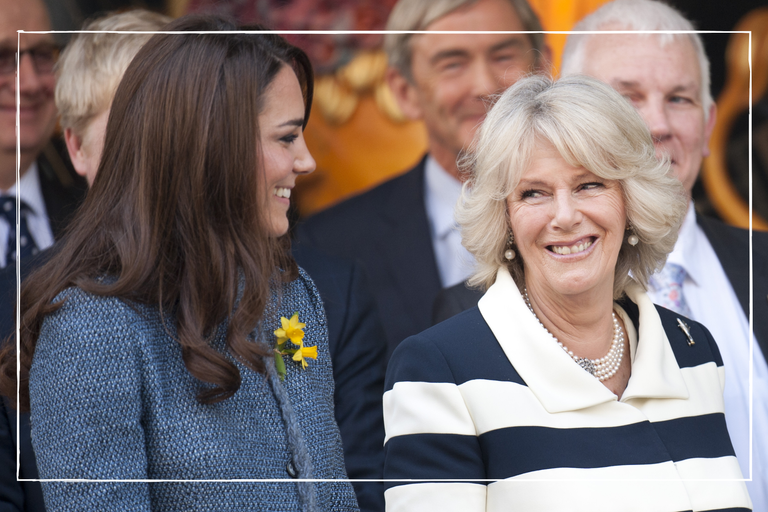 Could Kate Middleton become Queen before Camilla Parker Bowles? Plus, will Camilla be Queen at all and what will her title be when Prince Charles become King?
What will happen when the Queen dies (opens in new tab), chooses to retire (unlikely!) or abdicates the throne (even more unlikely!)? It's a topic that's been on some people's minds recently, though most know it's likely her son Prince Charles, who is next in line for the throne (opens in new tab), will take over the Monarchy.
However, there are a few scenarios in which this wouldn't be the case. Especially with royal experts revealing that Kate Middleton, now the Duchess of Cambridge, is already preparing to become Queen. Whilst nothing has been confirmed, people are curious to learn what this would mean for Camilla. And whether the Duchess of Cornwall will become Queen at all? We reveal all possible scenarios.
Could Kate Middleton become Queen before Camilla?
Yes, it's a possibility. If Charles dies before the Queen, then his son Prince William would become King of England when the Queen dies. If this were to happen then Kate, the Duchess of Cambridge, would take on a role similar to that of a Queen before Camilla.
However, it's important to note that Kate would be married to a King rather than reigning in her own right. So she won't become Queen in the same way that Her Majesty Queen Elizabeth II (opens in new tab) is. And if anything were to happen to William whilst King, she would not take over as monarch. That honour will fall to Prince George (opens in new tab).
Instead, Kate Middleton's title when William reigns (opens in new tab) will be that of Queen Consort (opens in new tab). This is the title traditionally given to spouses of the ruling King or Queen.
If Prince Charles is King, will Camilla be Queen?
When Prince Charles becomes king, his wife Camilla will become known as Queen Consort. Queen Elizabeth II confirmed that the Duchess of Cornwall would take the title when her son takes the throne. And this has cleared up any previous confusion on what Camilla's title will be.
A Queen can be a Queen Consort (married to a King), a Queen Regnant (reigning in her own right) or a Queen Dowager (mother of the reigning Monarch). Camilla will therefore become Queen by marriage.
Camilla was originally not going to receive the title at all. This is because when Prince Charles married Camilla in 2005, it was announced that she would instead be known as 'Princess Consort'.
It was thought that the alternative was agreed upon due to the controversial nature of their relationship following the death of Diana, Princess of Wales.
The title was even confirmed in a Clarence House statement in March 2020:
"The intention is for the Duchess to be known as Princess Consort when the Prince accedes to the throne," it read. "This was announced at the time of the marriage and there has been absolutely no change at all."
However, Queen Elizabeth II took it upon herself to clarify her wishes during her Platinum Jubilee (opens in new tab) celebrations.
In her 70th Accession day message (opens in new tab) she shared it was her "sincere wish that, when that time comes, Camilla will be known as Queen Consort as she continues her own loyal service."
Reacting to the news, a Clarence House spokesman said the Prince of Wales and Duchess of Cornwall were "touched and honoured".
Could Prince William be the next King?
Prince William could only become King if Prince Charles chose to abdicate. The line of succession to the throne is regulated by Parliament and cannot be altered by the monarchy. The only other scenario in which The Duke of Cambridge could become King when the Queen dies is if his father, Charles - who is 71 - died before the Queen.
Has anyone ever abdicated from the throne before?
Most famously, Edward VIII abdicated the throne in 1936 after ruling for less than one year. He became the first English monarch to abdicate after the British government and the Church of England condemned his decision to marry American divorcee Wallis Simpson.
Announcing his decision, he said, "I have found it impossible to carry on the heavy burden of responsibility and to discharge the duties of king, as I would wish to do, without the help and support of the woman I love."
A day later, on 12 December, his younger brother was crowned King George VI.
Who is next in line to the British throne after Charles and William?
After Prince Charles and Prince William, it is the Duke and Duchess of Cambridge's eldest son, Prince George, who is next in line to the throne. He will be a King Regnant, as he was born into the royal family and so can reign as a monarch.
Should Prince George abdicate then Princess Charlotte can take the throne, as fourth in line. And if she declines it, then the honour goes to her brother Prince Louis.
Despite stepping back as a senior royal (opens in new tab) and moving to the USA, Prince Harry can still become King. But only if all three of Kate and Prince William's children decide not to take the throne.
Who will be the next Queen?
The next royal family member who could feasibly become Queen of England is Princess Charlotte. This is because in order for a monarch to reign as King or Queen they have to be born into the family. And this is why Camilla, Duchess of Cornwall and Kate Middleton will never be Queen Regnant.
Though Charlotte is the next possible Queen by birth she may not ever take the throne. This is because if Prince George has children of his own, they will move above her in the line of succession. Then again if Prince George does not produce an heir, or abdicates, Princess Charlotte will become Queen.
Video of the Week:
Emily Stedman is the News Features Editor for GoodTo covering all things royal, entertainment, lifestyle, health and wellbeing. Boasting an encyclopaedic knowledge on all things celebrity and royal, career highlights include working at HELLO! Magazine and as a royal researcher to Diana biographer Andrew Morton on his book Meghan: A Hollywood Princess. In her spare time, Emily can be found eating her way around London, swimming at her local Lido or curled up on the sofa binging the next best Netflix show.